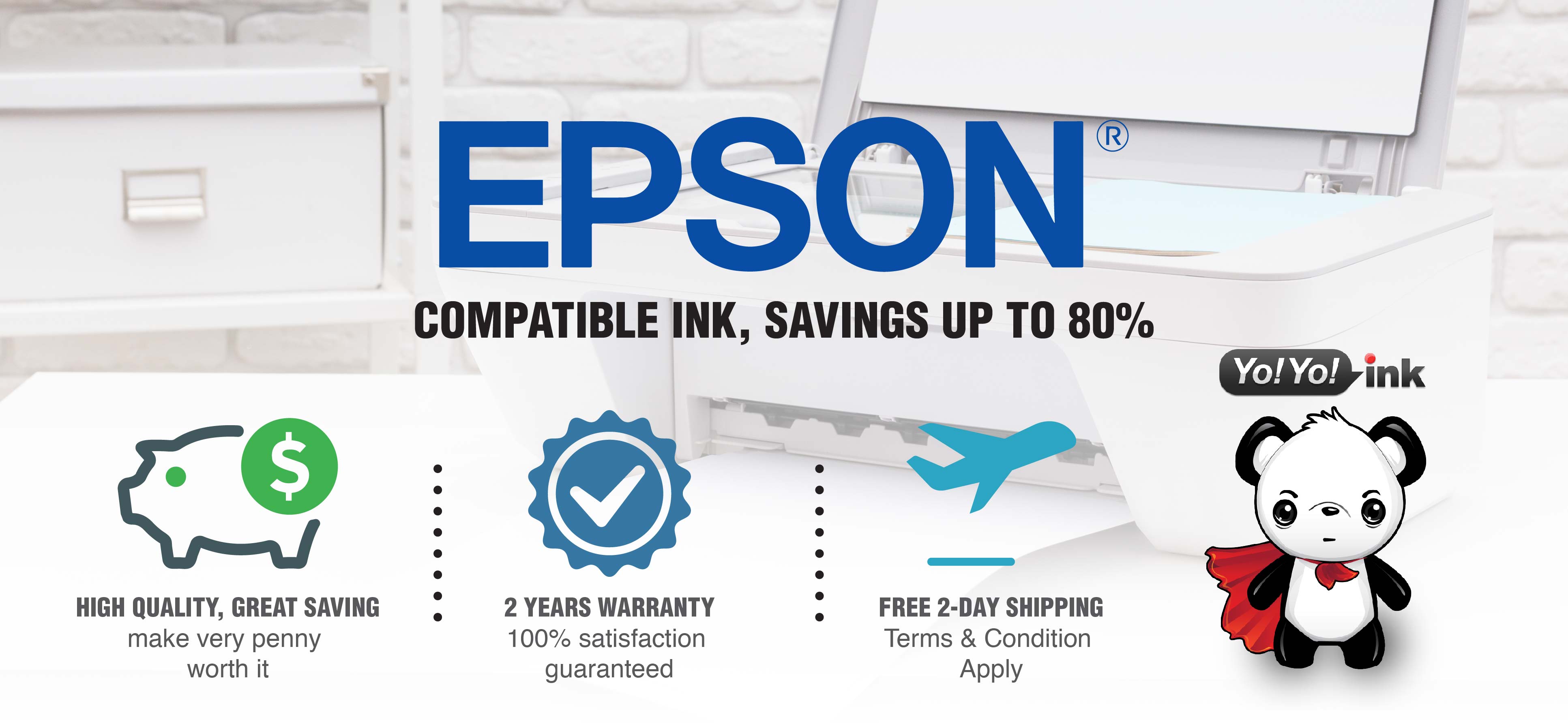 YoYoInk is a top seller of remanufactured Epson printer ink cartridges, toners, and drums at up to 75% off retail prices.  Our remanufactured Epson cartridges are made to be long lasting and exceed OEM standards, so you can be sure to get more prints with great quality. As a top seller for printer ink cartridges, we make an effort to save the environment, so when you purchase YoYoInk products, you are helping reduce, reuse, and recycle parts to better our environment. The remanufactured Epson printer ink cartridges and remanufactured Epson printer ink toners come with a money back, customer satisfaction, two-year guarantee.
Epson Printers In the News
When the Epson Expression Premium XP-6100 Small-in-One Printer hit the market with the price of $150 per pop, reviewers were speculative about its capabilities. It boasts of photo-centric all-in-one inkjet abilities designed specifically for home-based businesses and families. 
Its focus is on low print volume, top quality, speedy printing, detailed scanning and copying abilities. According to eagle-eyed watchers, it failed in dethroning its predecessor in terms of convenience and pricing, but its borderless printing warrants praise. It's also slightly cheaper than the XP-7100.
When it comes to being the ideal home office or family-focused printer, its weight and physical attributes hit the mark for being able to fit into small spaces and is also lighter. With compatible Epson ink cartridges, it's even more affordable. The Epson 410 ink cartridges which costs less than $45 per pack which can last up to 500 colored pages. It is compatible for powerhouse printers like Expression Home XP-200, Expression Home XP-300, Expression Home XP-410 and WorkForce WF-2530.
Epson Printers are All-Around Winners for Home and Office Printing
Epson inkjet printers are made for easy printing, simplifying the printing process and are suitable for everyday quality printing. Available all over the world, it boasts of a long lineup of top range printers with cool quick-print features with the ability to print everything from everyday documents to quality mock-ups. 
It's received an average score of 4.5 over 5 stars everywhere from reviewers.

It's also easy to find reasonably-priced Epson printer ink cartridges for cheap near me, wherever you are in the world, because of its far-reaching network of distributors and agents. 
m photos to homework assignments. 
Advantages of Epson Printers Over Other Brands in the Market
Although the Canon Pixma came out on top on a list compiled by testers who spent hundreds of hours of in-depth testing, the Epson Workforce is only one small step behind it.
It boasts of a whole volley of features to make life easy for everyone from office workers to families. What with a reflex-like automatic document feature and duplexing, its lightning speed printing is impressive as well. 
The icing on the cake is, of course, it's easy to find Epson printer cartridges for cheap and the price of the printer itself. 
The Cost of Using an Epson Printer
Epson printer price can range anything between $80 to $1,200 depending on the features you want on the printer. The Epson WorkForce, complete with its high-end range of features, is in the market for less than $100. The multi-purpose printer is good for printing, scanning, copying and is an awesome office buddy when it comes to double-sided printing. In fact, it is impressive for photo printing too which was what sealed the deal for families and individuals. 
The downside is the price of the Epson printer ink cartridge. If you, however, own a printer like the Epson Expression ET-2750, there are supersized ink tanks that are not just productive but also compact and cost-effective. 
If you get remanufactured Epson printer ink cartridges that come with 4 blacks, 2 cyan, 2 magenta, and 2 yellow cartridges in a pack of 10, it will save you a lot of money. The cartridges are made for Epson WorkForce and Stylus printer series. For Epson Expression Home XP-200 or WorkForce WF-2540, check out these Epson printer cartridges which are available for only $25.95.
How to Save Money on Printing
Whether you're running a mid-sized business or a home-based one, saving money on printing and cutting overhead cost goes hand-in-hand with maximizing profits. A dollar here, a few dollars there – at the end of the day, it has quite an impact on the company's operating costs. 
Good examples would be the Epson 220 ink, Epson 273XL cartridges and the Epson 252 ink which are known for producing quality prints for a fraction of the cost
Apart from getting your hands on cheap compatible Epson printer ink cartridges, one of the ways to effectively cut business expenses is to look at how efficiently we are printing documents in the office. 
No matter where we are in the world, many more businesses are going electronic via electronic printing, opting for e-documents, and using cloud servers to store their documents. In traditional businesses, printing is still staple. 
Considering the fact that paper recycling efforts never really took off because of cost, there are things we can do at home or in the office to be more environmentally-friendly. First off, we should be more efficient and effective in printing, reducing our carbon footprint, reduce cost, and increase profit. 
But where do we start? We're glad you asked. 
Depending on your printer, printing on both sides can be time-consuming. Some printers are simply better at doing it than others. According to World Wide Funds, a company can save approximately up to $260,000 when they print 10% of their documents on both sides of the paper. Saving on just one sheet of paper per week, a company stand to save up to $700,000 per year.

If you get a good printer for your office or home (like Epson printers that utilizes Epson 288 ink cartridges) , double-sided printing should be a breeze and a button-press away. Other things to take into consideration is the kind of paper you use for your printer. Normal reels of paper are made for conventional inkjet printers. They contain coatings, bleaching agents, pigments, and polymers designed to optimize the look and result of inkjet printing. Using the wrong type of paper for your printer might even bump up the cost of printer repair or replacement.
Reduce the margin as much as you can


What you can do is to adjust the printing default options to reduce the margin, squeezing in as much of the printing on the page as possible. Every millimeter count for something! It's been shown that if you reduce the white space (including spacing), you'll be using 14% less paper. This is on top of using cheaper Epson printer ink cartridge options.





For starters, when you hit the 'Print' function, click on the page layout and select margin. Choose a narrow or moderate margin. In fact, you can even customize the margin yourself by choosing to have wider left margins (you need a wider left margin to punch holes for filing purposes) while leaving little white space on the right side of each page.
Use the right font


It's easy for users to assume that every font bears the same fruit. What's the difference between using Calibri as opposed to more standard fonts like Arial or Times New Roman? A lot, say the experts.





We're not looking at short term effects. Once you put the practice in place to use more cost-effective fonts for your printing, you'll see the drop in cost in no time. Not only will you be saving on the cost of printing, but there will also be fewer discarded printer ink cartridges in the landfills. On top of that, because of increased efficiency, it sucks up less electricity.
Use an efficient printer, cartridges and toners


This might sound like a given but you'll be surprised with how little research people do before purchasing their printers. When you use an efficient printer that uses the Epson 410 ink cartridges, it will change your work habits effortlessly and dramatically.





The printer is due for a replacement if it jams easily, produces curled paper, smudges and streaks, forces you to reprint pages, or uses toners that are not environmentally-friendly.
Print only when necessary


Even if we're already using cheap Epson printer ink cartridges like the Epson 252 ink and Epson 288 ink cartridges, we should do our level best to print only when necessary. For some businesses, going electronic is not yet a viable option. We are far behind in terms of turning all our worldly document electronic because we still need signed acknowledgment forms, invoices, receipts, legal papers, agreements, etc. Electronic may work well for some business, others, not so much because of the nature of the business and work.





If possible, choose a printer brand that allows for replacement cartridges and has a recycling program. Epson runs recycling programs for their inkjet cartridges, LFP cartridges, toner cartridges, Catalina, Epson ColorWorks, and Epson LabelWorks. Users are encouraged to sign up for their programs for perks and discounts.
Using compatible and refillable cartridges


The only problem with refilling ink cartridges is the refilling process itself; it can be a messy affair, especially if you're just learning how to do it. These low-cost options are popular with offices that print a large number of documents on an everyday basis. The other option is to use

compatible Epson ink cartridges

. Since original printer ink cartridges are fantastic, a compatible one is worth it if you find a reliable and responsible supplier because not only is it cheaper, it won't affect the printer's warranty.





It is also a known fact that original manufacturers don't fill up new ink cartridges to their maximum capacity. When you use a compatible Epson printer ink cartridge, it's a whole different story. They're awesome for both text and photos and perform well for high-quality scanning. The cartridges can be used up to 2 to 3 times before you throw them away for good.





So, if you're not down for the messy refilling yourself, use remanufactured or compatible Epson printer ink cartridges instead. 
Finding the right Epson Printer Ink Supplier and Online Store
Companies, websites, groups and individuals selling refilled, remanufactured, and compatible Epson printer ink cartridges are a dime a dozen out here on the internet. The hard part is finding one that offers not just a wide range of products but also good customer service, excellent response rates, constant contact, and money back guarantee. 
A good supplier also knows about developing a long-term relation and customer satisfaction. It needs to understand the problems faced by companies when using their ink cartridges and the constant need for a steady supply. 
If they offer a reward and customer loyalty program, go for it because the more you buy, the more points you earn, and the more you save!
The Epson compatible ink supplier should also have a good inventory and a wide range of printer cartridges available. In some cases, there could be multiple printers in one home or office. It will be a hassle for the user to have to use different suppliers for Epson PictureMate Flash series and Epson Expression Premium Series. 
A good one-stop-shop should carry cartridges for most major printer brands and models in the market. YoyoInk.com, for one, is always ready to get you top quality compatible Epson 220 ink and Epson 273XL cartridges. 
To find out more about available cheap Epson printer compatible ink cartridges, start with selecting your printer model on our website.