Pros And Cons Of Different Printer Cartridges
Buying a replacement printer cartridge can be a bit tricky. These devices can be costly and confusing – with hundreds of units from several manufacturers and printer types to choose from.
In this article, we will review the different types of printer cartridges and how to choose the right one for your printing needs.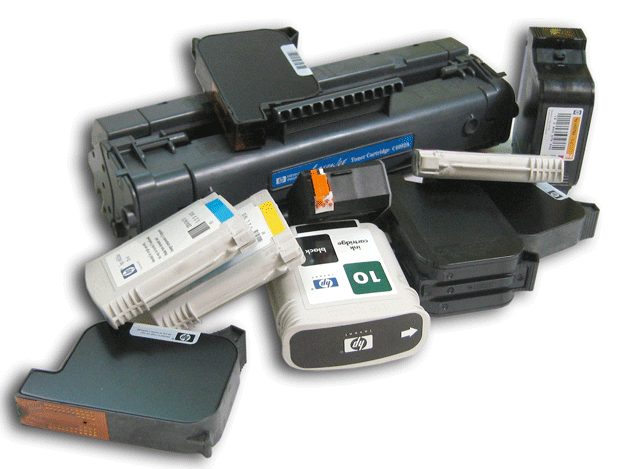 There are two types of printer cartridges – ink and toner cartridge. Each serves a different purpose and we will differentiate to give you information on what you should get.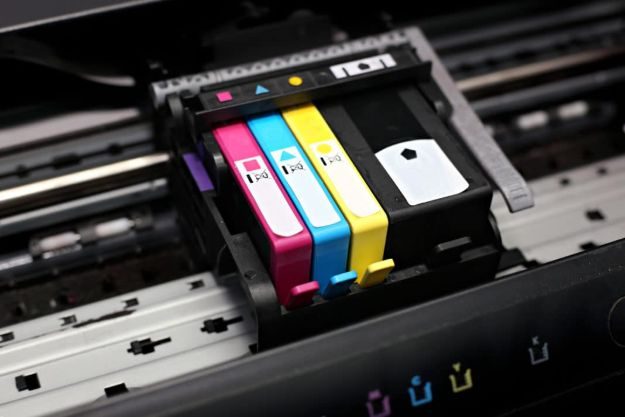 An ink cartridge is part of an inkjet printer that stores ink for printing. Every ink cartridge has one or several ink reservoirs. Manufacturers attach a specific chip and contacts on the cartridge so they can connect with a compatible printer.
Ink cartridges contain black or colored liquid ink and work only with inkjet printers. Ink cartridges are installed on InkJet printers built with powerful jets that spray liquid ink on a page. The ink has an intricate blend of dyes and pigments that produce precise color that lasts long.
This type is often used by photographers and home offices. Here are the pros and cons of ink cartridges:
Inkjet cartridges print text, colored images, and photos well
Precise color prints from tri-color cartridges
An affordable choice for regular and small volume printing
Printer ink cartridge replacement can be costly if you're frequently printing
You'll have to replace the entire tri-color cartridge if one color runs low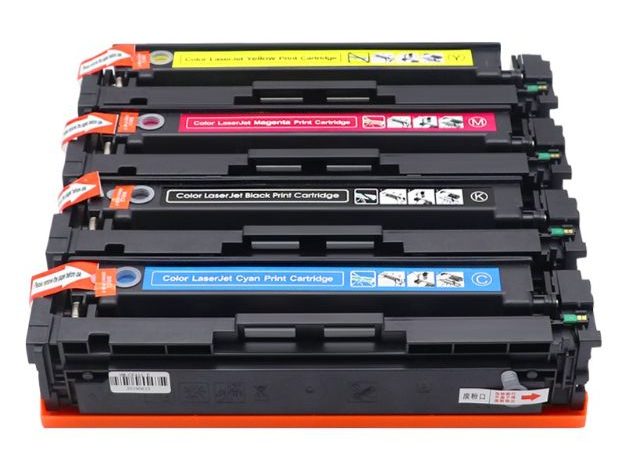 Toner cartridges are also called laser toners because they are consumable components of laser printers. Toner is a dry and intricate powder with microscopic plastic particles. It is used for laser printing where the powder is heated, charged electronically, and set on paper through a rotating drum within the machine. 
The process of laser printing results in fast and efficient prints suitable for large printing projects. Toner cartridges don't stain like ink cartridges, but they are very accurate at printing crisp and almost perfect texts. 
Learn More: How does a Laser Printer Work?
Consumers who print a lot will likely buy a laser printer with a toner ink cartridge because of their abundant page yield. 
Suitable for high volume printing
Produces crisp and almost perfect monochrome prints
A cost-effective option for schools and businesses that requires heavy printing of documents
Could be an expensive option for less frequent printing
Not recommended for photo printing as they can't produce the same quality photos as inkjet cartridges
Printer Cartridge Options
Do you prefer quality over cartridge ink price, or do you want to save more on printing costs? If you're looking for a certain type of cartridge for your printing needs, consider the cartridges below.
Remanufactured Cartridges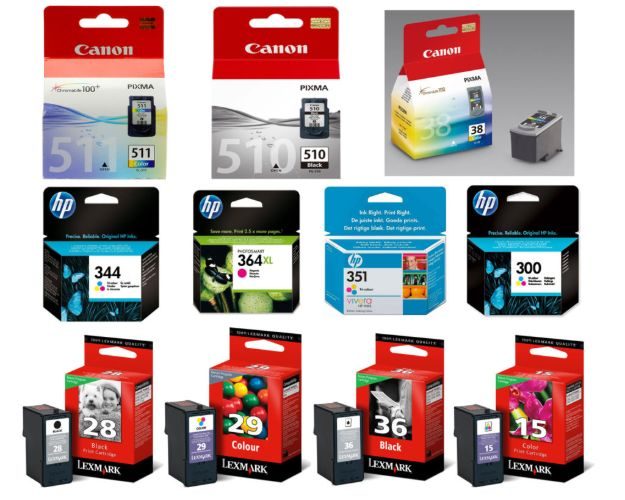 OEM is the acronym for Original Equipment Manufacturer. If a cartridge is marked "OEM," it is manufactured by the same manufacturer that produced the printer, i.e., Epson, HP, Brother, etc. OEM cartridges are generally the most expensive, although they do provide the best quality.
Consistent quality and yields
New parts and manufacturing materials
Produced by the Original Equipment Manufacturer
The retail printer cartridge price can be expensive
Operational costs can be high
Third-party manufacturers produce compatible cartridges as cost-effective alternatives to OEM ink cartridges. You can save 50% – 70 % from OEM prices, depending on the manufacturer. Built with a smart connection chip, these cartridges work with a wide range of printers, and their ink quality may vary according to the manufacturer. 
You can save 50% – 70 % from OEM prices
Savings on operational costs can add up if you're printing in volumes
Eco-friendly and promotes recycling
You have to check for quality to make sure you get a reliable product
At Yoyoink.com, we produce compatible ink cartridges that are affordable and reliable. Click here to check out our products.
Remanufactured Cartridges
Remanufactured cartridges are used cartridges that have been refurbished by a manufacturer. Internal parts are checked, and some may be replaced with new ones before the device is refilled with new toner or ink cartridges refill.
When purchasing a remanufactured cartridge, you must make sure the units have been re-chipped by the manufacturer; if the chip hasn't been replaced, it may fail to trace ink levels. 
Learn more: Why Won't My HP Printer Recognize New Ink Cartridges?
There are many manufacturers out there, and some like Yoyoink guarantee that their products work.
You can save 50% – 70 % from OEM prices
Savings on operational costs can add up if you're printing in volumes
Eco-friendly and promotes recycling
You have to check for quality to make sure you get a reliable product
Combo ink packs provide a cost-effective means to buy multiple cartridges at once. These useful units contain the same ink colors, black and color, and can be quite handy for new printers.
Even though expensive, combo packs can provide greater value than individual cartridges as long as you use both black and color ink.
Cost-effective
You can have multiple cartridges in one buy.
You'd have to spend more on the upfront sale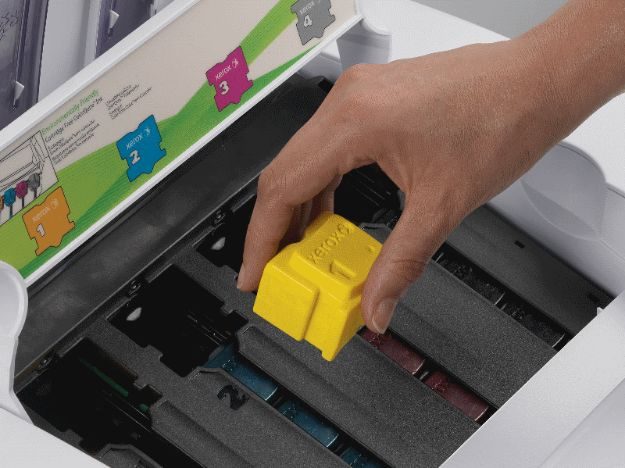 Solid ink cartridges are contained within solid ink printers and are vastly considered one of the most environmentally-friendly cartridges you can buy. These cartridges are composed of wax-like materials melted into liquid before being projected into a page.
Solid inks are recognized for their precise, vibrant color and tend to be much more expensive than toner and ink cartridges.
Outstanding print quality with clear, vibrant colors
Easy to use and install
More expensive than ink cartridges
Which Printer Cartridge is Right For You?
The comparison between printer cartridges depends on several factors, including cost, total usage, and quality needs. Deciding which features and options to look for in a printer cartridge is the first step. 
The printer cartridge's costs are also important considerations since they can be quite expensive. Cartridge replacements may cost much more than the printer itself and you'd have no choice but to keep buying them. 
Cartridge size, page yield, and price vary among printer models. Additionally, your choice may cost you more, depending on the product's cost-effectiveness. Be sure to consider the printer cartridge's size, page yield, print quality, performance, and cost per page.
We've made comparisons in terms of page yield, image quality, performance, and cost so you can decide better which one is best for you.
Each cartridge has a specific page yield. Page yield is the estimated number of pages the cartridge is expected to print before running out of ink. It varies from each cartridge series and is derived from a 5% page coverage.  
To ensure that manufacturers follow the same standards, each cartridge goes through page yield testing according to ISO/IEC 24711 specifications. The test determines the standard page yield of the ink cartridge and provides customers a basis for comparison among different products.
Printer ink cartridges are manufactured in two different sizes, which is why the page yields vary. High Yield (XL) cartridges print more pages than the standard and are generally more cost-effective for high volume printing activities.
Standard-sized cartridges are less costly than high-yield cartridges and better options for users who don't print often. Some printers also provide extra-XL cartridges, so make sure to check the specs on the manufacturer's website to determine your printer's page yield.
Example:
HP 64 (standard ink cartridge size) Page Yield – 200 pages.
HP 64XL (high yield size) Page Yield – 480 pages.
If you're looking for print speed, know that both laser or inkjet printers can have excellent print speeds depending on the model. While inkjets have been known to be slower than lasers, new developments from Brother, Epson and HP revealed that high-end inkjets can now catch up to laser printers when it comes to print speed.
If you invest in a high-end inkjet or laser product, you can expect around twenty pages per minute (ppm) print speed. Cheaper inkjets can have a print speed of 6 pages per minute (ppm) print speed, while a cheap laser printer could do better.
While laser printers usually provide faster performance, they cannot compete with the inkjets' image quality. Since inkjets are using liquid ink, they are better at blending colors more accurately and effectively print fully-colored images.
If you're always printing documents, though, then the laser printer can provide much better speed and quality.
The cost per page determines a printer cartridge's cost. Cost per page (CPP) is the value you'd be spending on every page while printing a document. To calculate the cost per page, check the printer cartridge's page yield. Cartridges with high page yield tend to be more cost-efficient in the long run. Then divide the page yield by the ink cartridge's cost.
As an example, let's break down the cost per page of a Brother toner cartridge and compare it to an HP ink cartridge. An original HP 64 Black ink cartridge has a 200-page yield and sold for $18.99, giving a CPP of 9.4 cents. The HP64XL Black ink cartridge costs $41.99 but produces more prints. With a page yield of 600 pages, the CPP is a bit lower at 6.9 cents.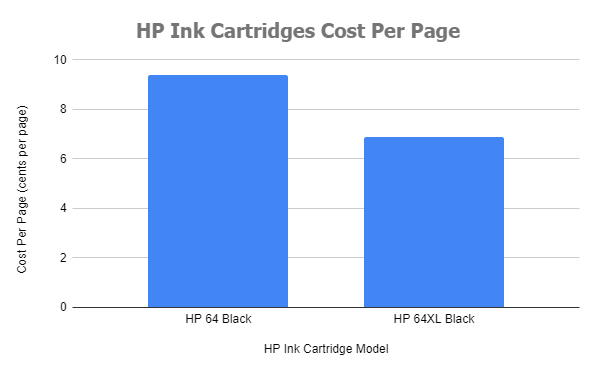 This chart shows the difference between HP 64 and HP 64XL in terms of Page Yield
Laser toner cartridges such as Brother TN660 are more expensive than your average ink cartridge, but they print many more pages. The Original Brother TN660 costs $106.99, has a 6,000-page yield, and a CPP of 1.7 cents.
When it comes to initial buying cost, ink cartridges are much cheaper compared to lasers. The average cost of an ink replacement costs around $33.29, while the laser cartridge's average cost is $66.58. Laser cartridges usually have greater print output, producing more pages per cartridge compared to inkjets.
So you can choose one over the other depending on how often you print. If you're only printing occasionally, then an inkjet printer is a more affordable option. If you're printing a lot, laser cartridges could be a more cost-effective option in the long run. It all depends on your frequency of use and your budget.
Note: It is also important to keep in mind that the performance of the latest high-end inkjet printers somehow has similar output and performance as a laser printer.
Save More on Printing Costs
Compatible cartridges from Yoyoink.com provide equal page yield and print quality to original brands with very little cost. Opt for a compatible cartridge that brings the cost per page down and is backed up by industry standards.
For instance, our compatible HP 64XL Black cartridge provides a similar 600-page yield as the original cartridges at half the price. Presently selling at $25.90, this puts the CPP down to 4.31 cents. In contrast, the original HP 64XL ink cartridge is presently sold at $41.99, giving us a CPP of 6.9 cents.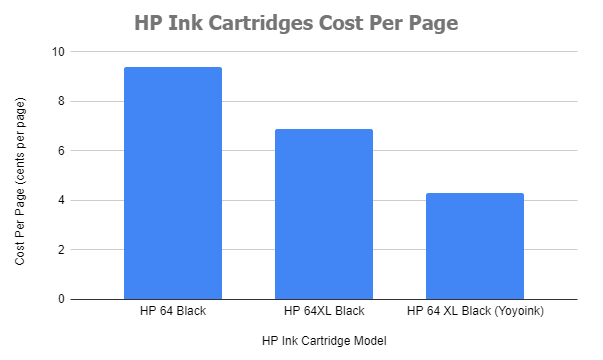 This chart shows the difference in Cost Per Page between original HP 64, original HP64XL, and compatible HP 64 XL form Yoyoink.
The Brother TN850 (TN820) 2-Pack toner cartridge is a fantastic deal. Available at $48.90, you get a page yield of 8,000 pages and a CPP of just .6 cents! 
We have more than a hundred compatible options for different printer models on our products page. Check them out on our products page – Yoyoink Printer Cartridge.
If you have any inquiries or ideas about the different printer cartridges, feel free to drop them in the comments. You can also call us at 1-855-969-6465.