5 Best Ink Cartridges Of 2021 | HP 62XL, Canon PG-245XL & More
Buying the best ink cartridge is one of the most important decisions you can make for your project or business. But choosing the best one can be a challenge since there are many competitive brands in the market. How can you determine which one will work best for you? 
This article will discuss some of the essential factors to consider when choosing the best ink cartridge. We've also reviewed 5 of the best ink cartridges on the market today to help you make an informed decision. So keep reading until the end.
Our Top 5 Best Ink Cartridges 2021
1. HP 62XL Ink Cartridge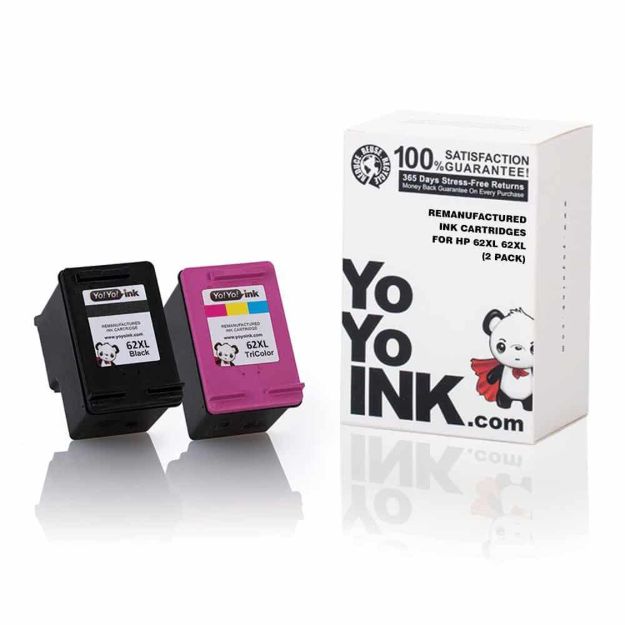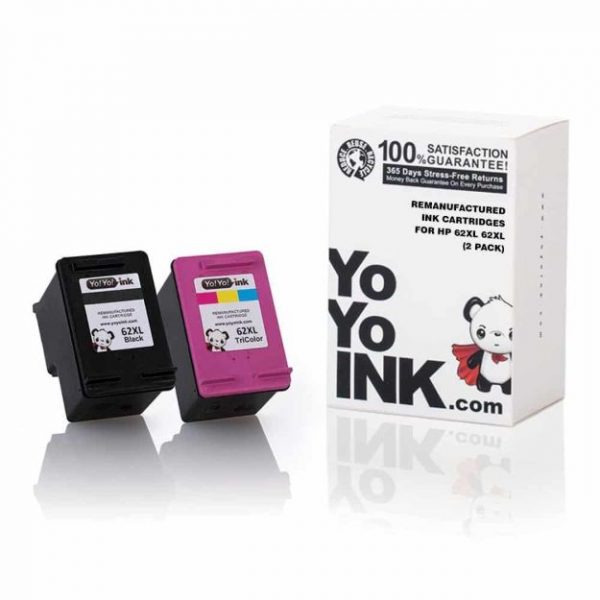 The HP 62XL was designed for several HP ENVY / OfficeJet printers, providing enduring and high-quality photo prints. It has an impressive 600-page yield, which is 2x more than the standard HP 62XL.
The HP62XL comes in Black and Tri-color ink that is excellent for photo printing with HP's Premium Plus photo paper. Easy to install, replace and offer good pigment quality, it's one of the best in the market.
The cartridge is not compatible with non-HP printers, but they're a perfect choice for HP users who want to get the most value out of their product. Click here for a list of your HP ENVY and OfficeJet printer compatibility.
Main Features:
Capacity: High capacity
Page Yield: 600 (Black), 415 (Tricolor)
Ink Color: Black and Tri-color
Printer Compatibility: HP Envy and HP OfficeJet
Print Quality: Vibrant and enduring prints
2. Canon PG-245XL & CL-246XL 3-Pack Ink Cartridge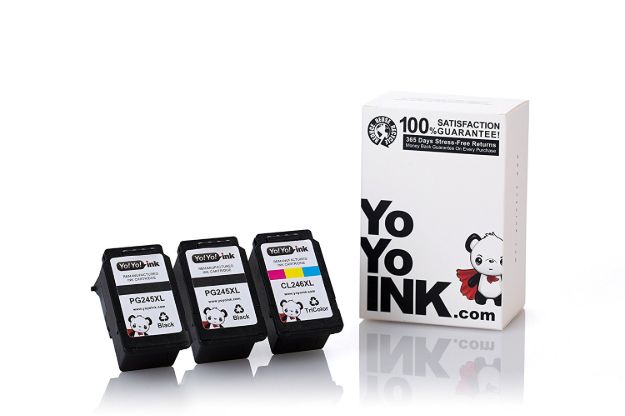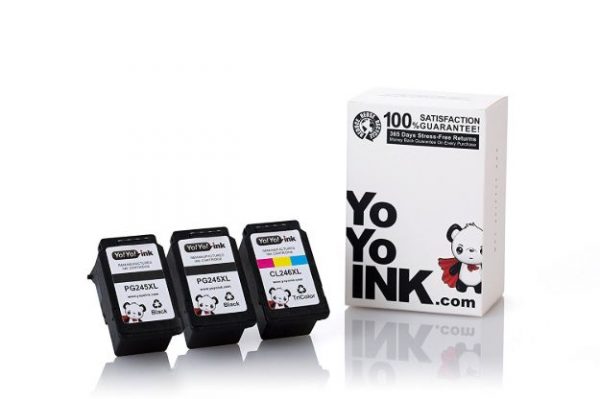 The Canon PG-245XL & CL-246XL Ink Cartridges is a fantastic choice for photographers and artists looking to print more often in black and white. The combo pack consists of a black and color cartridge in XL (high yield) sizes.
Both black and color cartridges have a page yield of 300 pages. They are compatible with several Canon Pixma printers. Click here for a full list of your printer compatibility.
The Canon PG-245XL & CL-246XL stand out in pigment quality, making them the perfect ink for several hobby and professional projects. 
Main Features:
Capacity: High capacity
Page Yield: 300 pages (Black & Color)
Ink Color: Multi-colored
Printer Compatibility: Canon Pixma printers
Print Quality: Sharp, black text prints
3. Epson T802XL-BCS DURABrite Ink Cartridge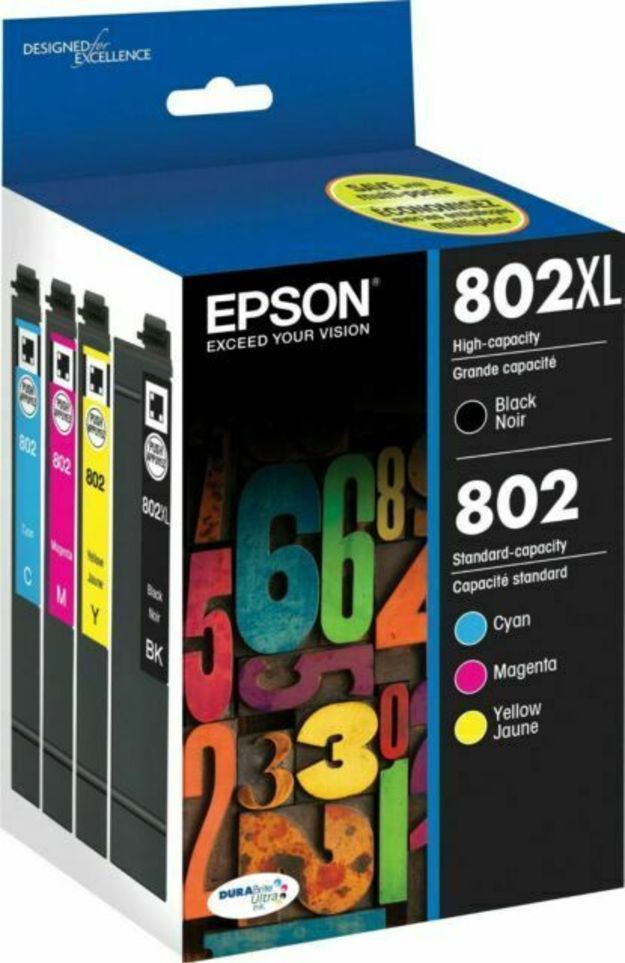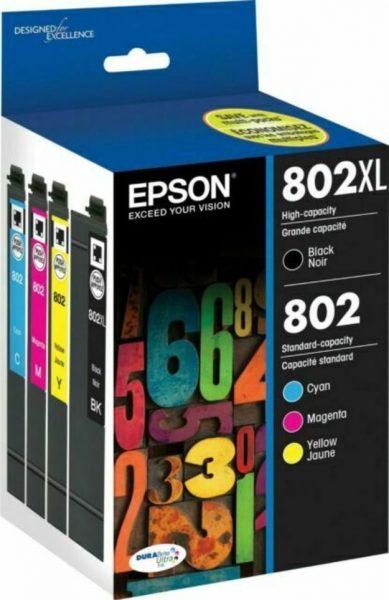 The Epson T802XL-BCS DURABrite Ultra Black and Color combo pack are designed for the brand's printers, All-in-One WorkForce Pro, but could be used with other compatible printers. Check your printer's model to make sure it's compatible.
We find it amazing that it has a high-yield black ink cartridge. The colored cartridge's capacity can be quite useful for work and school tasks. The combo is more expensive than other ink sets, but they're excellent at delivering smudge-free prints. These are a good investment for your printer.
Main Features:
Capacity: High capacity
Page Yield: 2600 pages (Black), 650 pages (Color)
Ink Color: Black and Color
Printer Compatibility: Epson WorkForce printers
Print Quality: Decent, fade, and smudge-free prints
4. HP 902XL 4-Pack Ink Cartridge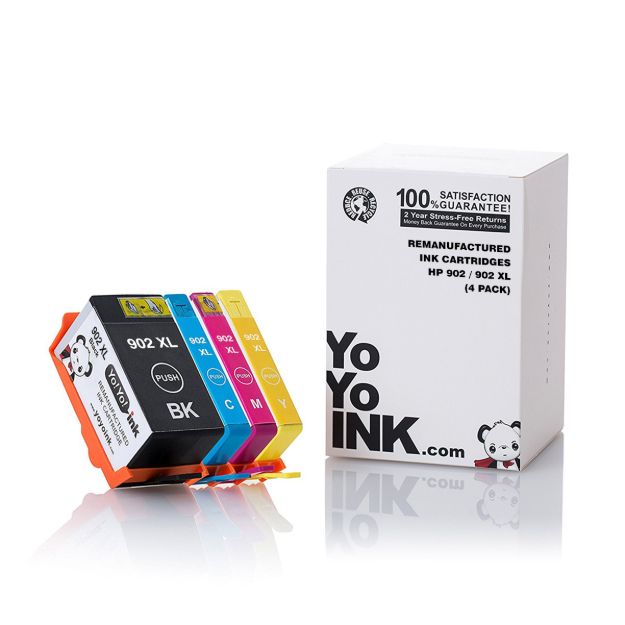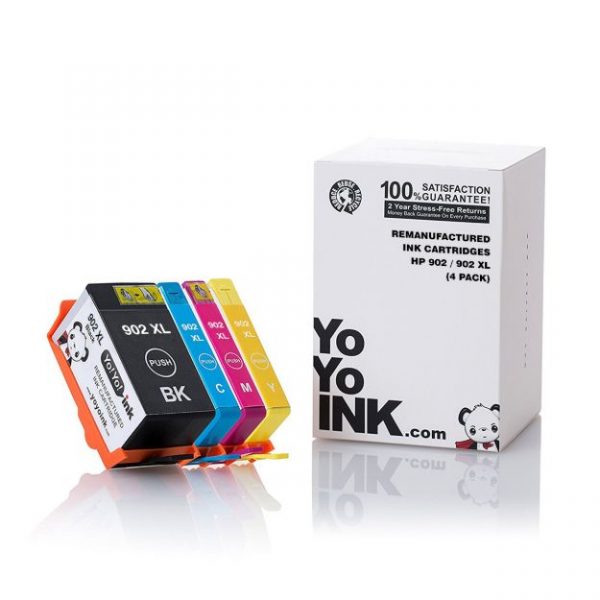 The HP 902XL ink cartridge is excellent for high-volume printing because of its impressive 830-page yield. It also boasts of outstanding ink quality. The ink cartridge was designed for HP printers, specifically OfficeJet and OfficeJet Pro printers.
From office flyers, memos and contracts, this ink can print almost anything. These quality pigments are perfect for both glossy and matte paper, enabling you to get professional results each time. Available in affordable black and colored choices, it's the perfect choice for schools, offices, and professional settings. Make sure to browse your computer compatibility as well.
Main Features:
Capacity: High capacity
Page Yield: 830 (Black & Color)
Ink Color: Black and Color
Printer Compatibility: OfficeJet and OfficeJet Pro printers.
Print Quality: Professional quality
5. Canon PGI-280XL & CLI-281 5 Color Pack Ink Cartridge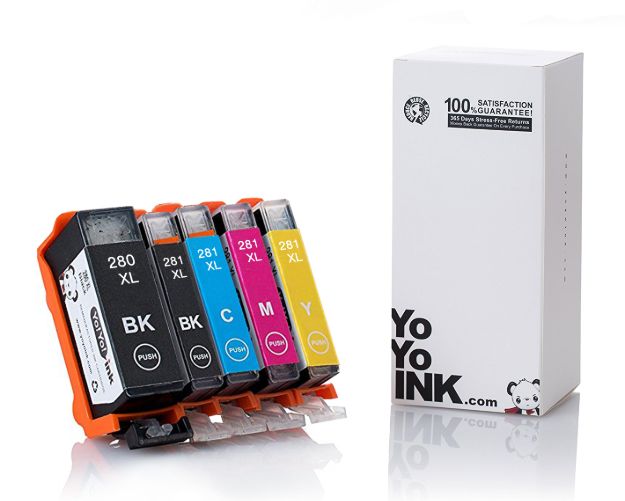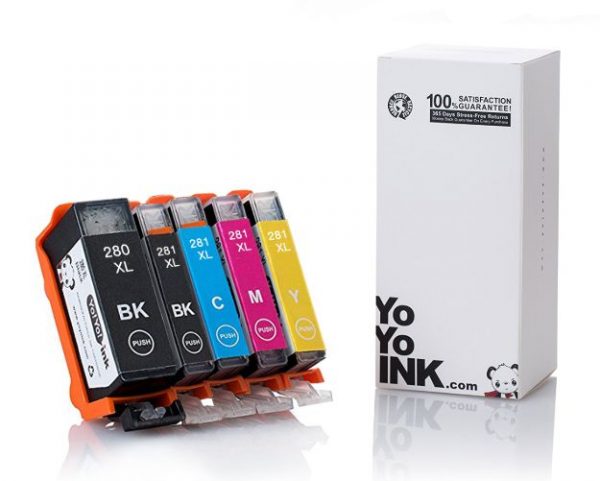 The Canon PGI-280XL & CLI-281 5-Color Pack Ink Cartridge has five tanks and is a perfect choice for hobbyists and artists alike. Its best features are the separate cartridges for each primary color – cyan, magenta, and yellow. The system offers high color clarity and sharpness on paper.
 If you're an artist or photographer, you can pair these cartridges with Canon's Genuine Photo Paper to achieve the best results. The cartridges are designed for PIXMA series printers, although they can also work with other printer brands.
Go here for a complete list of your printer compatibility.
Main Features:
Capacity: High capacity
Page Yield: 250 (Color), 400 (PGBk)
Ink Color: Black, Pigment Black, Color
Printer Compatibility: Canon PIXMA series printers
Print Quality: High color quality
What to Look Out For In Ink Cartridges
The essential factors you need to consider when buying the best ink cartridges are compatibility, quality, page yield, shelf life & warranty, and brand.
Compatibility
Purchasing a new ink cartridge may seem easy, but these devices don't work on all printers. Before buying an ink cartridge, make sure it is compatible with your printer. Your printer should have information at the back that shows the model and cartridge label.
Should you decide to buy from a third-party supplier, you must do some research to ensure compatibility. Some third-party cartridges may not work with certain printers, and you need to make sure the manufacturer has designed the cartridge to meet your printer's specifications.
Quality
A very crucial factor to consider when selecting ink cartridges is quality. There are several types and models out there, but you want something with enduring colors and minimal (if not zero) bleeding. You have two basic ink options:
Dye ink: Uses color substances dissolved in a liquid (either alcohol or water): such colors are brilliant and vivid, and the ink penetrates deeply into the substrate. Dye inks are most applicable to glossy paper and are generally utilized for photography. They are less resistant to UV light and water and tend to bleed on matte paper.
Pigment ink: They are composed of color particles draped into liquid. They're softer than dye inks but produce a more solid black. The pigments don't always penetrate the substrate and are a bit dry on top. With these characteristics, pigment ink becomes a better option for high-volume black and white printing. Pigment ink rarely bleeds and can be easily used on matte paper. They're also resistant to UV light and water exposure.
Learn more here: Quality of Ink in Your Cartridges
Page Yield
Page Yield pertains to the number of pages a cartridge can print before running out of ink. You can consider this factor as a good estimate and not an exact amount.
Because each cartridge contains a different page yield, choose a product with just the right page yield and low running cost. High page yield cartridges reduce the frequency of replacements and the printing cost per page. 
This is particularly suitable for frequent, high-volume printing. Running out of ink in the middle of an important printing project can be frustrating. You need to have a supply of high yield cartridges to maintain consistent printing and save more on operating costs.
However, if you're not printing very often, it would be best not to opt for high page yields since ink cartridges have expiration dates, and your investment will go to waste.
Shelf Life & Warranty
It's best to consider the product's shelf life before making a buying decision. Shelf life pertains to the duration in which the product remains unused. Remanufactured cartridges can last up to 36 months, and it's best to check that before purchasing the product.
Finally, make sure the device has a warranty so you can get a replacement in case of a product malfunction or damage during shipping.
Brand
You can use several ink brands with your printer, including OEM (original equipment manufacturer) brands, refillable, and generic ink options. Some brands perform before others, while some strike a good balance between price and quality, giving better value. OEM brands stand out in terms of quality but can be quite expensive.
Third-party cartridges are available, so you don't have to spend more on ink. Instead of buying original products from popular brands like Brother, Epson, or HP, you may buy from third-party manufacturers. There are reputable brands for after-market ink cartridges, such as Yoyoink.com.
Look for brands that value their products and customers by applying manufacturing standards and great packaging. These manufacturing standards include rigorous testing, effective cleaning, and the promise of compatibility.
Go here: Best Place to Buy an Ink Cartridge
Which Ink Cartridge to Choose
When choosing the best ink cartridge for you, consider the essential factors we've discussed in this article to make a good buying decision. Please take a closer look at the options we've listed and chosen one that suits your needs based on those factors.
Purchasing a new OEM cartridge can be an expensive undertaking. That's why resorting to the best ink cartridge prices is a cost-effective choice. Who wants to spend more on printer ink when a more affordable alternative is available?
Compatible and remanufactured ink cartridges are very affordable but still deliver the same consistent quality as the OEM brands. Aside from the affordable price and performance, the page yield is also the same as the OEM brands. Remanufactured ink cartridges also enable you to reduce your carbon footprint and help conserve the environment.
Additional Tip: There are after-market ink cartridges that don't deliver to their promise to provide standard quality. It's important to check the reviews of the manufacturer to make sure they meet your expectations.
Ink Cartridge FAQs
1. What is an Ink Cartridge?
Ink cartridges are printer cartridges that store ink to be used by inkjet printers. Inkjet printers generally use more ink than a single cartridge can provide, and the majority of them combine two or four cartridges. Specialized models such as photo printers may need six to twelve ink cartridges.
Inkjet printers commonly use:
Two cartridges for black and tri-color
Four cartridges for black, cyan, magenta, and yellow
Inkjet printers spray tiny ink drops through the ink cartridge's nozzles and into the paper to create a print.
2. How Can I Replace My Ink Cartridge Refill?
Ink cartridges can be replaced easily if you follow these steps:
1. Turn on your device and open the tap that covers it.
2. Wait as the carriage moves to the printer's right side and leave it be until it settles.
3. Once everything becomes still and silent, press on the empty ink cartridge and pull it out of the carriage.
4. If your printer contains many ink cartridges, note that the Black ink is generally on the right side, while the Tri-color is on the left side.
5. Open your new ink cartridge and slide it into the slot, inserting it with the copper strips faced towards your printer. Gently push on the cartridge until it snaps into position.
6. Close your pinter's top cover.
Learn more about replacing ink cartridges: 2 Ways to Install Ink Cartridges on your Printer
3. How Often Should I Replace Printer Ink Cartridges?
Once you've opened an ink cartridge, you must install it immediately and consume it within six months. You should remember your ink cartridge's expiration date and make sure to use it efficiently before it expires. Don't tamper or dismantle the ink cartridge since it may cause the device to leak out.
4. How Many Pages Can an Ink Cartridge Print?
Check the product's page yield. A cartridge's page yield is the number of pages that can be printed with it. Page yield is derived from page coverage. It is derived from the condition that only 5% of the page is imprinted with ink or toner cartridges. 
Let's say a short memo has an estimated 5% coverage. If your cartridge has a 500-page yield, you can get 500 pages of printer short memos. If you're printing photos, letters, or graphics, your coverage may vary, and your page yield can drop dramatically.
5. Is It Worth It To Buy XL ink cartridges?
That depends upon the frequency of your printing activities. If you're printing quite often, then high yield cartridges can provide more value. But if you're not printing too often, a standard cartridge would do. The ink that remains unused for a long period will dry up and clog your cartridge's nozzles. Standard cartridges are recommended for occasional printing.
Did you like this article? If you did, you might also like: The Best Inkjet and Laser Printer 2021