Printer Toner vs. Ink: Which is more suitable for me?
Buying a new printer isn't just about choosing between brands and models and their corresponding prices and features. It also involves weighing your options on printer toner vs. ink and which one is the better choice. 
So which of the two is best suited for you and your printing needs? Let's explore the difference between the two types of printer cartridges, their distinct advantages and disadvantages, and their ideal uses. Hopefully, at the end of this article, you'll have the information you need to make the right decision at the end of this discussion.
Toner vs. Ink: What's the difference?
Some people think that ink and toner are the same, but the truth is the two printer cartridges are unique. The only similarity they share is that they are both used for printing. In terms of compatibility, functionality, and physical traits, however, ink and toner are entirely different.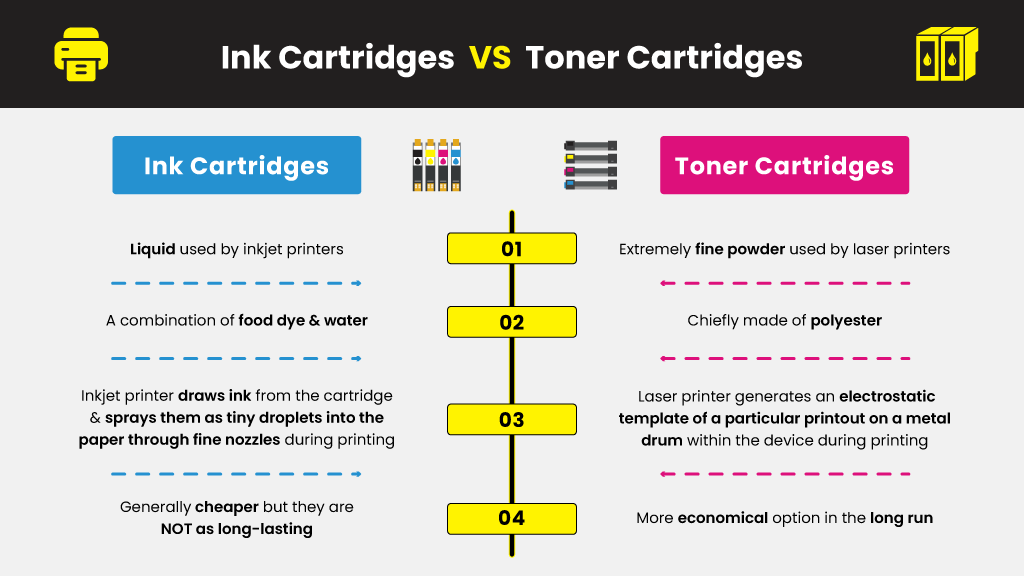 Ink is a liquid used by inkjet printers and is essentially a combination of food dye and water. During printing, an inkjet printer draws ink from the cartridge and sprays them as tiny droplets into the paper through fine nozzles. The majority of inkjets can print entirely in black or color and typically use a set of individual color cartridges in black, cyan, magenta, and yellow.
Toner is an extremely fine powder used by laser printers and is chiefly made of polyester. The powder undergoes static charging when it's adhered to paper. The laser printer generates an electrostatic template of a particular printout on a metal drum within the device during printing. Toner powder is then released, adhering to the created electrostatic template on the drum. Finally, the image gets imposed into the paper as it slides through the drum. 
The majority of laser printers for regular consumer use can only print in black. However, some more pricey models are capable of printing in color. Overall, the biggest difference between printer toner vs. ink is the kind of material each one uses for printing. Printer ink cartridges hold liquid ink and are used by inkjet printers. Toner cartridges, meanwhile, hold toner or powder and are used by laser printers. 
Is Ink cheaper than Toner?
Inkjets printers are the most popular options among regular printer users because of their relatively cheaper pricing than laser printers. They are also quite handy in creating photos, graphics, and texts.
The biggest knock on ink cartridges, though, is that they generally have lower page yields than toner cartridges. That means you'll need more replacements or refills than with toners as they run out quicker.
Which lasts longer, Toner or Ink?
As mentioned above, inkjet printers and ink cartridges are generally cheaper than laser printers and toners, but they are not as long-lasting. For that reason, toner could be a more economical option in the long run, especially if you frequently print or print in large volumes, although it does require a heftier investment upfront. Laser printers work great for printing texts on documents since they can do it 2 – 3 times faster than most inkjet printers.
Inkjet vs. Laser: Which one is for me?
So which should you choose between an inkjet vs. laser and why? In reality, there is no universal answer as it ultimately depends on your specific needs at home or in the office. So you can have a better idea of what's ideal for your printing needs, here is a brief breakdown of the differences between the two.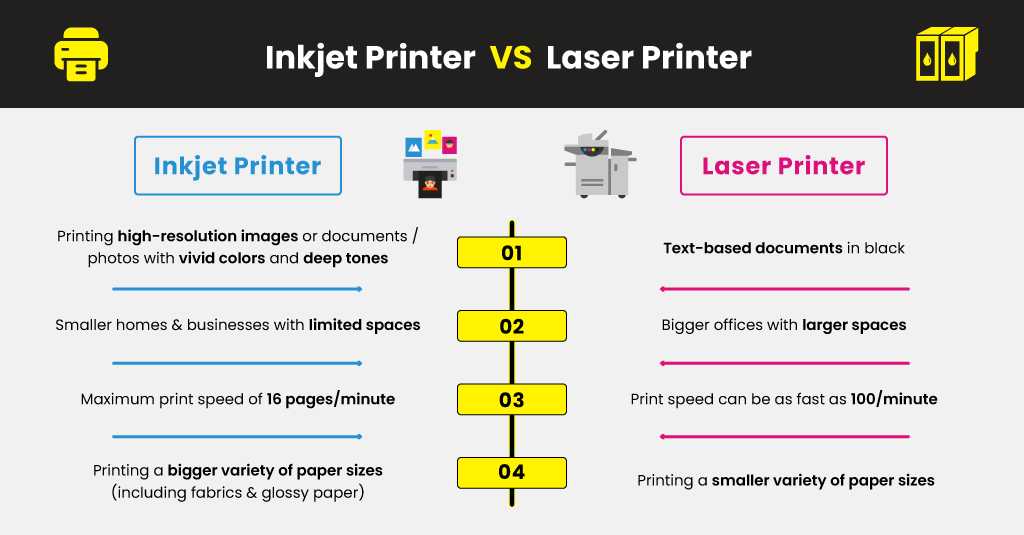 Laser printers are ideal for:
Text-based documents in black

Bigger offices with larger spaces

Faster document printing is a priority (print speed can be as fast as 100/minute)

Printing a smaller variety of paper sizes
Inkjet printers are ideal for:
Printing high-resolution images or documents/photos with vivid collars and deep tones

Smaller homes and businesses with limited spaces

Print speed isn't a priority (maximum print speed of 16 pages/minute)

Printing a bigger variety of paper sizes (including fabrics and glossy paper)
OEM vs. Remanufactured / Compatible Ink and Toner
After you have made your decision between toner vs. ink, you need to consider whether to use original, remanufactured, or compatible cartridges. Here's a quick walkthrough of each option.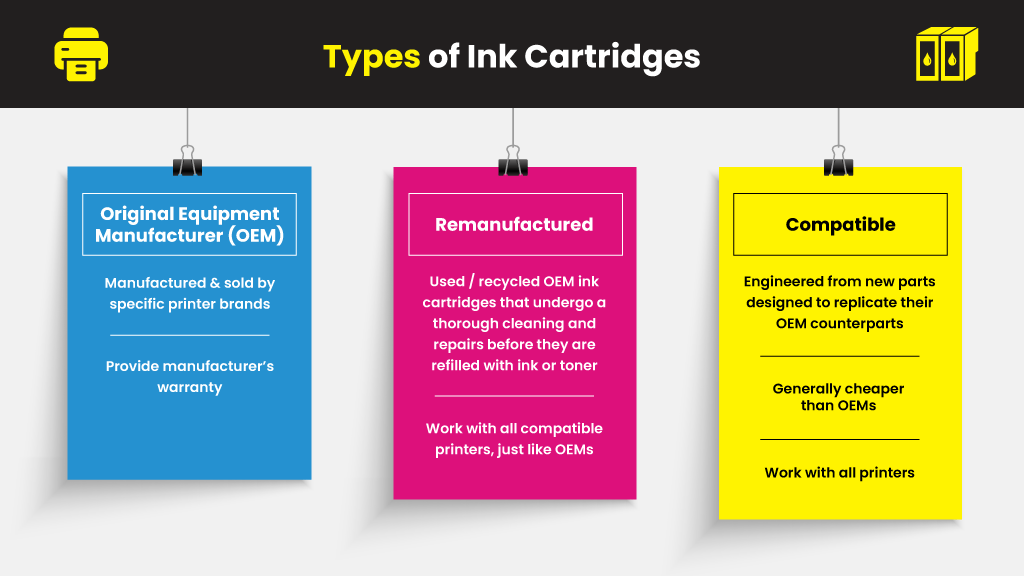 Original Equipment Manufacturer (OEM) Ink Cartridges
OEM cartridges are brand-new printer ink cartridges. They are manufactured and sold by specific printer brands to be used in their products. HP ink cartridges, for instance, are made to be used exclusively for HP printers. 
OEM ink cartridges are usually the most expensive among the three, although they provide certain advantages like a manufacturer's warranty. They will also work flawlessly with your printer, giving you the ink supplies you need from the same company that manufactured your printer.
Remanufactured Ink Cartridges
Compatible Ink Cartridges
Ink & Toner Cartridges from YoyoInk
Ink and toner cartridges from YoyoInk include both remanufactured and compatible options, depending on the particular cartridge. Our ink cartridges deliver the same print quality and performance as their OEM counterparts but at up to %75 less cost. They are also made from the best materials and manufactured with the highest standards of craftsmanship. If you are not satisfied with any of your orders, we will give you your money back in full, no questions asked!