What is Printer Ink Made of? 
Some great inventions revolutionized history, which changes the way we transport, communicate, and learn. An innovation that enables the spread of knowledge faster and cheaper than ever before is the printing press, which was followed by typewriter, telegraph, printer, and scanner. As we discuss these inventions, we need to recognize that ink plays an important role in supporting these mechanical devices. 
Ink is a liquid or semi-liquid material that is used for drawing, writing, and painting. Its basic ingredients include a colorant, varnishes, and additives.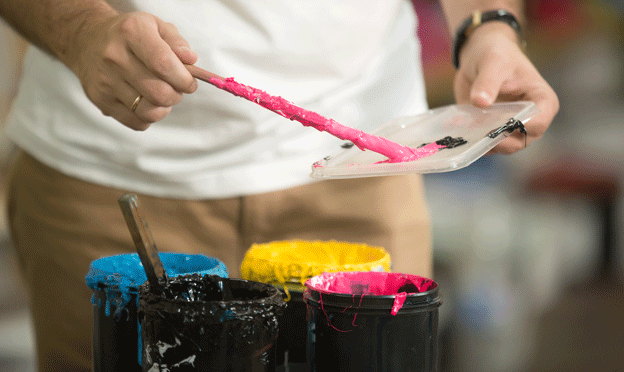 Ink can be traced way back to 4500 years ago when the Egyptians and the Chinese invented the first writing ink. The ink was made by mixing animal glue and soot from the pine trees. As black writing ink started to gain popularity, different color inks were discovered. These colorful natural dyes are made from a combination of animal fats, vegetable or fruit juices, and plants. 
In the 15th century, with the introduction of the printing press by Gutenberg in Europe, a new type of ink was developed. The Gutenberg dye is made from lampblack (a kind of soot), varnish, and egg white. It is oil-based and more importantly, indelible. 
As time goes on, our technology becomes more complex. We started to have a higher expectation from our printing experience; various printer companies like Canon, HP, Brother, and Epson started to innovate different types of printers to accommodate our needs. For example, some cost-effective ink cartridges are innovated such as the compatible cartridges to achieve our different demands.
What is Printer Ink Made of Today? 
Ink is made of a mixture of ingredients including solvents, colorants (pigments or dyes), resins, varnishes, and additives including drying agents, waxes, and lubricants.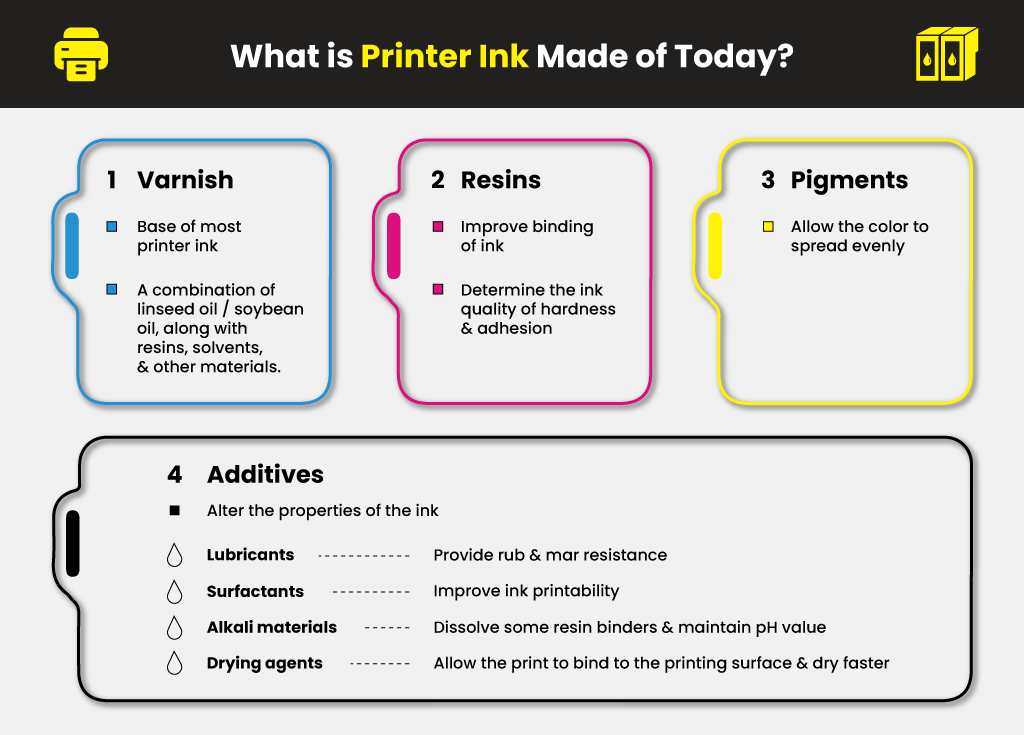 The varnish is the base of most printer ink. It is a combination of linseed oil or soybean oil, along with resins, solvents, and other materials. They are used as an ink vehicle like a binding agent, which improves the gloss of the ink and protects the printing from wear and tear. 
Resins help to improve binding. Not only do resins bind the ink ingredients together, they also bind the ink to a printed surface by determining the ink quality of hardness and adhesion. 
Pigments are added into the varnish to allow the color to spread evenly throughout the printer ink. Pigments determine the ink color, while the particle size of the pigments determines the color intensity. 
Additives are some elements added to the printer ink to alter the properties of the ink to fit into different situations. Lubricants provide rub and mar resistance; surfactants improve ink printability; alkali materials dissolve some resin binders and maintain pH value; drying agents allow the print to bind to the printing surface and dry faster. 
Printer ink usually falls into one of these two categories: pigment-based and dye-based. There is no definite answer to which one is better than the other. It depends on what you value more as a customer: 
Soluble— dissolve completely in liquid and change chemistry structure of its solvent 
Insoluble— need the help of a vehicle to dissolve and particles will be present in the ink
– provide a brighter and more vivid color
– able to print archival-quality images and text
– resist water and UV light better 
– not waterproof and susceptible to smudging 
– lacks dye-ink brightness and broad color range- resist water and UV light better 
Tend to fade after 25 years
Resist fading for up to 200 years
Conclusion: 
Dye ink wins — quality. 
Pigment ink wins — water resistance, long-life durability, and color consistency. 
Printer ink is generally non-toxic in small quantities and is manufactured with strict adherence to rules and safety guidelines. However, one should not ingest it, and it is always a good practice to keep ink cartridges out of the reach of small children. If you accidentally consume printer ink, it can possibly make you feel sick. You should check the packaging or the Safety Data Sheet (SDS), which is a detailed document on the hazardous chemical from the manufacturer's website, to make sure if further action needs to be taken. 
Although a small quantity of ozone and VOC (volatile organic compounds) may be produced during the process of photocopying, the possible negative impacts of exposure were examined by the EPA. There were a few eye irritation cases but none of them lead to permanent eye damage. The skin irritation cases were negligible too. 
If you are unsure of whether your printer ink is toxic, always ask an expert! Ink poisoning is rare, but it never hurts to do some research or seek help from professionals to learn more about ink toxicity.
Surprisingly, there is a type of printer ink that is edible! Edible ink has passed all FDA's food and safety regulations. It is mostly made of water, sugar, and FDA-approved colorants— there should be no worries to consume edible ink at all! 
Using the edible ink, the inkjet printers can print edible images onto sheets of specialized frosting papers or rice papers, which can be used to decorate baked goods. However, it is better to dedicate a clean or new printer when you proceed to print edible images to prevent contaminating your food from previous regular printing ink. 
Ink Waste: Is Printer Cartridges Bad for the Environment?
The printer ink contains several chemical components such as pigments and additives which are made by heavy metals that could pose serious environmental issues. At the same time, some ink and toner cartridges consist of non-biodegradable plastic casing and petroleum. Thus, we should handle the used and old ink cartridges properly instead of throwing them away, which will ultimately pollute the soil and water when they reach the landfill. 
We should recycle our used ink cartridges! There are a lot of ink and toner recycling programs around us — in fact, you can earn rewards by recycling the cartridges at Staples, Office Depots, and some other locations. Earth911.com creates a platform to guide the users to recycling locations simply by typing the zip code! 
To reduce the impact of cartridges waste, we can also use the remanufactured ink and toner cartridges, which are the recycled printer cartridges. In this way, we could save resources, water, and energy that are supposedly used to create entirely new cartridges. Do keep in mind that there are some differences between remanufactured and compatible printer cartridges. 
Aside from disposing of printer ink cartridges properly, it is also important to educate ourselves on how to reduce the waste of these cartridges. We need to recognize that there are other tips to practice green printing, such as duplex printing. Before printing, we should always ask ourselves, are the printings necessary? What can I do to practice eco-friendly printing?