Inkjet vs. Laser Printer: Which is the Better Choice for You?
Is inkjet vs laser printer really an important discussion? Yes it is, because printers can either be a great addition or burden to your home or office. With the right printer, you can meet all your printing needs with the greatest of ease and efficiency. The market, however, is teeming with all sorts of printers from different brands like HP, Canon, Brother, and the like. So how would you know which type of machine is right for you?
Inkjets and laser printers are two of the most popular printers in the market today. In this post, we'll compare one from the other according to key factors including performance and cost. Well also present their inherent strengths and weaknesses so you'll know what makes them unique from each other. Hopefully at the end of this blog, you'll have everything you need to make the right choice.
What is the Difference Between Inkjet and Laser Printers? 
In this section, well evaluate an inkjet and laser printer in terms of print speed, print volume, and page yield. They should help you decide which printer is the right choice for you. But before going to that, let's first define the two types of printers.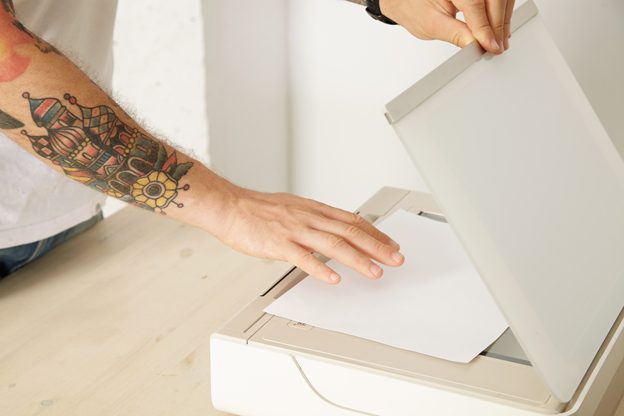 What is an Inkjet Printer? 
With inkjet printing, tiny drops of ink are sprayed into the paper, recreating the digital image from the computer. Inkjets are the most widely used types of printers and come in various forms, from compact affordable consumer versions to costly professional designs. They're also perfect for low-volume printing needs, making them a popular choice for home users.
Laser printers are ideal for high-volume printing – usually in an office setting although it can also be a good choice for home use. With Laser printing, powder toner is used for creating the desired image instead of traditional liquid ink. These machines can make almost any print project neater and more sophisticated using 600 dots/inch resolutions or higher.
Laser printers are designed to meet the demands of the office. For that reason, they are especially designed for faster printing (around 15 – 100 pages per minute). Inkjets, on the other hand, are relatively slower at about 16 pages per minute. Because laser printers are faster, they can produce more documents at higher monthly print volumes than inkjet printers.
Average Print Speed for Laser Printers: 15 – 100 pages per minute
Average Print Speed for Inkjet Printers: 16 pages per minute
Print volume pertains to the amount of printing you can do at a certain time. The best laser printers are recognized as the office's workhorse due to their ability to print substantial amounts of documents fast. Since inkjets were created for home use, their print volume is relatively smaller.
In comparison, let us check the Canon TS6200 Inkjet and HP LaserJet Pro M401n for print volume.
Print Volume for HP LaserJet Pro M40In – 35 pages per minute
Print Volume for Canon PIXMA TS6220 Inkjet – 15 pages per minute
Notice the significant difference in print speed and print volume of the two printers. You can learn more about Canon vs HP Inkjets and Laser Printers from our blog.
Laser toner can print more than Inkjet ink. The majority of ink cartridges have a page yield that can generally print 135 – 1000 pages per tank. Toner cartridge page yields go between 2,000 – 10,000.
Ink tank printers, though, have enabled inkjet users to take advantage of higher ink volumes for their machines. That means lesser time wasted on replacing cartridges constantly every time they run out of ink. For Canon and Epson tank printers, you must utilize bottle refills and not cartridges. A single ink bottle refill can print up to 6,000 pages. Brother's ink tank printers can utilize cartridges with bigger ones that contain more ink volume. 
(d) Inkjet vs Laser for Photo Printing
The specific components of a toner powder and liquid ink can affect their suitability for specific types of printing. The liquid ink's natural component entails that such mixtures can be reproduced easily on an inkjet instead of a laser printer.
Laser printers weren't designed to be always capable of handling photo printing, as it depends on halftone dots to produce document colors. Even the laser printers capable of handling higher-quality photo printing color require a specialized photo paper to make it happen, which is less convenient when compared to a standard photo paper with an inkjet.
Laser printers, though, tend to do better at printing text and providing clear and crisp letterforms that are unmatched by the majority of inkjets. Inkjet printing can bleed slightly, and even though the printing is neat, the letters aren't as sharp when observed closely.
Inks can smear, and because inkjets keep drying even after printing, the possible smudging of documents becomes a problem to inkjet users sometimes. Since laser printers are using heat-transfer, the print is smudge-proof by the time it exits the printer
Inkjets are better than Laser Printers in terms of printing photos, but laser printers are better when it comes to text documents. And although there are color laser printers available in the market today, they're more costly compared to inkjets. 
(e) Are Laser Printers Cheaper to Run than Inkjet?
In terms of overall cost and which type of printer is cheaper, there are two kinds of factors to consider. First is the upfront cost, which is the price for purchasing an inkjet or laser printer in a store. The other one is maintenance cost and this involves a more complex discussion.
Inkjets are cheaper to purchase since they are technologically simpler and require lesser resources to build. Conversely, laser printers are costlier to purchase because they are more difficult to make. Generally, you'll spend at least $200 for a brand new laser printer, which is rather expensive.
(f) Laser Printer vs Inkjet Cost per Page 
In terms of maintenance cost, it all boils down to how much you'll spend for laser printer toner and inkjet ink cartridges. Inkjet printer ink is extremely pricey compared to Laser toner. The cost per page for printing black prints is between 5 and 10 cents, depending on the inkjet model. And if you print in color, it's even costlier – around 15 to 25 cents for every page.
On the other hand, the maintenance cost for laser printers is lower mainly because of cheaper toner cartridge prices. It will only cost you no more than 5 cents per page for printing black printouts regardless of the model. And when it comes to color prints, the cost per page is about 15 cents or less for laser printing. 
Advantages & Disadvantages for Both Printers
Now let's dive into the advantages and disadvantages of inkjet and laser printers. These factors are what make them unique from each other. Knowing them is crucial for determining which one is right for you.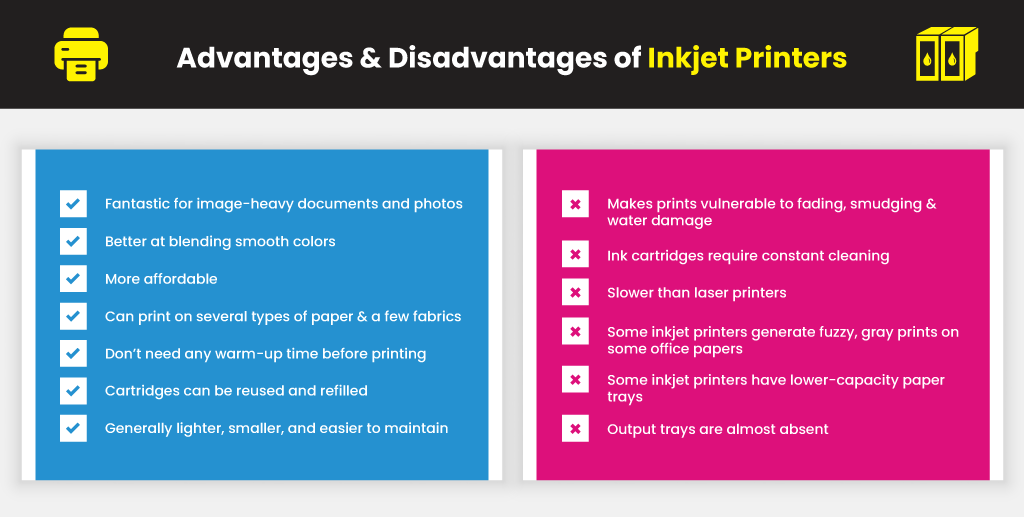 Advantages of Inkjet Printers
Fantastic for image-heavy documents and photos.
Inkjet printers are better at blending smooth colors compared to laser printers.
Inkjet printers are more affordable. Inkjet ink cartridges are also cheaper to buy than toner cartridges per unit.
Inkjet printers can print on several types of paper such as textured stationery, glossy photo paper, and even a few fabrics.
You almost don't need any warm-up time before printing.
Inkjet cartridges can be reused and refilled, reducing waste and saving more money.
Inkjet printers are generally lighter, smaller, and easier to maintain compared to laser printers.
Disadvantages of Inkjet Printers
Inkjet ink is water-based making prints vulnerable to fading, smudging, and water damage.
Ink cartridges require constant cleaning. The printer may perform such maintenance automatically, but it wastes a lot of ink.
Inkjet printers are becoming faster, but they're still slower than laser printers, making high-volume printing a challenge.
Some inkjet printers generate fuzzy, gray prints on some office papers.
Some inkjet printers – like those for home use – have lower-capacity paper trays, around 5-100 sheets.
Output trays are almost absent and this might cause problems when printing in volumes.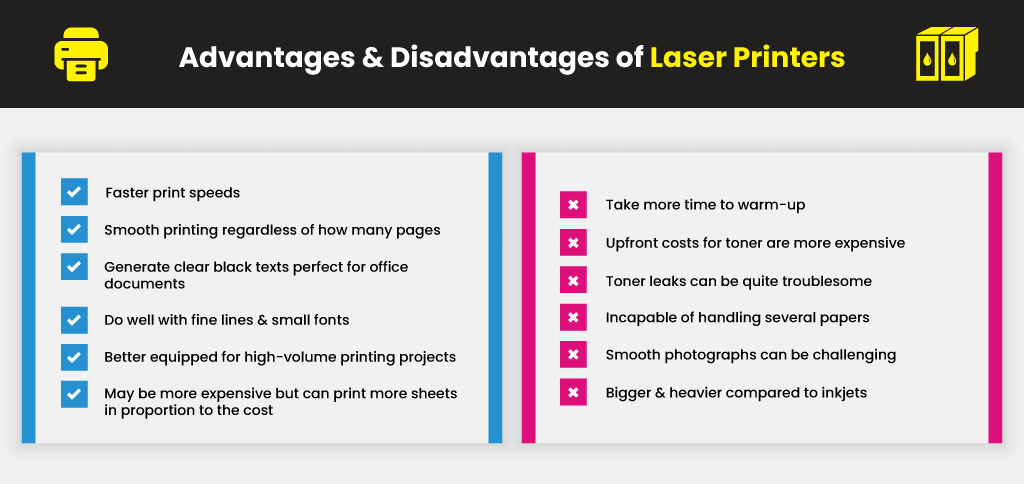 Advantages of Laser Printers
Laser printers have faster print speeds compared to inkjet printers.
Regardless if it's hundreds of pages or just a few pages, printing will be smooth.
Laser printers generate clear black texts perfect for office documents.
If you're printing mostly texts and some graphics, the laser would be perfect. They also also do well with fine lines and small fonts – better than inkjets.
Laser printers are better equipped for high-volume printing projects.
Price comparisons show that laser printers are better than inkjet printers when it comes to printing documents that are not graphically complicated. They may be more expensive, but they can print more sheets in proportion to the cost compared to inkjet cartridges. That makes these cartridges less wasteful.
Disadvantages of Laser Printers
These printers may be faster, but they take more time to warm-up.
The toner may be cheaper in the long-run, but upfront costs are more expensive with laser printing.
Toner leaks can be quite troublesome.
Laster printers are incapable of handling several papers when it comes to printing materials compared to inkjets. Anything heat-sensitive can't run through them.
Although home laser printers can manage simple graphics quite well, smooth photographs can be challenging. Inkjets do much better when it comes to printing photos.
Although there are some compact designs available in the market, laser printers are mostly bigger and heavier compared to inkjets.
With all that being said, here's what you need to keep in mind with inkjet vs laser machines. Inkjet printers are generally smaller and more affordable and are very dynamic when it comes to printing high-quality images. And that includes photos and text-based images. On the other hand, laser printers are generally faster and produce higher page yields compared to Inkjets. 
In general, laser printers are more expensive to buy upfront from a store than inkjets. However, they do have a lower cost per page than inkjets, making them more cost-effective in the long run. If you print frequently, then you'll end up saving more money from a laser printer than an inkjet printer.
If you're looking for high print speeds and volume for business, then the laser printer would be the better choice. However, if you only want something for your home, then the Inkjet printer is the ideal option. Ultimately it will depend on your specific needs and budget.