Canon vs HP Printer: The Showdown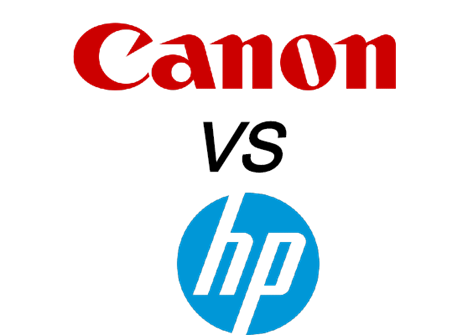 Canon and Hewlett-Packard (HP) are among the two major players when it comes to printers. They are the top brands that are highly-recognized by consumers. Whether you are looking for an inkjet or laser printer, choosing between Canon or HP can be a challenging task since both offer both types of printers.
Though Canon has been proven to produce incredible print speed and quality, how is it compared to HP printers? If you are asking the same question, then this article will be helpful to you. In this article, we are going to compare Canon and HP printers based on a few aspects such as speed and quality, ink price, and paper handling. We will also compare their inkjet, laser, and multifunction/all-in-one printer versions.
Let us begin with the Canon vs HP showdown!
First, let us check Canon and HP's print, copy, and scan qualities.
Regardless of the brand, laser printers always do better jobs compared to inkjet printers when it comes to text prints. However, recent inkjet printers (like Canon PIXMA TS6020) can print text documents that are comparable with laser printers. The majority of HP printers can also produce sharp text prints. 
Canon's TS6020 is your best option when it comes to sharp and sleek PDF prints, although HP can also consistently print sharp PDF texts. When it comes to graphics, HP printers are better than Canon. 
All Canon and HP printers can produce superb glossy photos but Canon printers produce more natural-looking photos compared to warmer HP prints. In this case, Canon is more preferred when printing exceptional and natural glossy photos.
If you will be copying and scanning often, then HP printers (like Envy 5540) would be your best options. They produce detailed and seamless transitions that are more evident on plain papers.
Contrastingly, Canon printers produce rougher copies. Although Canon's TS6020 model can produce natural-looking prints, they cannot produce detailed copies of darker areas. However, when it comes to quality and speed, Canon beats HP printers.
OVERALL QUALITY WINNER:

CANON
Let us now proceed to Canon and HP's printing and copying/scanning speeds.
Canon printers can produce amazing prints at high speeds up to 10 pages/minute while HP printers can only print up to 9 pages/minute when it comes to text prints. For graphic prints, Canon still wins at an average of 2.8 pages/minute while HP can only reach up to 2.1 pages/minute. Again, Canon wins when it comes to fast text, photo, and graphic prints.
Below are the average copying and printing speeds of Canon and HP printers:
Colored High-Resolution Scans
As you can see, Canon still wins against HP when it comes to copying and printing speeds..
OVERALL SPEED WINNER:

CANON
When it comes to expenses, cheaper models (like Canon all-in-one printers and HP printers all in one) are not always cost-effective because they can consume a lot of ink in the long run. Below is a table showing the estimated costs per page for Canon and HP:
Colored High-Yield Cartridges
Colored Standard Cartridges
Learn More
Based on the table above, it is evident that Canon offers the lowest overall expenses when it comes to ink usage. You can greatly reduce your ink cartridge expenses by opting for ink subscription plans. You can ask the company you bought your printer from if they offer these plans.
OVERALL INK PRICE WINNER:

CANON
The last factor we are going to discuss is paper handling which describes a printer's consistency, efficiency, and smoothness in moving papers from its loading tray to the final print. Canon handles paper better compared to HP with fewer repairs and paper jams but if you want to print on two-sided papers, HP would be the best choice.
PAPER HANDLING PRICE WINNER:

CANON
Comparing the Best Canon & HP Printer Types
Now, let us compare Canon and HP's most popular printer models based on the printer type.
Best Canon Laser Printer: Canon Color imageCLASS LBP7660Cdn
Price: Around $500
Print Speed: 21 pages/minute for black & white, colored, and double-sided pages
Can hold 250 sheets
Holds 50 sheets
Best HP LaserJet Printer: HP Color Laserjet CP2025n
Price: $350 – $600
Can produce excellent text and graphic prints but not that good photo prints
Holds 250 sheets
Does not have memory card slots, PictBridge capability, and LCD viewer
Best Canon Inkjet Printer: Canon Pixma iP4820
Price: $84
Has a PickBridge capability
Has a money-saving app for individual color ink cartridges
Can print at 9600 x 2400 DPI 4×6 photos
Can produce good-quality text prints
Does not have networking capabilities, LCD viewer, and a memory card reader
Best HP Inkjet Printer: HP Officejet 6000
Price: $64.12 – $154.41
Does not have a PickBridge capability
Has individual color ink cartridges, internal Ethernet, and wireless capabilities
Can produce decent prints at 4800 x 1200 DPI.
Does not have an LCD viewer and memory card slots
Slightly expensive for a compact printer with many limits
#3 Multifunction/All-in-One Printers
Best Canon Multifunction Printer: Canon Pixma MG8120
Price: $229.84 – $346.55
Holds 150 papers
A wireless printer that prints, copies, and scans
Does not have a FAX capability
Two-sided print at 9600 x 2400 DPI
You can preview as well as edit photos
Works on Mac and Windows
Best HP All-in-One Printer: HP Officejet Pro 8500A e-All-in-One A910a
Average Price: $180
Holds 250 papers
Prints, copies, scans, and faxes
Prints at 4800 x 1200 DPI
Main downside is that it will not work if a single cartridge runs out
PictBridge connection
Reads standard memory cards
Built-in Ethernet and Wi-Fi
Can print directly from iPad, iPhone, and iPod Touch
Though Canon and HP are both popular in the printing industry, Canon outshines HP in all aspects as you have seen in our comparisons. However, HP printers are cheaper compared to Canon printers but do not base your buying decision on price only. Your printer will be your "partner" for a couple of years so you have to choose wisely. You can also check out our Canon vs Brother printer and Canon vs EPSON printer articles.
Where you able to choose which printer is best suited for you? We'd love to hear your thoughts in the comments section below.

Make sure to check out YoyoInk's other printer comparison articles below:
If you want more Canon and HP printer reviews, you can read the comparisons below: