Ideas for Homemade Thank You Cards
We should always be grateful to the people around us. Even in the toughest of times, it is important to think about the people who care about us— those who encourage us, listen to us and accompany us to get through the hard times. The purpose of a thank you card is to carry a message of appreciation to someone who has done us a favor. 
Why Should I be Grateful?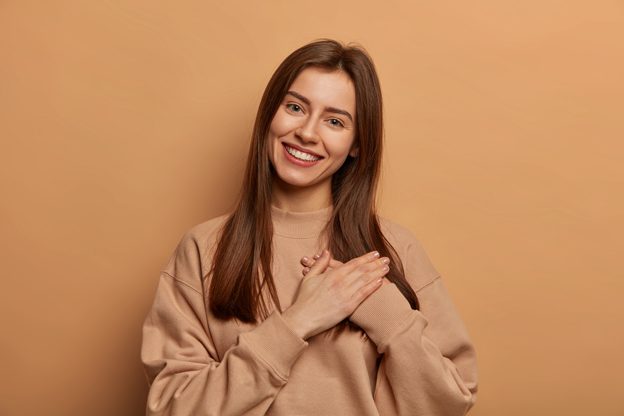 Gratitude spreads positivity. When we can see the positive side of what people have done, it prompts us to treat others better, which makes others treat us better and perpetuates a cycle of happiness.
Gratitude improves both psychological and physical health. Thankfulness reduces our stress, which lowers our blood pressure, increases sleep quality, develops a stronger immune system, and reduces depression.

Gratitude promotes altruism

. A scientific study shows that when we are grateful, we tend to be more helpful and generous to the people around us. 
Gratitude improves our relationships as it enhances empathy and reduces aggression. Thus, we are more likely to have prosocial behavior and make more friends. 
Gratitude increases self-esteem. When we are thankful, we appreciate others' accomplishments more, which reduces our social comparisons and makes us happier.
Who should I give a Thank You Note to? 
To anyone who you would like to express your appreciation! They can be your family members, teachers, colleagues, interviewers, or anyone who did you a favor.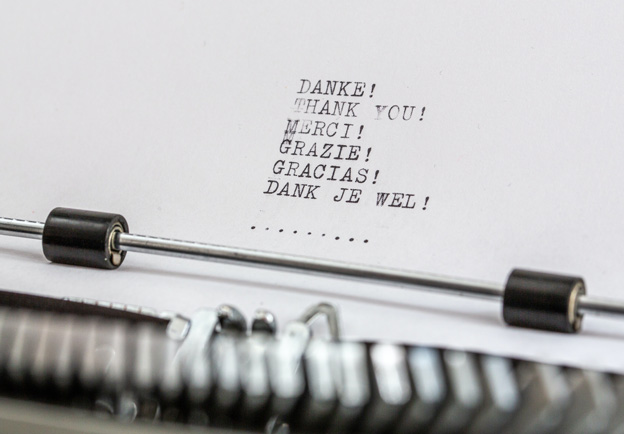 Ideas for Easy DIY Thank You Card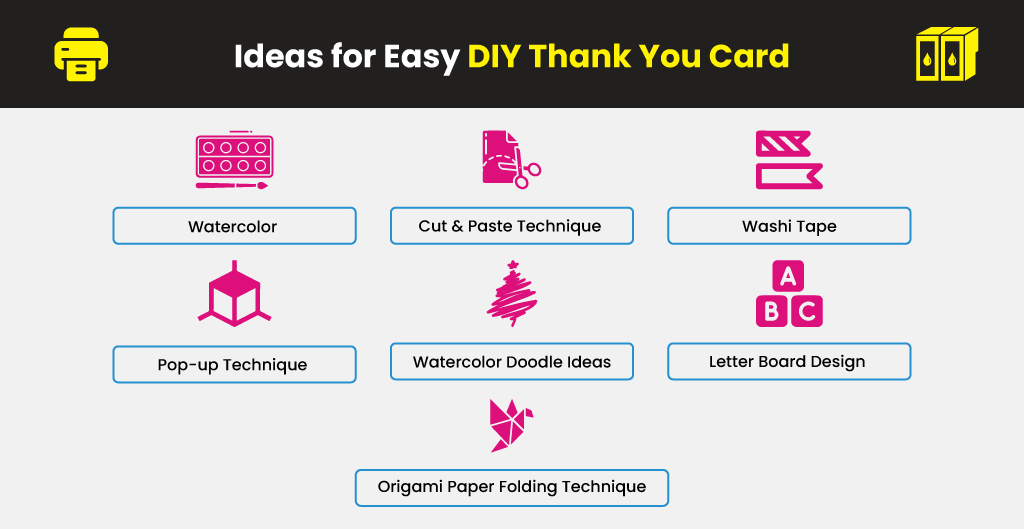 Using Printable Thank You Card Templates
If you have no idea how to start from scratch, you can use some thank you card templates online. There are some amazing templates from websites like Canva. After creating your thank you card using those design ideas, you can print them out nicely. You don't need the most expensive printer with the best features. All we need is an adequate printer filled with high-quality ink cartridges! 
An easy watercolor technique is to create an ombre effect. The visual graduation from a light color to a darker one creates a sense of elegance and produces an atmospheric effect. We can alter different colors to create drama for this visual effect. Just have fun mixing different colors! 
2. Using Cut and Paste Technique 
Find any images or texts that you like from any old magazines or brochures and glue it on the cover of your card. Let your creative muse run wild! You can also use the pages of an old book and newspaper to create a perfect integration of classicism and modernism design! 
You can use washi tape to create a quick and easy thank you card design. It is extremely simple; and you can make a mass quantity of them at the same time if you want to. You can also get some help from older children and make it a family project to unleash everyone's creativity!
4. Using Pop-up Technique 
Making a 3-dimension card can be difficult. However, there are some simple pop-up card templates and we can go from there! Pop-up cards are a great twist on other common thank you cards. You can leave a huge surprise to your receiver! All you need is a printer with color ink cartridges to print out the pop-up card printables and some cutting skills! 
5. Using Watercolor Doodle Ideas
This watercolor doodle technique is super fun for people of any level. You don't need to think too much about each doodle. Just loosen up your art muscles and do whatever you want! Challenge yourself and see what you can come up with! 
6. Using Letter Board Design 
Letter Board Design has become a trendy home decor accessory because of its minimalist idea. Why don't we incorporate such ideas into our thank you card? A DIY letter board card looks extremely cool and is easy to make! Find a quote that is funny or inspirational. A meme works too! 
7. Using Origami Paper Folding Technique 
Origami is an art of paper folding. Although it can get very advanced and complex, there are a lot of easy origami projects for beginners. After finishing folding the origami, we can adhere it to the cover of your thank you card. Or, we can simply insert it into the envelope of your thank you card like a little accessory! 
How to Write a Thank You Note
A thank you note should be personalized. Instead of trying to include the best word, you should focus on your gratitude. If you have no idea what to write in your thank-you note, you can consider the following steps: 
Greet your card recipient
Express your gratitude of service/ gift
Briefly mention the specific kindness that you are thanking the recipient for 
Mention the reason of you being thankful
Include a forward-looking statement. It can be as simple as "I hope to see you soon." 
Reiterate your thanks
End with your regards
10 Funny Thank You Quotes
A thank you note does not have to be serious. If your intention is not sending a professional thank you letter, it doesn't hurt to make your card funny. Nothing is more rewarding than seeing a huge smile on your recipients' faces while you are thanking them. Here are some fun thank you lines: