How to Print with Black Ink Only When Color Cartridge is Empty?
Using ink cartridges also has its share of challenges and frustrations. Take this particular scenario: your color cartridges have run out of ink, so you want to print in black and white only, but your printer won't allow it. Luckily, there is a way to work-around this difficulty on your HP printer.
Can you print when one Cartridge is empty?
You can print when one printer cartridge is empty by adjusting your printer's settings. However, it will depend on how lenient your printer is. Numerous HP printers today, however, have been programmed to block you from printing when one printer cartridge is empty. It thus forces you to purchase a new ink cartridge replacement at the most inconvenient time.
The way to work around this obstacle is to override the HP printer empty cartridge "blocking mechanism" by resetting your printer and then configuring the print settings.
How to Override HP printer empty cartridge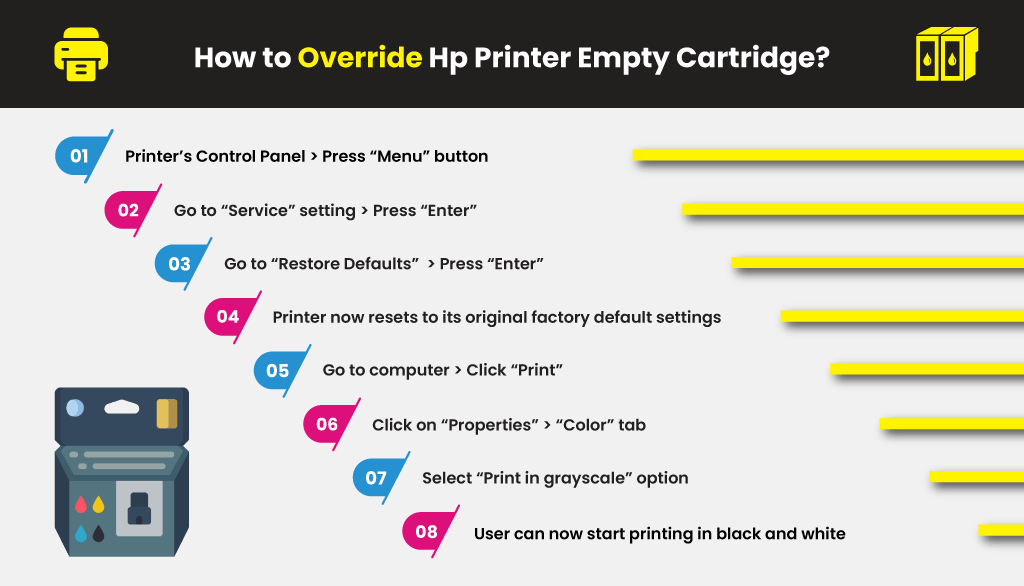 Go to the printer control panel and press the

"Menu"

button.

Using the Left and Right arrow buttons, go to the

"Service"

setting and press

"Enter."

Using the Left and Right arrow buttons again, go to

"Restore Defaults"

and then press

"Enter." 

Your printer now resets to its original factory default settings.

Go to your computer and click

"Print"

from the file that you wanted to print. 

Click on

"Properties"

and then the "Color" tab next.

Select the

"Print in grayscale"

option by clicking on its checkbox.

You can now start printing in black and white.
If your using a Mac computer, here's how to set print settings into grayscale:
So those were the steps you need to print in black if your color cartridge is empty. If you're considering purchasing compatible and remanufactured HP ink cartridges, try shopping here at YoyoInk. We can give you the best deals and prices for high-quality compatible and remanufactured ink cartridge replacements for your HP printer. Our products are up to 75% more affordable than their branded counterparts but offer the same print performance and quality.