Why is Printer Ink SO Expensive? Facts on Printer Ink Costs
Shopping for printer ink can be quite depressing. Prices are a frightening sight to behold, and the replacement process is often a delicate mess. And before you know it, your cartridges have already been spent, and you need to relieve this dreaded cycle again. For printer owners like you and me, it's a constant source of frustration. 
Frustrated at how your printer ink can be so expensive?
But why is printer ink so expensive? The answer may surprise you. Below, we'll shed some light on this controversial topic, and other related FAQs like "Is printer ink more expensive than gold?" and "How much does printer ink really cost?" 
Why is Printer Ink more expensive than a Printer?
For the majority of consumer printers, their cost of manufacturing is astonishingly higher than their retail price. You can purchase, for instance, an HP Envy 4520 all-in-one printer that costs roughly $120 to build at just 70$ from a retail store. It may not make sense at first glance as it would appear that manufacturers are at a loss, but it's a smart money-making strategy.
Printer companies are deliberately putting a lower price on their goods because it ultimately gives them better returns. They follow a classic business model employed by Razor companies where they sell their products at a low price to help drive the sales of its accessories, where the real profit is generated.
In this case, the product is the printer, and its accessories are the ink cartridges. So it's really important that you consider finding a printer with the cheapest ink if you want to lower your printing costs and save money in return.
Is Printer Ink more expensive than Gold? 
The answer is a mind-boggling yes, and it's not just gold. Printer ink is more expensive than imported Russian caviar per weight and pricier than a1985 vintage Krug champagne per gallon. 
A lot of this has to do with the extensive research and development involved in creating them. A team of experts from various fields like chemists and engineers is required to come up with a product that meets the demands of consumers who want to print photos that are as true to life as possible. And not to mention the state-of-the-art technology and equipment needed in this undertaking.
Printer ink is essentially a mix of food dye and water. Prominent brands like Canon, Epson, and HP, invest a great deal of time and human ingenuity to come up with the perfect blend that delivers the best photographic quality. The ink must also be fast-drying and resistant to water and smear to cater to various needs and applications. 
And as the competition in the market grows fiercer, companies are forced to pour even more resources on R & D. In 2010, Hewlett-Packard spent roughly $1 billion annually on ink research and development alone. All that money spent, of course, will ultimately translate to the final price of the product.
How much does Printer Ink really cost?
As mentioned earlier, a portion of the price that you pay for when buying ink for your printer covers the costs for its research and development. A study conducted by Consumer Reports back in 2013 revealed that inkjet ink costs between $13 and $75 per ounce, which equals $1,664 – $9,600 per gallon. This price range is generally more expensive than pricy champagne and perfume bottles. 
Can I use Solvent Ink in my Inkjet Printer?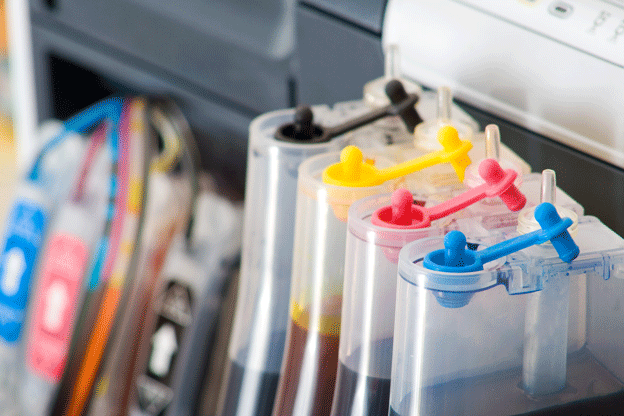 Yes you can, although it will only work on a solvent inkjet media, which comes either in coated or uncoated form. Solvent printers can print vivid colors on a wide array of surfaces or materials, such as vinyl, film, paper, textiles, and many more. Its printouts can also meet outdoor applications for long durations, especially when printed on durable surfaces or materials.
Solvent ink is "oil-based" which means it's none-soluble on water. This property makes it waterproof and extremely resilient, although it emits a potent odor, so you'll have to use it in a controlled environment. 
Are there cheap Printer Ink available in the market?
Now you have some idea why printer ink is so expensive. You're probably feeling sick of all this absurdity and thinking there must be a better way. Fortunately, there is, and they come in the form of compatible and remanufactured ink cartridges. 
Compatible and remanufactured ink cartridges offer an affordable solution to high-priced OEM ink without sacrificing quality and performance. These economical options deliver the same amount of pages and print results as their branded counterparts but at up to 75% lower costs. Whether you're looking for cheap printer ink products for HP, Brother, Canon, Epson, Kodak, Lexmark, or other brands, you can easily shop for them online from a trusted source like YoyoInk.
Frequently Asked Questions
The Brother MFC-J805DW is arguably the printer with the longest-lasting ink cartridges in the market today. This all-in-one printer is a smart investment because of its minimal ink costs and good print quality and performance. Countless offices use the MFC-J805DW as an everyday driver for their operations because of its versatility and affordability. 
Perhaps the biggest reason the Brother MFC-MFC-J805DW stands out as the no.1 printer with the longest ink cartridge is its cost-per-print ratio. It also uses Brother's Brother's INKvestmentTank ink technology, which allows it to print more pages per round. For moderate users, they can print for an entire year without changing ink cartridges on this printer.
The Brother MFC-J985DW is an economical all-in-one printer that lets you create monochrome prints at the cost of less than one penny for every page. It belongs to Brother's renowned INKvestment series of printers and uses super high yield ink cartridges that allow you to print more pages for less. So if you're looking for the cheapest printer for your home, then you won't go wrong with the MFC- J985DW.
This all-one-one Brother printer comes with individual Black, Cyan, Yellow, and Magenta cartridges. The black ink cartridge can print up to 2,400 pages, while the color cartridges can print up to 1,200 pages each. It's one of the most cost-effective printers available in the market today and is perfect for those who print frequently. Costing just around $150, it's a price that most budgets can easily afford.
Most printers include a full set of ink cartridges in the box when you purchase them but keep in mind that they are usually starter cartridges. These starter cartridges are meant to get your brand new printer up and running for the first time. They contain less ink than standard yield cartridges and usually last for only two weeks, even if you don't print frequently. That means you'll have to order a new set of ink cartridges sooner than expected.