Save Money on Printer with Cheapest Ink: 5 important tips!
The price of the printer isn't the only thing that you need to consider if you're looking to save money. That's because your annual cost for ink cartridges will far exceed the entire amount you spent on purchasing your printer. Usually, you'll end up spending $150 on ink expenses for a $75 printer in just less than a year. 
No wonder prominent brands like HP, Epson, and Canon don't mind selling their printers for less. They know that the real money comes from the constant sales they generate from highly profitable ink and toner cartridges.
What is the best printer with the cheapest ink cartridges?
So if you want to save on printing, you need to focus on finding the printer with the cheapest ink. It can be quite challenging, though, especially if you don't know what you're searching for in the first place. With that being said, here are the essential things that you should look at when choosing an economical printer.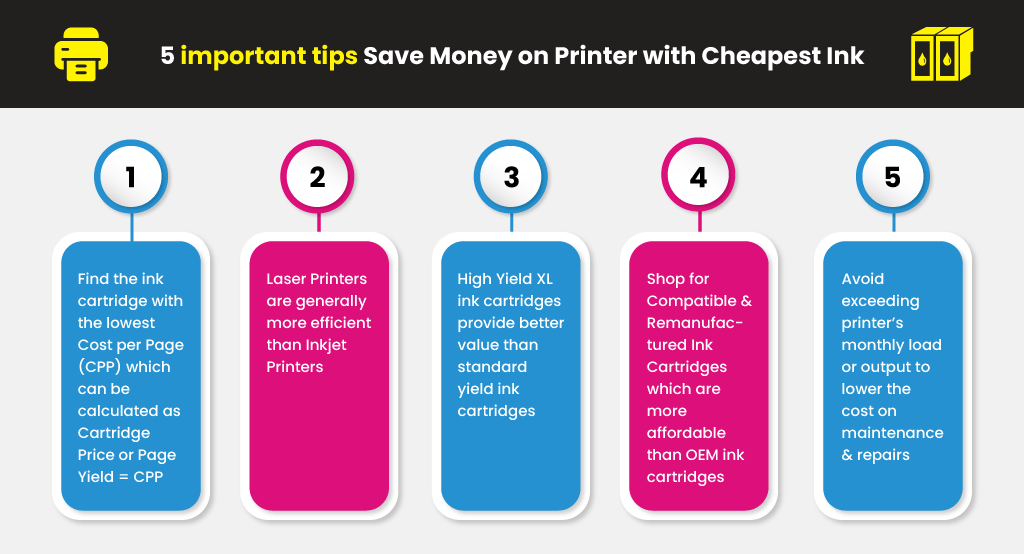 Tip #1: Calculate the Cost of Printing per Page
The first and most crucial factor that you need to consider is the cost of printing per page. It will help you determine the real value of a printer as well as its level of efficiency.
Each ink cartridge is capable of printing a specific number of pages, known as page yield before it becomes empty. When it comes to calculating the cost of printing per page, the formula is pretty straightforward. All you need to do is to divide the price of the cartridge with its page yield or:
Cartridge Price

/

Page Yield

=

Cost Per Page

or

CPP
For instance, a $17.95 priced HP 61XL cartridge with a page yield of 480 pages has a CPP of $.037. That means you'll only be spending 3.7 cents for printing one page using an HP 61XL ink cartridge. So if you want to find the cheapest ink printer, look for the smallest cost per page.
Tip #2: Printers vary in Efficiency
In terms of printing efficiency, laser printers are more superior to inkjet printers primarily because of their cartridges. Laser printers use toners that can print more pages than the ink cartridges of inkjet printers. 
A toner cartridge is generally more expensive than an ink cartridge, but its CPP is significantly smaller. And even though laser printers cost more, they are still more efficient than inkjets and thus provide better value overall.
Tip #3: Cartridge Size Matters
Printer ink cartridges are generally available in standard and high yield (XL) cartridge sizes. Usually, high yield XL cartridges can print 2x more pages than standard cartridges. They are also a bit more expensive since they carry a higher volume of ink.
For frequent printing, a high yield XL ink cartridge is the ideal option. You'll get hundreds of pages more for every round with a lower cost per page, giving you better value overall. That's why many high yield ink cartridges, like the Brother LC103XLand HP 63XL, are so popular among businesses and offices.
So if you're looking to buy a budget-saving printer, choose one that uses efficient ink cartridges. It will save you much money and also time since you'll be doing fewer replacements between rounds. 
Some printers also use super high Yield XXL ink cartridges for even more pages and a lower CPP. They are the best options when it comes to high volume printing needs.
Tip #4: Shop for Compatible Ink Cartridges
The majority of OEM ink cartridges available in the market today are quite expensive. Luckily, you can easily shop for more affordable alternatives online that offer reliable performance and high-quality results. 
There are compatible and remanufactured ink cartridges available that can help lower your printing costs by much as 75%. They can also replace branded printer ink cartridges, including Epson ink cartridges, Canon ink cartridges, Kodak Ink Cartridges, and more.
Remanufactured ink cartridges utilize recycled parts that undergo stringent inspections and industry-standard ink refilling practices. These remanufactured units can give you the same print quality and performance as OEM brand products at a lower price. 
Compatible ink cartridges, meanwhile, use new and innovative parts alongside industry-standard ink manufacturing processes. They are also as good and reliable as branded ink cartridges but are much more affordable.
Now, if you're planning to purchase a cheap printer, make sure that it can use these low-cost ink cartridge replacements. This way, you'll cut your printing expenses by 50% while still get the quality and performance you need. Check if there are readily available compatibles for your specific printer model from a reliable retail store online.
Tip #5. Consider the Load per Month
Finally, it would help if you also thought about the maximum output that you can expect from your printer. All printers have ratings for the number of pages they are capable of printing each month. You'll know whether or not a particular model is ideal for you by looking at its expected monthly page output.
It's an essential factor to consider, especially for companies and offices who are looking for a suitable working printer. But you can say the same for regular individuals and households as well. It's always best to have a machine that's ready to print on demand, whether it's several thousand or a hundred pages every month.
Realistically speaking, though, you'll probably produce somewhere between 500 to 1,000 pages, depending on your specific needs. Remember that exceeding a printer's maximum monthly output can strain its mechanism and lead to faster breakdowns. Once this happens, you'll end up spending money on repairs and replacements. You can also look at the load per month to gauge how much of a beating your printer can take.
Like & follow our social media pages to see more updates and promotions !