My Printer Prints BLANK pages, What Should I Do?
Today, you'll find a printer or two in almost every school, household, and office. From printing memorable photos to everyday documents and reports, it has become an essential tool in the modern world. Nevertheless, the handy printer has its fair share of flaws that can sometimes leave users in disarray.
One of the most frustrating things you may experience with a printer is when it suddenly prints blank pages. And if you're working on a crucial document or file, this problem can be quite maddening. Fortunately, there are ways to fix this issue so you can immediately get back to where you left off. They are also easy enough to do on your own even with little or no technical Know-how.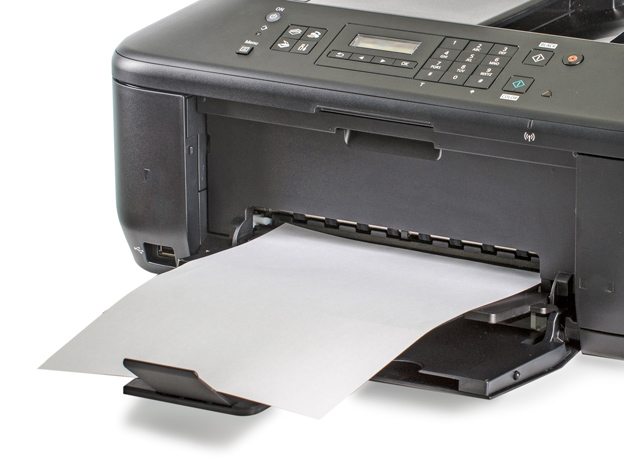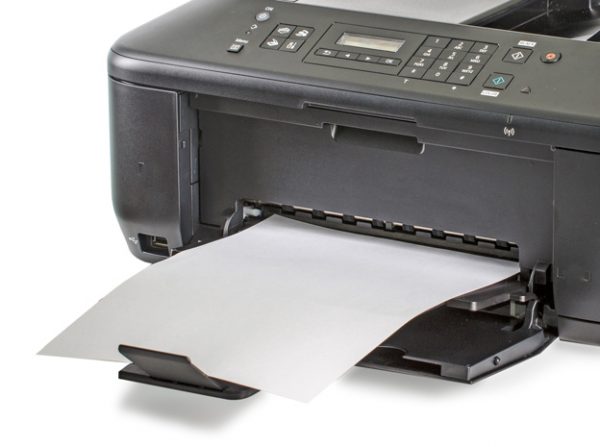 Why Is My Printer Printing Blank Pages?
When your printer suddenly starts printing blank pages, you may immediately think that you've run out of ink. Thus, if you replace your  printer ink cartridges with new ones, everything will return to normal. While an empty ink cartridge is a pretty common reason why this problem occurs, it isn't always the case. 
There are numerous possible causes for a printer that's randomly producing blanks. The most common ones are empty ink cartridges, improper cartridge installation, and congested nozzles. Driver and software issues can sometimes cause this problem as well.
Running out of ink?
Our remanufactured ink and toner cartridges are 4X CHEAPER than the branded ones!
What to do if your Printer is Printing Blank Pages?
If your printer is printing blank pages, don't panic and send your device to a repair shop in a hurry. You can avoid spending money on costly repairs by trying out the numerous solutions below. And regardless of what's causing the issue, we can give you a step-by-step guide on how to fix it.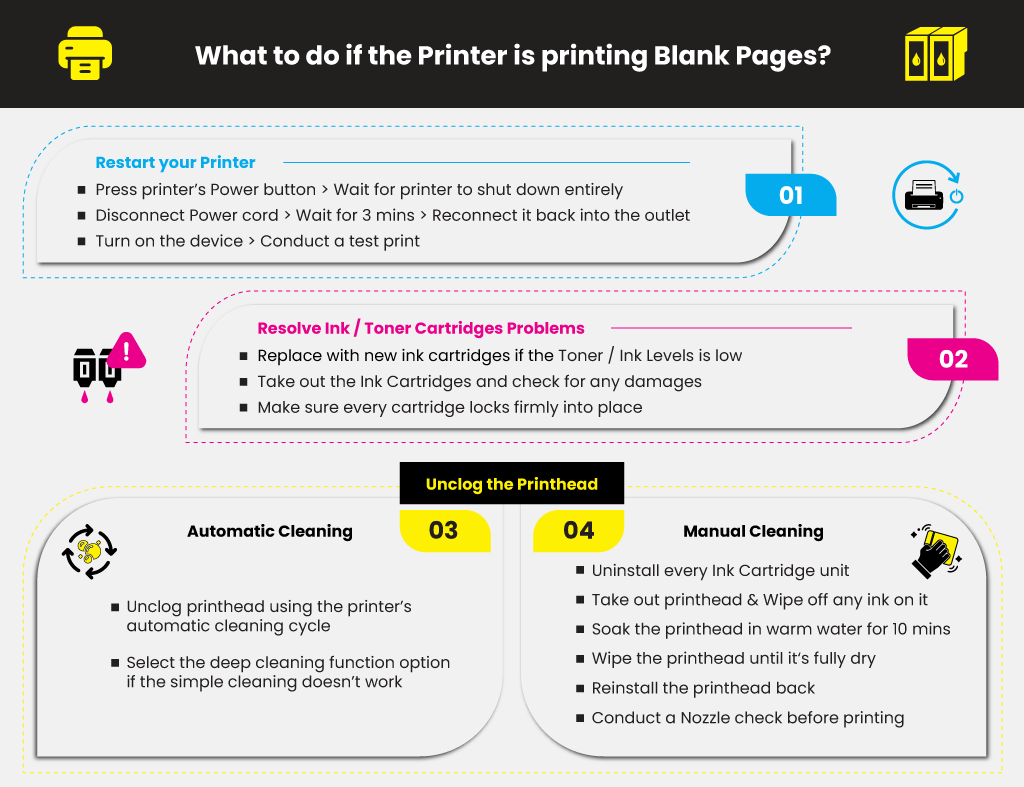 Fix # 1 - Restart your Printer
For most devices, a simple reset can sometimes resolve common mechanical or operational problems. Thus, it makes sense to try the most straightforward answer first and find out if it works. Reset your printer using these steps:
Press your printer's Power button and wait for the device to shut down entirely.

Disconnect the Power cord from the electrical outlet. Wait for about 3 minutes and then reconnect the Power cord back into the outlet.

Push its Power button to turn on the device.

Conduct a test prin

t

and see if printouts are back to normal.
Fix # 2 – Resolve Ink / Toner Cartridges Problems
If there are issues with the ink cartridges, your printer won't be able to generate regular printouts. Follow the steps below to make sure that your cartridges are fully operational and in good condition:
Check the Toner / Ink Levels to find out whether or not there's sufficient ink left. If there's isn't enough left on the tank, you'll have to replace the empty cartridges with fresh ones.

Take out the Ink Cartridges and check for any damages. If you discover faulty units, replace them with new ones as soon as possible.

Make sure that each cartridge is installed correctly. Remove the ink tanks and reinstall them properly, one by one. Make sure that every unit locks firmly into place.
Additional Tip for Laser Printers:
If you are using a toner with the drum unit, like a Brother DR630 drum, may require immediate replacement as well. With laser printers such as Brother MFC-L2740dw Toner, black spots or hazy printouts indicate that your drum unit is breaking down. When this happens, you'll need to replace it with a new drum regardless if it's a new brother toner cartridge. For more toner and drum troubleshooting tips and tricks, click here.
Shop Now for Compatible Brother Toner Cartridges & Get More Savings!

Fix # 3 – Unclog the Print head (Automatic Cleaning)
When it comes to inkjet printers, you can unclog the print head using the printer's automatic cleaning cycle. You can activate this cycle from your printer's control panel or at the Printer Properties from your computer's Control Panel. 
The process prompts your printer to discharge excess ink out, softening and removing clogs on the print head. Select the deep cleaning function option if the simple cleaning doesn't work in unclogging the print head.
Fix # 4 – Unclog the Print Head (Manual Cleaning)
If the automatic cleaning method fails, you can also opt for a manual cleaning approach. Keep in mind that there are two kinds of print heads. There's a print head that's integrated from the cartridge, and there's also a detachable type.
Avoid exposing and cleaning the sponge area of the ink tank when cleaning removable print heads. To prevent any direct contact of ink on our skin, use protective gloves throughout the process. Here's a step-by-step guide on cleaning a printhead manually: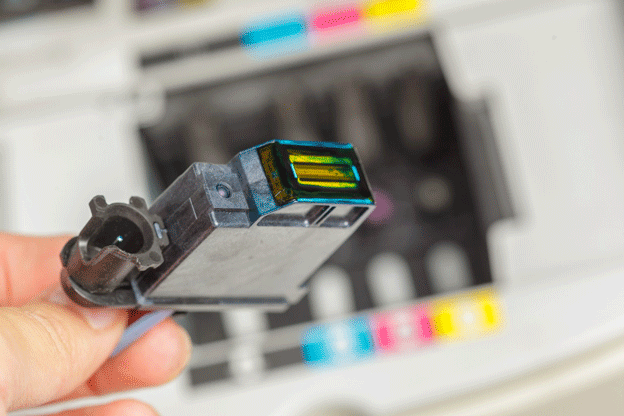 Open the Ink Cartridge Carriage and uninstall each Ink Cartridge unit from its slot. Carefully take out the Print Head from the Carriage. 

Wipe off any congested and dried ink on the Print Head using a clean, lint-free cloth damped in warm water. Keep on cleaning the Nozzle area until there's no more black ink sticking on the fabric.

Soak the printhead in a bowl with warm water for 10 minutes. Do not use boiled water. Put a clean paper towel at the base and place the print head above it while it soaks. 

Take out the print head from the bowl, and wipe off any water and moisture using a dry lint-free cloth. Place the printhead on top of a paper towel and allow it to air-dry for 15 minutes. Reinstall the print head back to the Carriage once it's fully dry.

Conduct a Nozzle check to confirm if the print head is clean before you start printing.
If there are still no changes, and the printer is printing blank pages again, repeat step 4. This time, however, allow the print head to soak for 2 – 3 hours or overnight, if necessary.
HP Laserjet Prints Blank Pages - What To Do?
Below are the solutions you can do:
1. Check your ink cartridges
Reinstall your ink cartridges
Clean clogged or blocked ink cartridges
Check ink levels on your HP printer
Refill or replace empty ink cartridges
Use genuine HP ink cartridges on your printer
2. Restart your HP printer. Unplug its cables and reconnect them after a few minutes before turning your printer back on.
3. Troubleshoot your printer using the Windows troubleshooter
4. Download the HP Print and Scan Doctor app and then run it
5. Update your printer driver
6. Configure the Printer Spooler services and restore necessary files:
Launch the Services app on your computer
Stop the Printer Spooler service
Go to C:\Windows\System32\spool\PRINTERS and delete all of the files there.
Start the Printer Spooler service again
Epson XP 420 Printing Blank Pages - What To Do?
To fix this, try the solutions below:
Make sure that you are not printing blank pages
Check if any of your Epson ink cartridges are empty or if there are some damages
Refill or replace empty/damaged ink cartridges
Reinstall the ink cartridges
Make sure that you are using the right paper size
Use your printer's print head nozzle check feature
Update your Epson printer's driver
Run the printhead cleaning process on your printer
Turn off your printer, remove its power cable for around three minutes before reattaching them, and turn on your printer again
Manually clean your device's printhead
Canon Printer is Printing Blank Pages - What To Do?
You can solve this problem by following these solutions:
Make sure that you have installed the ink cartridges correctly as instructed in your manual
Perform a deep cleaning process for your Canon printer to unclog nozzles
Update your Canon printer's driver or you can just reinstall it
Use the right size of paper that your Canon printer supports
Make sure that you have removed the sealing tape from the ink cartridges
Check if the ink cartridges are not running out of ink
Replace old ink cartridges including empty ones
Do not use low-quality cartridges
Check if you are not printing blank documents
Manually clean clogged printheads
Printer Driver and Software Issues
When your printer prints blank pages all of a sudden, it may also be due to driver and software issues. If this is the case, you may need to uninstall your printer driver and reinstall it back on your computer. Doing a software update can sometimes resolve the problem as well. If ever you encounter a "Printer Driver is Unavailable Error," here's how you can fix it.