How Does a Laser Printer Work
Throughout the decades, laser printers have become so efficient and affordable that they have become a staple in almost every office environment. Numerous workplaces across various industries tend to favor laser printers over inkjets for their printing needs. 
Most people know what they get from a laser printer: a quiet and reliable machine that can print large volumes of high-quality documents with exceptional speeds. However, only a handful of users know exactly how a laser printer works.
If you're curious about how documents go from screen to page using a laser printer, you came to the right place. We'll explain to you in detail how a laser printer works and the key steps involved in the process. And if you're in the mood for reading, we at YoyoInk have also prepared a brief overview of the types of laser printers, a breakdown on the advantages and disadvantages of a laser printer, and a discussion on whether a laser printer is better than an inkjet.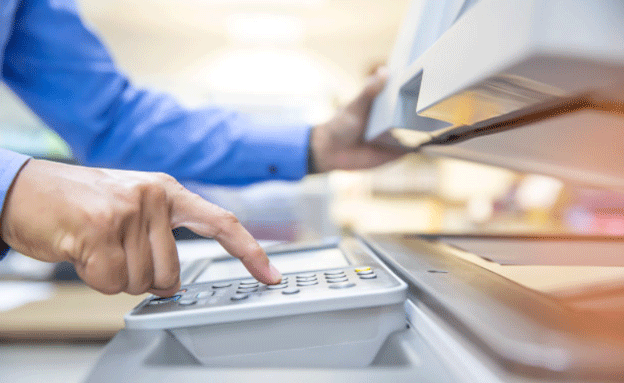 How a Laser Printer Works: YoyoInk Explains
After the computer sends your print file to the laser printer, the latter beams, an outline of your print job on a metal cylinder drum. The drum draws out fine toner powder from its cartridge through static electricity and then rolls the powder into the paper in the form of your print outline. The heat generated from a fuser melts and embeds the toner powder pattern onto the paper as it slides through the printer. The laser printer ejects the final printout, and the process is complete.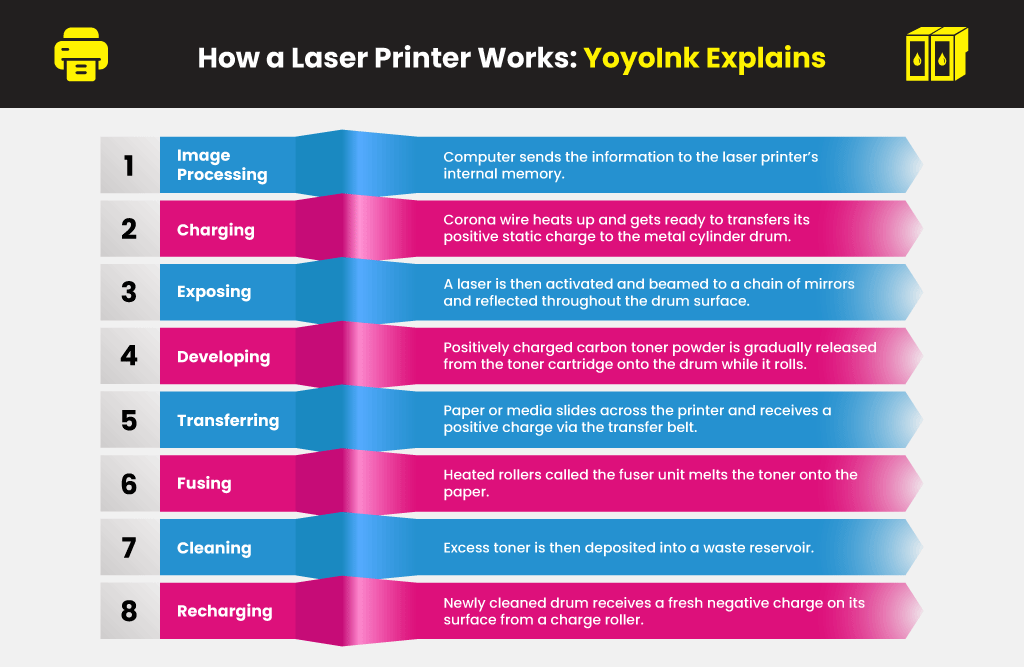 Step by Step Working Process
We have just talked about how a laser printer works using heat, static electricity, toner, and moving parts to create your desired print. However, numerous other moving parts and components work harmoniously inside a laser printer to create your final document or photo. Here's how a laser printer works step by step:
Once you click on the print command on a certain document or image, the computer immediately sends the information to the laser printer's internal memory. Here, the printout data is stored and prepared for processing.
The laser printer starts warming up. The corona wire heats up and gets ready to transfers its positive static charge to the metal cylinder drum. 
While the drum rotates, it receives a positive charge throughout its entire surface. Some laser printers, particularly all-in-one color models, have four drums, catering to each color: Cyan, Magenta, Yellow & Black. A laser is then activated and beamed to a chain of mirrors and reflected throughout the drum surface. The reflected laser beam creates an outline of your print through an opposite negative electrical charge.
Positively charged carbon toner powder is gradually released from the toner cartridge onto the drum while it rolls. The positively charged toner powder sticks to the negatively charged, laser beamed areas since opposite charges attract (static electricity). Meanwhile, positively charged areas on the drum are left without any trace of toner.  
The paper or media slides across the printer and receives a positive charge via the transfer belt. While it moves through the drum, the negatively charged toner gets drawn to the paper's surface and conforms to your print outline.
Heated rollers called the fuser unit melts the toner onto the paper. Your document or image is imprinted into the page and is then ejected from the printer as the final printout.
Step 7: Cleaning and Recharging
Before the drum completes its revolution, it is subjected to an electrically neutral soft plastic blade and cleaned from residual toner. The excess toner is then deposited into a waste reservoir. Finally, the newly cleaned drum receives a fresh negative charge on its surface from a charge roller, preparing it for another laser beam round.
Laser printing technology was first invented in 1969 by Gary Starkweather during his time with the product development team of Xerox. Since then, laser printers have made their way into the workplace, evolving into highly efficient printing machines for large and small industries. Today, you will generally find three types of laser printers: monochrome, color, and multifunction.
(a) Monochrome Laser Printer
The simplest of all laser printers is the monochrome model, which prints in black and white. They are cheaper than color laser printers and only need black cartridges to work. There are various monochromes laser printers available in the market designed to cater to different consumer needs and preferences.
If you're looking for the best budget-pick, there's the Brother HL-L2350dw with its $100 pricing alongside a 32 page per minute print speed and a paper tray that can house 250 sheets. And with its TN760 toner cartridge and DR730 drum unit, you can print more than 4,000 pages before running out.
Laser printers were originally built exclusively for monochrome (black and white) printing, and it's only recently that models capable of printing in color were made. Today, however, the laser color printer has become an increasingly popular choice in office environments due to its practical advantages and reliable performance. The best laser printer models can give you unrivaled printing speeds and efficiency and allow you to take on high-volume projects with ease. They are also cheaper to maintain in the long run than inkjet printers.
(c) Multifunction Laser Printer
Multifunction laser printers combine numerous devices, including a copier, fax, printer and scanner. Also known as "all-in-one printers," these laser printer models give you unmatched convenience for everyday scanning and faxing operations at home or the office. It's the ideal option if you're looking for a versatile printer that gives you all the advantages of laser printing. 
What are the Advantages and Disadvantages of a Laser Printer?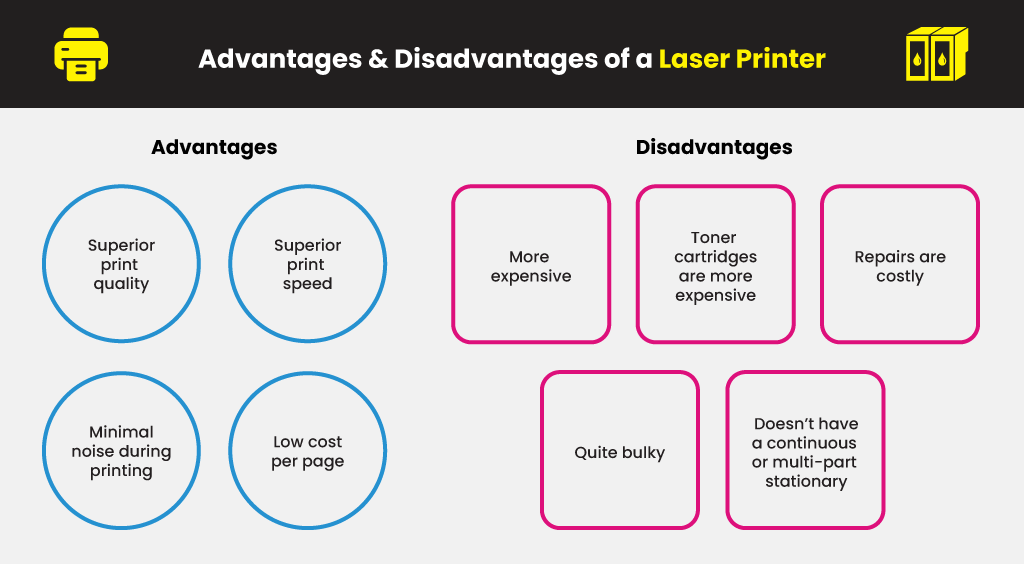 Superior print quality over an inkjet or dot-matrix printer
Superior print speed over an inkjet or dot-matrix printer
Minimal noise during printing – lesser noise compared to an ink-jet or dot-matrix printer
Low cost per page (CPP) – more economical than an ink-jet or dot-matrix printer in the long run
More expensive than any other type of printer, especially color laser printers 
Repairs are costly due to numerous complex internal parts and components. 
Quite bulky – not as portable and space efficient as an ink-jet printer
Doesn't have a continuous or multi-part stationary for creating carbon copies like a dot-matrix printer
Are Laser Printers better than Inkjet?
In reality, there is no clear answer as to whether laser printers are better than inkjet printers. Both types of printers have their inherent strengths and weaknesses. However, if you closely examine every aspect that makes each one unique, the ideal option becomes clear.
Since we've already presented the advantages and disadvantages of a laser printer, it only fits that we also do one for the inkjet printer. That way, you'll have the information you need to make the right decision.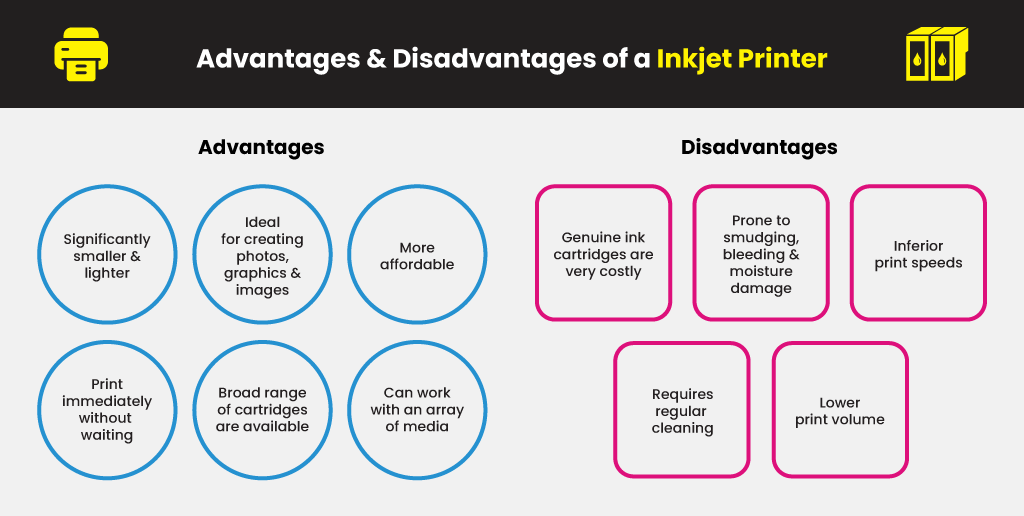 Significantly smaller and lighter, making it perfect for portable and personal home use.
The ideal option for creating photos, graphics, and images
More affordable than laser printers
You can print immediately without waiting for the machine to warm-up
A broad range of compatible and remanufactured cartridges are available, which can potentially lower your printing costs. 
It can work with an array of media, including numerous types of paper and even fabrics.
Genuine ink cartridges are very costly

,

sometimes even more expensive than the inkjet printer itself.
The natural composition of inkmakes inkjet prints prone to smudging, bleeding, and moisture damage
Inferior print speeds compared to laser printers
Requires regular cleaning to maintain print quality.
Lower print volume compared to laser printers
In the end, everything boils down to your specific printing needs. If you're mostly working on documents and spreadsheets or high-volume projects every month, then a laser printer will be better suited for you. However, if you regularly print specialty stocks and high-resolution images or are just looking for a low-priced, convenient printer for your home, and inkjet printer is the ideal choice.