How to Fix and Clean Leaking Printer Cartridges
A printer cartridge contains a unique blend of ink and oils to produce images or texts when loaded to an electronic printer. It's usually sealed with just a tiny hole to dispense ink during printing. Once the printer cartridge fails to form a proper seal during installation or refill, air may slip inside and prevent it from working smoothly or cause it to leak.
Sometimes, you can easily resolve a poor seal by taking out the printer cartridge and then reloading it back to the machine. However, if this doesn't work, there are other things you can do, and below, you'll learn what they are.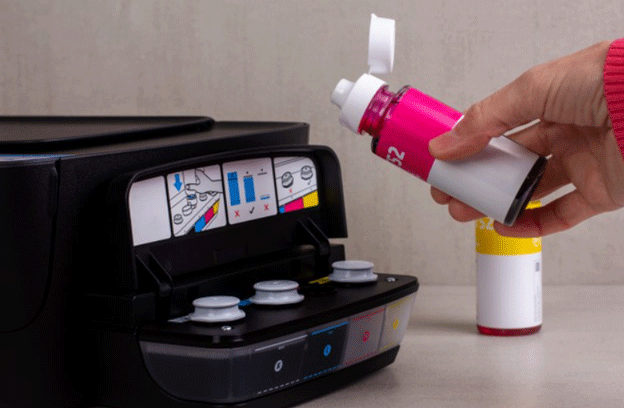 Fixing an Ink Cartridge Leaking after Refill
When you refill a printer cartridge, it's normal for a few drops of ink to leak out. If it continues to leak, however, then it becomes a problem. Leaking can happen to any printer cartridge, whether it's an OEM or remanufactured ink cartridge. Here's how to fix an ink cartridge leaking after refill.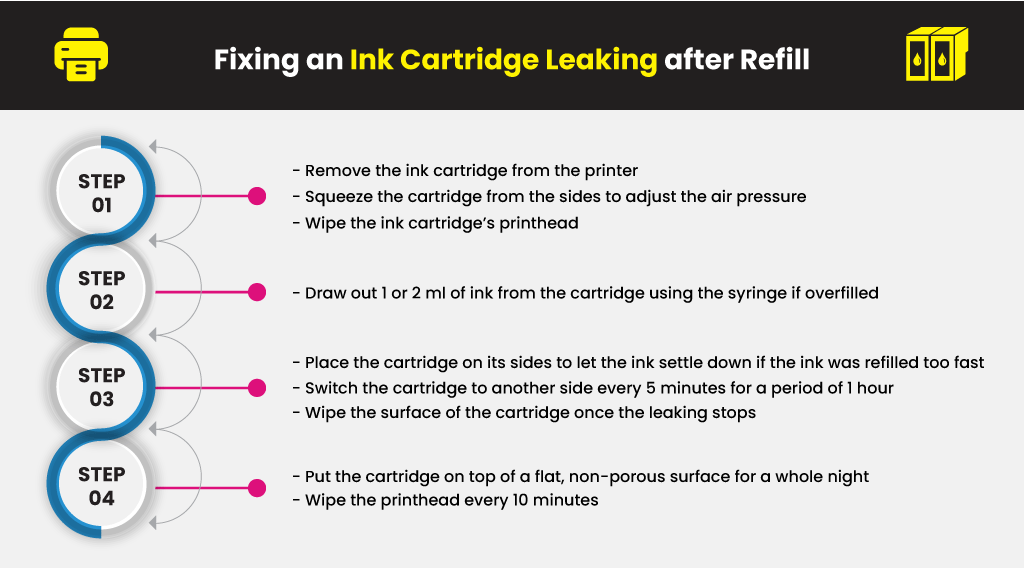 Step 1 
Remove the ink cartridge from the printer and set it aside in a place where the ink spill is tolerable. Squeeze the cartridge from the sides to adjust the air pressure inside the tank. It also allows air to enter inside the cartridge, forcing excess ink to stream out. Wipe the ink cartridge's printhead with a clean white cloth damped in water. Make sure there is no excess ink left on the printhead.
Step 2
The printer cartridge could be leaking because you overfilled it with ink during refill. Draw out 1 or 2 ml of ink from the cartridge using the syringe. Note that when refilling cartridges, 5 ml of ink for colors and 10 ml of ink for black is generally enough. Ink cartridges with leaks tend to print blank pages.
Step 3
You may have refilled your printer cartridge too fast, preventing the sponge inside the tank from absorbing the ink properly. In this case, place the cartridge on its sides to let the ink settle down. Switch the cartridge to another side every 5 minutes for a period of 60 minutes. Once the leaking stops, wipe the surface of the cartridge with a clean cloth damped in water and reload it back to the printer.
Step 4
Put the cartridge on top of a flat, non-porous surface for a whole night. Allow the ink cartridge to remain sitting until the ink stops leaking out. Wipe the printhead every 10 minutes with a clean cloth. If there is still ink flowing out, there's a chance that the sponge inside the tank is matted, resulting in poor ink absorption. You can replace the sponge from a nonworking cartridge or refill another cartridge.
How to Clean Printer Ink Stains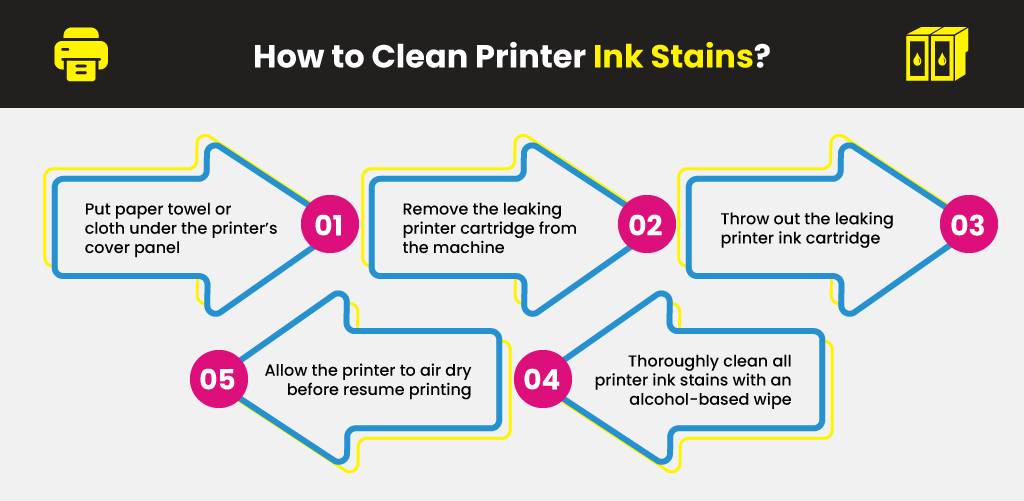 Put a piece of paper towel or cloth under the printer's cover panel to capture leaking ink and then open the front cover.
Remove the leaking printer cartridge from the machine. 
Be careful when holding the cartridge to avoid further ink spills.
Throw out the leaking printer ink cartridge
Thoroughly clean all printer ink stains with an alcohol-based wipe. Never use a water-based solution as it can be damaging to electrical parts.
Allow the printer to air dry before you resume printing.
Why is my Toner Cartridge Leaking?
Several different factors can cause a leaking toner cartridge. Keep in mind that unless you're prepared to replace it with a new one, try not to remove any problematic part of the cartridge. Doing so may only lead to further damage. Here are some of the reasons why your toner cartridge is leaking.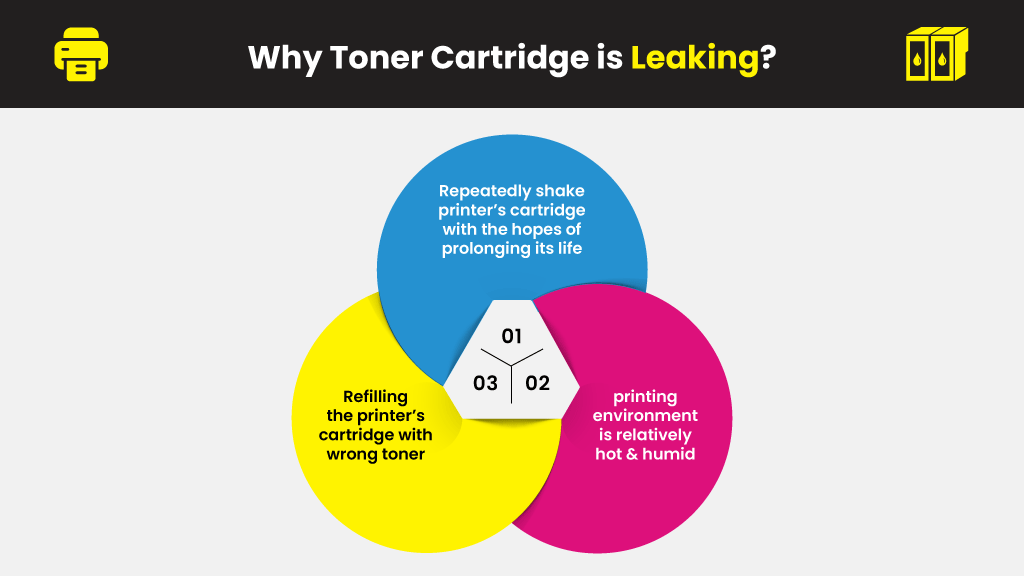 You repeatedly shake your printer cartridge with the hopes of prolonging its life.
The printing environment is relatively hot and humid. Try maintaining a pleasant 68 degrees office temperature when printing or storing cartridges.
Refilling the printer cartridge with the wrong toner. 
Leaking printer cartridges are a bit more common with affordable generic brands than OEMs. Luckily, if you shop for remanufactured and compatible ink cartridges from YoyoInk, quality and satisfaction are guaranteed. In case you're not happy with your order, you can contact our customer support and give you back your money in full, no questions asked. It's that safe and easy!