How to Make Generic Ink Cartridges Work on an HP Printer
Is your HP printer won't recognize the new ink cartridge? It won't if you're using a generic ink cartridge. HP aims to stop consumers from using generic ink cartridges by making them incompatible with their printers. That way, consumers will have no other choice but to go with genuine HP ink cartridges despite being significantly more expensive than generic ones.
Save as much as 75% on HP Printer Ink. Buy Now!

Why Your HP Printer won't Recognize New Ink Cartridge
HP has launched what is called a cartridge protection setting on its genuine ink cartridges. This system locks original ink cartridges into a specific printer so you won't be able to use them with a different printer. If you own an HP OfficeJet Pro 251dw printer and decide to purchase a brand new HP OfficeJet Pro 8600 ink printer that uses the same HP 950 and 951 cartridges, you won't be able to use these cartridges in the new printer since they are locked to your old one. With that being said, you won't be able to refill, recycle, or remanufacture the cartridges for use in a different printer because HP and its cartridge protection system won't allow it.
Save More! Buy Compatible Ink Cartridges for your HP Printer!
Why You Want to Disable HP Cartridge Protection
It makes no sense to have such a restrictive cartridge system. Some of the reasons why you may want to disable the HP cartridge protection include: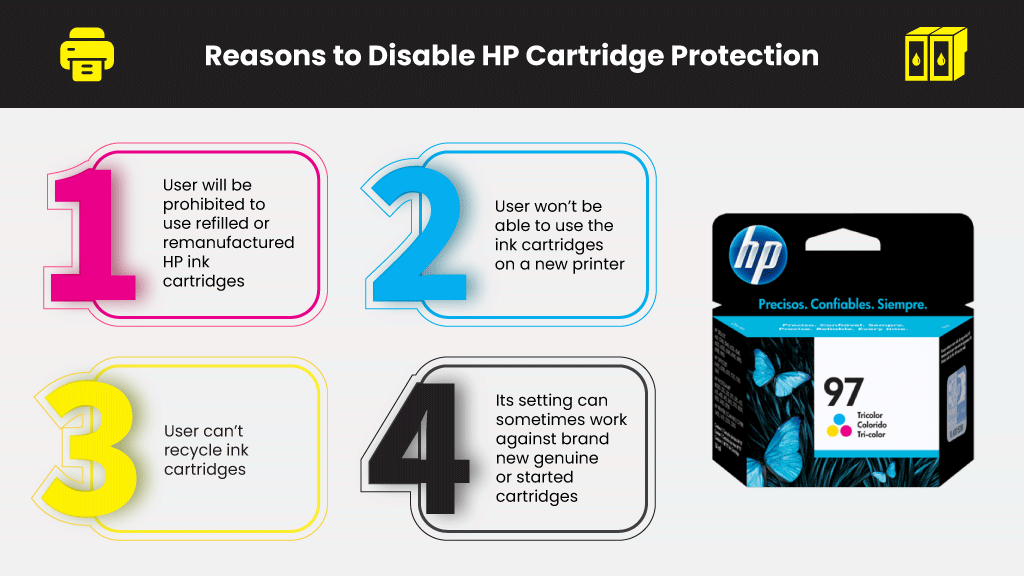 You'll be prohibited to use refilled or remanufactured HP ink cartridges 
You won't be able to use the ink cartridges on a new printer if they have already been loaded to your old one.
You can't recycle your ink cartridges which means they will end up as trash once they are empty
HP's cartridge protection setting can sometimes work against brand new genuine or started cartridges as reported by some users.
Fortunately, there's a way to disable HP cartridge protection and make generic ink cartridges work on your printer. And the good news is it's relatively easy to do on your own even without any technical know-how.
Learn More:
How to Disable HP Cartridge Protection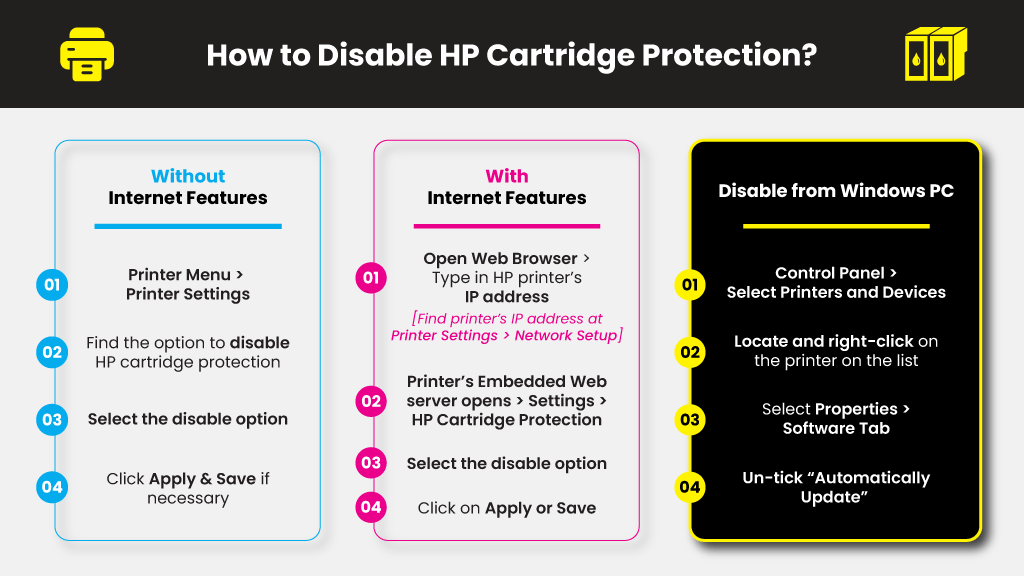 Disabling the HP cartridge protection on your printer can be done in a few easy steps. If your printer doesn't come with internet features, here's how to do it.
From the Printer menu, go to Printer Settings
Find the option that allows you to disable HP cartridge protection
Select the disable option
Click Apply and Save if necessary
If your HP printer comes with internet features, however, follow these steps:
Open a web browser and type in your HP printer's IP address on the web address. 
Note: You can find your printer's IP address by going to your Printer Settings and then making your way to Network Setup options.
Your printer's Embedded Web server opens. Go to Settings and then HP Cartridge Protection.
Select Disable HP Cartridge Protection
Click on Apply or Save
Disable HP Cartridge Protection from Your Windows PC​
Go to Control Panel and select Printers and Devices
Locate and right-click on your printer on the list
Select properties followed by the software tab
Select properties followed by the software tab
How Do You Trick HP Ink Cartridges?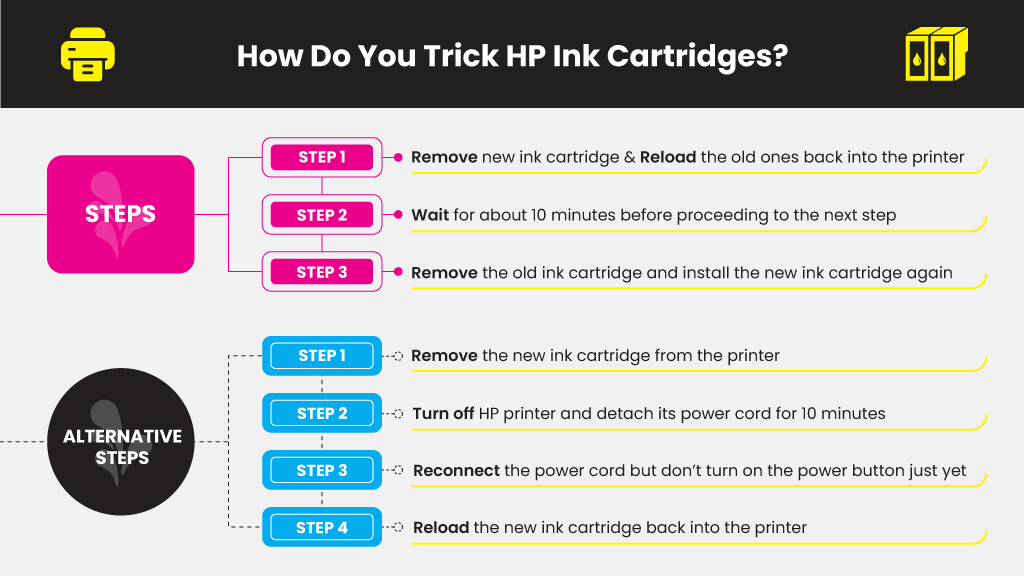 Aside from disabling HP cartridge protection, you can also trick HP ink cartridges into working with a different printer. Thus, even though the ink cartridges are already locked on your old printer, you can still use them with a brand new printer with these steps:
1. Remove the new ink cartridge and reload the old ink cartridge back into the printer.
2. Wait for about 10 minutes before you proceed to the next step.
3. Remove the old ink cartridge and install the new ink cartridge again.
1. Remove the new ink cartridge from the printer.
2. Please turn off your HP printer and detach its power cord for 10 minutes.
3. Reconnect the power cord but don't turn on the power button just yet.
4. Reload the new ink cartridge back into the printer.
Can You Use Remanufactured Ink Cartridges in HP Printers?
Remember that printer manufacturers like HP are prohibited by law to prevent you from using compatible or remanufactured cartridges in your printer. Nevertheless, they have successfully got around the rules by devising clever systems like the cartridge protection setting, which renders generic ink cartridges useless.  
But you may prefer using generic HP ink cartridges over original HP ink cartridges as they are cheaper while generally offering comparable print results. If such is the case, disable the HP cartridge protection or trick HP ink cartridges using the steps above. 
Learn More:
Frequently Asked Questions