Brother Color Printer Toner Reset: Step-by-Step Guide
Your Brother HL-3170CDW Color has a built-in toner counter that monitors the number of pages its TN-221/TN-225 color cartridges have printed. The same can be said for most Brother All-in-One Printers as well. When the number of printouts reaches its standard limit, the toner counter will notify you to replace the Brother Printer cartridges.
Brother TN221 & TN225 Compatible High Yield Toner Cartridge
The Problem with Brother Toner Counters
Many times, though, this toner level monitoring mechanism is inaccurate with its readings. It's because the amount of color toner used for printing varies depending on the printout. Sometimes, there's still plenty of toner powder left on your cartridges even after a high-volume print job as other colors weren't used that much. However, your Brother printer will "think" that there is no more toner left, and a replacement must be done before it can continue printing.
Learn More
Resetting your printer's toner counter can help you work around this problem. Below, we have prepared a comprehensive guide that you can follow to perform a toner reset. It includes detailed steps on how to override a low toner warning and some tips to consider before proceeding.
How to Reset Brother Printer Toner
A toner reset tricks your Brother printer into "thinking" that you've already installed a new toner, even though you're still using the old one. But before you do the toner reset, here are some important requisites that you need to ensure first:
There is no print job on the queue
Brother Color Printer Low Toner Override
For most Brother Color toner printers, you need to override their built-in toner counter to continue printing with low toner cartridges. The process involves manually resetting the counter, which fortunately is relatively easy to do. Below are the steps on how to reset Brother DCP, MFC and HL color printer toners.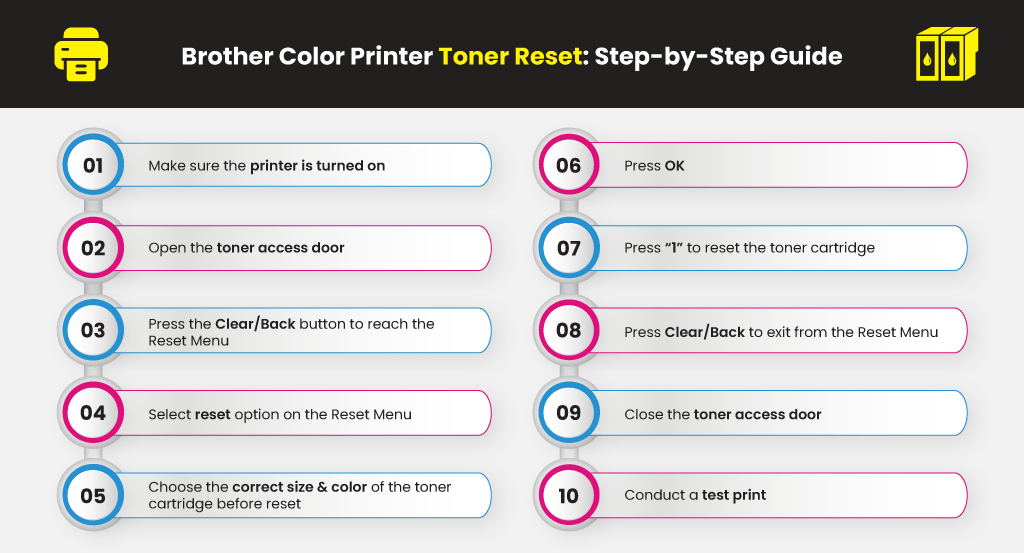 Step 1. Kindly make sure that your printer is turned on
Step 2. Open the toner access door. A "Cover is Open" textbox will appear on the LCD.
Step 3. Press the Clear/Back button to reach the Reset Menu
Step 4. Select your reset option on the Reset Menu
Step 5. Choose the correct size and color of the toner cartridge you want to reset
Step 6. Press OK after making your choice
Step 7. Press "1" to reset the toner cartridge
Step 8. Press' Clear/Back' to exit from the Reset Menu
Step 9. Close the toner access door 
Step 10. Conduct a test print and resume printing if successful
Performing a low toner override lets you print down to the last toner powder, helping you lower costs and reduce waste. Note that you can also reset your drum unit once you receive a "Replace Drum" message. Refer to the video below to learn how to reset the drum count.
Learn More