How Can I Force my Printer to Print in Low Ink?
Did your printer display a "printer low on ink" message? This message often forces you to immediately replace the cartridge that's low on ink so you can resume printing. In reality, though, that ink cartridge has enough left in the tank to print numerous pages before it needs replacement.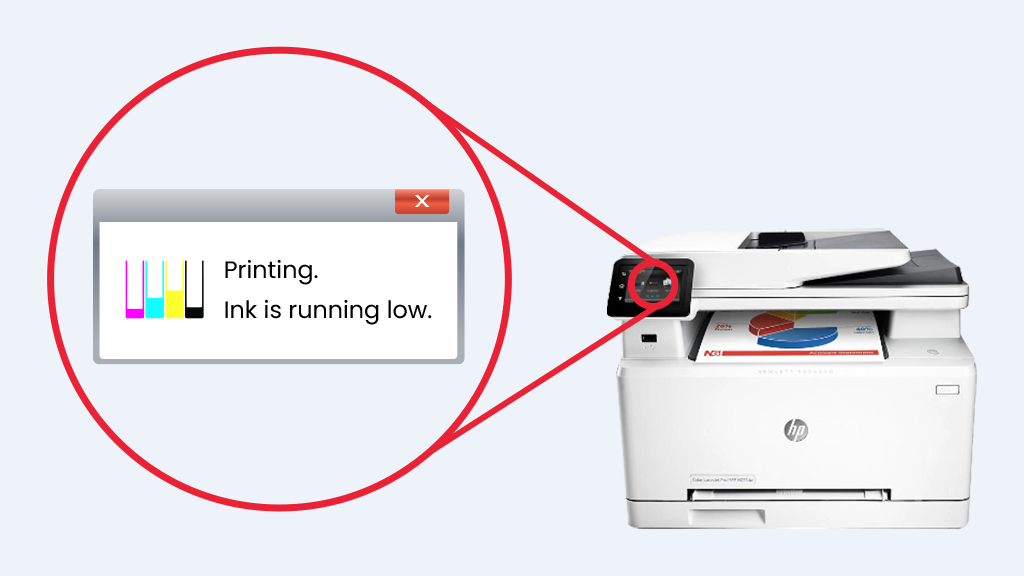 Sometimes, this message also appears when you're using refilled or remanufactured ink cartridges. Fortunately, there's a way to disable or override this warning mechanism and resume printing down to the last drop of ink. Stick around to find out how.
How to Bypass Low Ink Warning on HP Ink Cartridges
Inkjet printers from HP are capable of checking cartridge ink levels accurately. Sometimes, however, an HP printer may send out the wrong warning signals, especially if it's an older model. If you bought a model from 2001 to 2010, you might have purchased one that's been part of a class-action settlement.
Any model after that, though, won't have this issue. If you encounter this problem with your HP printer, you can bypass low ink warning and continue printing with these three methods.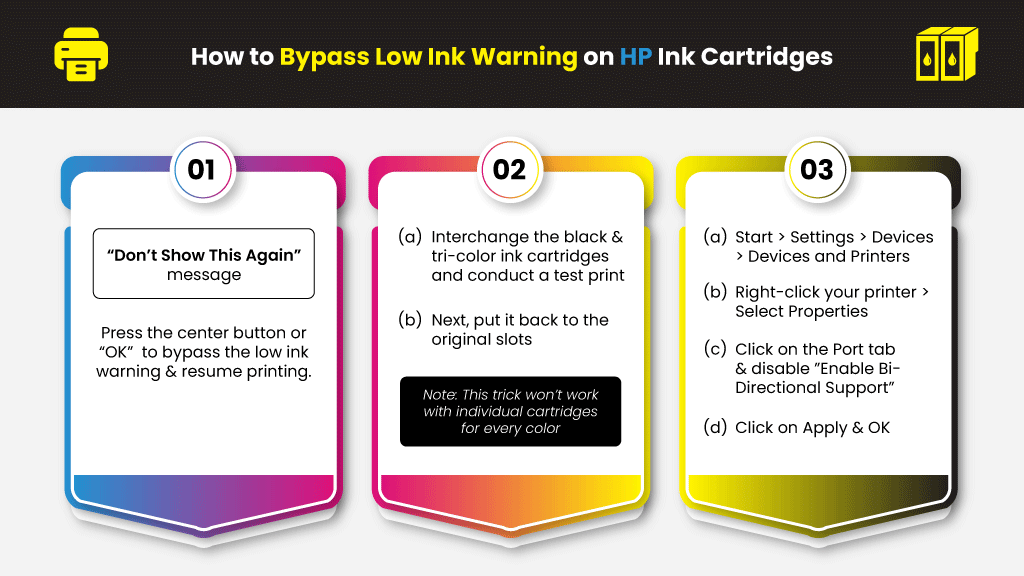 Look at the warning message that popped up. Is there are a "Don't Show This Again" message? If there is, press the center button or "OK" to bypass the low ink warning and resume printing.
Interchange the black and tri-color ink cartridges and then conduct a test print. Next, put the printer back to their correct slots. Note: this bypass low ink warning trick won't work with HP printers with individual cartridges for every color (Black, Cyan, Magenta, and Yellow) like HP 950 / 950XL ink cartridges.
Click on the Start menu button and then go to Settings > Devices > Devices and Printers. Find and right-click your printer from the list of devices and then select Properties. Click on the Port tab and disable the"Enable Bi-Directional Support" option. Click on "Apply and then "OK."
How to Override Printer Ink Levels on Canon Ink Cartridges
Canon printers typically have printer drivers and software with an "Ink level checker" that warns you when a cartridge is low on ink. Although it's quite handy, there are times when you'd' rather disable it, especially if you're using a refilled ink cartridge, which may trigger it off. Here are the steps to override printer ink levels on canon ink cartridges.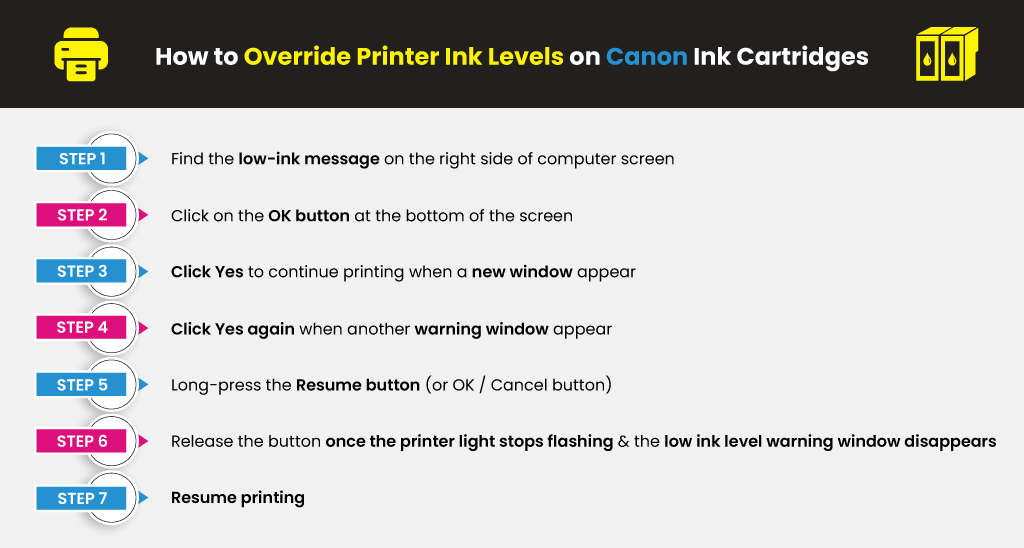 Find the low-ink message on the right side of your computer screen.
Click on the OK button at the bottom of the screen.
A new window will appear, asking whether you want to continue printing. Click Yes.
Another window will appear warning you on the use of a refilled ink cartridge. Click Yes again.
Long-press the Resume button (or OK / Cancel button if there is no Resume button).
Release the button once the printer light stops flashing, and the low ink level warning window from your computer disappears.
Resume printing.
How to Bypass Epson Cartridge Check
Once the "Low Ink Reminder" screen pops up, you can ignore it and continue printing. Follow these steps to bypass an Epson cartridge check.
Learn More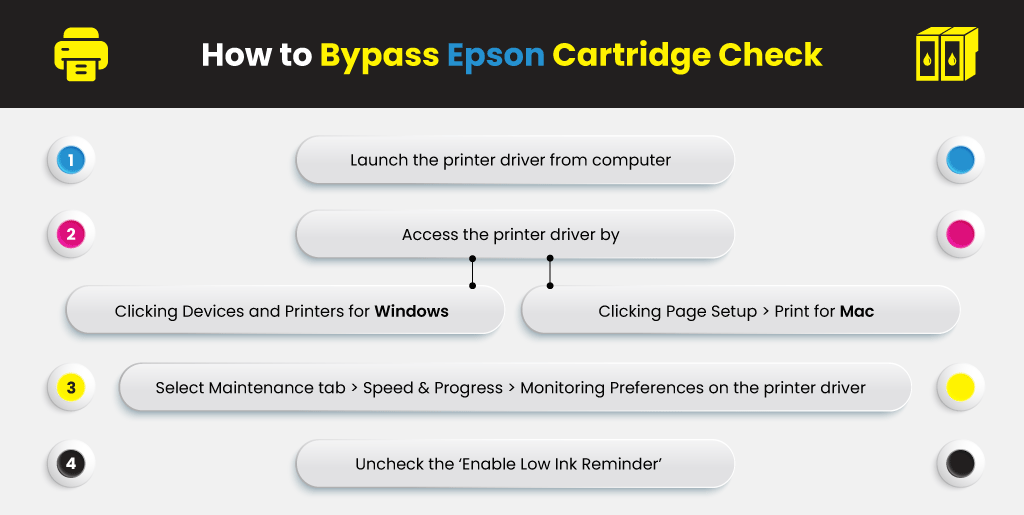 Launch the printer driver from your computer.
You can access the printer driver by clicking on Devices and Printers for Windows and Page Setup and then Print for Mac.
On the printer driver, select Maintenance tab > Speed & Progress > Monitoring Preferences.
Uncheck the 'Enable Low Ink Reminder' checkbox.
How to do a Low Toner Override on Brother Cartridges
Brother printers feature LED lights that monitor ink levels of cartridges. Once low ink levels are detected, a message will appear on the printer and also the computer. Sometimes, an error message will popup even though all your ink cartridges are filled with ink.
Error messages are quite common with remanufactured Brother Ink cartridges and also with refilled cartridges. There are three types of cartridges used by Brother Printers, and each one involves a distinct way of bypassing the ink or toner level warning. Follow these steps to do a low ink and toner override: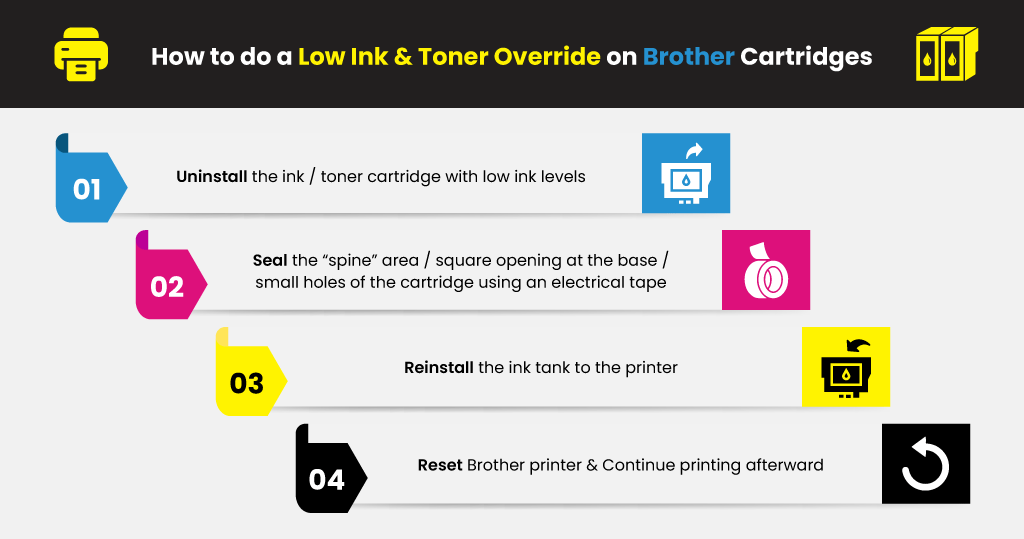 Override Printer Ink Levels on Refilled or Remanufactured Cartridges
Sometimes, an inkjet printer sends a low ink warning message because it doesn't recognize the ink cartridge. This error is particularly common among refilled or remanufactured cartridges. The solution to this problem is to override printer ink levels so your printer will resume working with the refilled or remanufactured cartridges.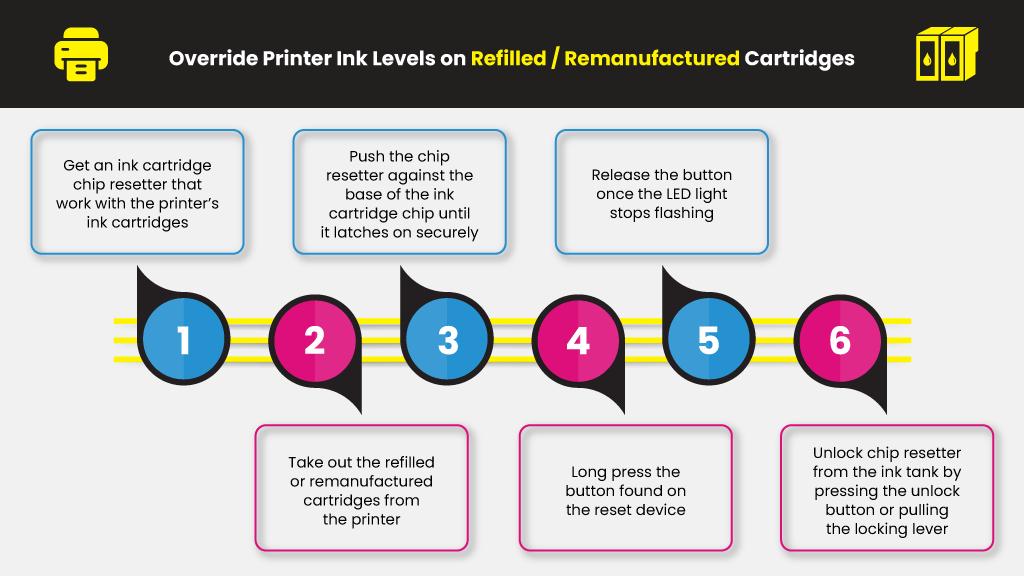 Get an ink cartridge chip resetter that works with your printer's ink cartridges. This type of device can be ordered online in 

Amazon

and other sources. 
Take out the refilled or remanufactured cartridges from the printer.
Push the chip resetter against the base of the ink cartridge chip until it latches on securely.
Long press the button found on the reset device. 
Release your hold on the button once the LED light stops flashing.
Unlock the chip resetter from the ink tank by pressing the unlock button or pulling the locking lever
It's also a good idea to purchase remanufactured ink cartridges with smart chip technology like those from YoyoInk. This technology allows you to easily track ink levels even if your printer's ink level monitoring device becomes faulty.
Learn More