Epson Printer keeps saying out of paper, but it isn't… What should I do?
Epson has long been a global leader in developing and manufacturing cutting-edge printers for a wide range of consumers. In terms of creating premium-quality printing technology, the brand is arguably unbeatable.
Despite their advanced features and technologies, however, Epson printers still trouble users with recurring issues now and then. Among the most common of them are Epson printer paper feed problems. There are times when the printer says out of paper when it's not. 
If you encounter this particular problem with your Epson printer, no need to worry. Numerous other users deal with this same frustrating glitch. When it does crop up, there are several ways you can do to deal with it quickly. Below, we'll discuss each of them one by one so you'll know what to do to resolve this error.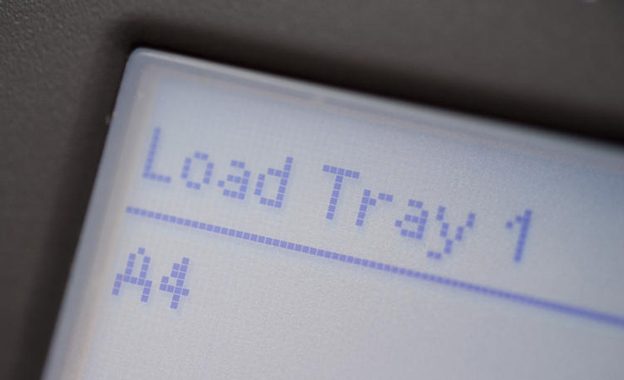 Epson Printer Won't Feed Paper? Here's why…
Let's first look at some of the possible causes as to why your Epson printer keeps saying out of paper.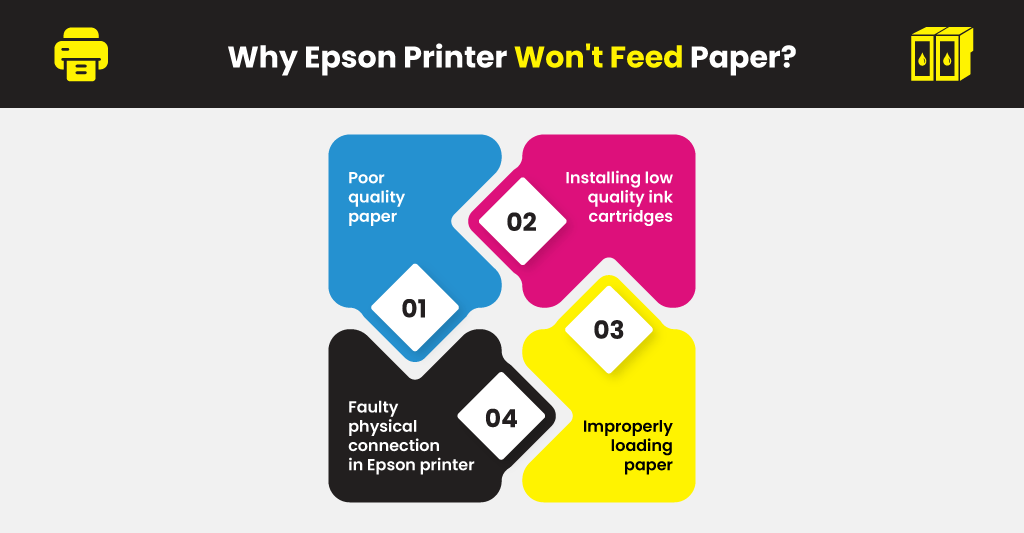 You're using poor quality paper, causing all sorts of Epson printer paper feed problems.

You're installing low-quality ink cartridges on your Epson printer. Choose only reliable,

replacement

Epson ink cartridges

if you plan on saving costs.

You're improperly loading paper, preventing your Epson printer from completing the given print tasks.

A faulty physical connection in your Epson printer because of a wrong configuration.
It's crucial to determine what caused the problem so you can immediately apply the necessary fix. If you won't resolve the issue, it will continue to persist and may even become worse than it already is.    
5 Solutions if your Epson printer says out of paper but it isn't 
When your Epson printer says out of paper when it's not, the answer will depend entirely on the root cause. Try each approach below and find out which one works for your particular printer paper problem.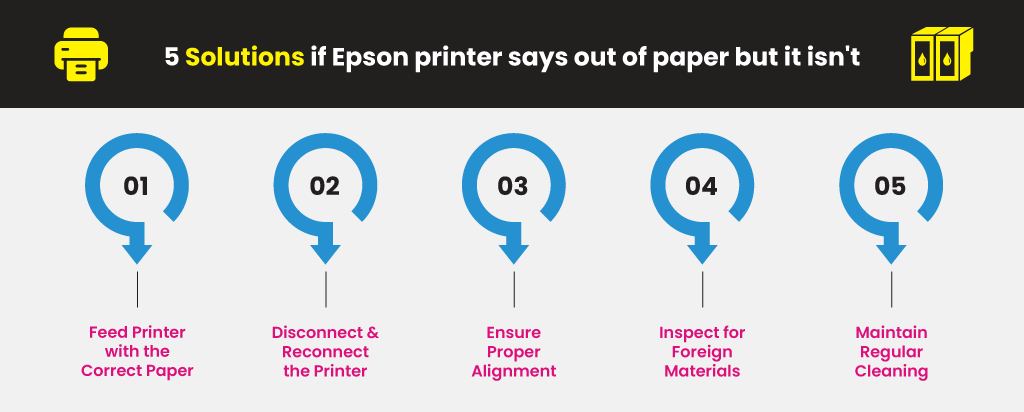 #1: Feed your Printer with the Correct Paper
Generally speaking, Epson printer paper feed problems won't trouble you if you're using legal-sized media. Other types of paper, though, can be quite challenging to feed on an ordinary Epson printer. Cardstocks, envelopes, or photo papers, for example, are deemed as specialty media.
There are specific models in the brand that specializes in handling these sorts. If your printer isn't one, then it would be best to avoid using them altogether.
Using incorrect or incompatible paper will prevent your printer from feeding it properly. The printer will instead recognize it as "out of paper," thus resulting in the error. Try loading the correct media into the paper tray and be sure to align them at all times.
Learn More
#2: Disconnect and Reconnect the Printer
A frequently recommended troubleshooting technique for any Epson printer issue is disconnecting and reconnecting the power cords. This method works most of the time for various errors, so it's worth a shot. It's also very straightforward, and you can do it on your own without breaking a sweat.
Just detach the printer's power cord while it's still on and wait for about 30 – 60 seconds. Then, plug in the power cord back to the outlet, and that's it.
#3: Ensure Proper Alignment
The error may be brought about by misaligned replacement ink cartridges inside the printer. If this is the case, move the carriage towards the farthest left. It could likewise be due to misaligned paper or because you went beyond the paper capacity limit.
Whatever the case may be, inspect your printer for any improper alignment. Always ensure, however, to turn off your printer and disconnect the power cord before you proceed as a safety precaution.
#4: Inspect for Foreign Materials 
A clog inside your Epson printer can sometimes trigger the device to send out a wrong "out of paper" warning. But aside from that, it can also cause paper jams as well as more severe internal damages. Thus, it's essential to examine your printer for signs of foreign material or debris on its rollers. Even a tiny object like a paper clip can lead to costly repairs once it gets inside the printer.
#5: Maintain Regular Cleaning
Regularly clean your printer's sensors to avoid having paper problems. You can find the sensors close to the Printer Ink Cartridge Cover, locked firmly in place by a Black Lever. They control the manner in which the printer feeds and discharges paper. Include cleaning the paper rollers as well to prevent potential print issues from cropping up. Here's how to do it:
Turn off your Epson printer. Detach the Power cord and all other cables and wires as well.

Take out both Paper Cassettes from the device. Then, place the printer standing on its right side for the proper cleaning position.

Using a gentle, damped cloth, wipe the Cassette Rollers from the side of the printer. Gently rotate both rollers to clean them thoroughly.

Set the printer back to its original, upright position immediately after cleaning. Never leave it standing on its side for long to avoid ink leaks.

Reload both Paper Cassettes back into the printer.
And finally, always replace paper rollers every time they wear out so they won't overheat and damage other parts.  
Learn More
Like & follow our social media pages to see more updates and promotions !