Why is My Printer Offline & Not Responding?
Did your printer go offline for no apparent reason? If it's suddenly not responding, don't immediately send it to a repair shop because the solution to this kind of problem is fairly simple. It's something that you can do on your own even without any technical expertise whatsoever. 
And don't worry if you have no idea how to because we have made a comprehensive guide to help you out. Let's go ahead and start by examining what this problem is and why it happens.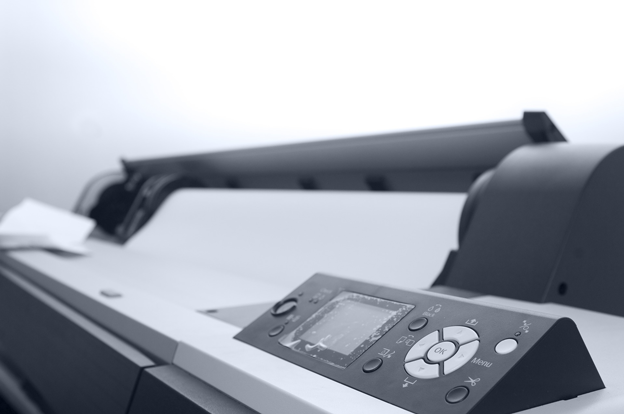 Why is my printer saying offline when it's not?
During printing, the PC or computer "thinks" that your printer is offline even though it's online and ready to print. This problem typically occurs when there is an error between your device and printer. But sometimes, it can be a simple case of improper cable connection or paper-jam.
A printer offline issue can also mean an internal setup issue with your printer or computer. It can vary depending on your printer and whether you are using a Windows PC or Mac computer for printing. Let's take a look at all the possible solutions you can use when your printer is offline and not responding.
Troubleshoot Offline Printer Problem: Basic Steps
Your printer may be offline and unresponsive simply because you forgot to turn it on, disable sleep mode, or make sure its cable is attached properly. Follow these three basic steps to troubleshoot an offline printer problem straight from your printer device.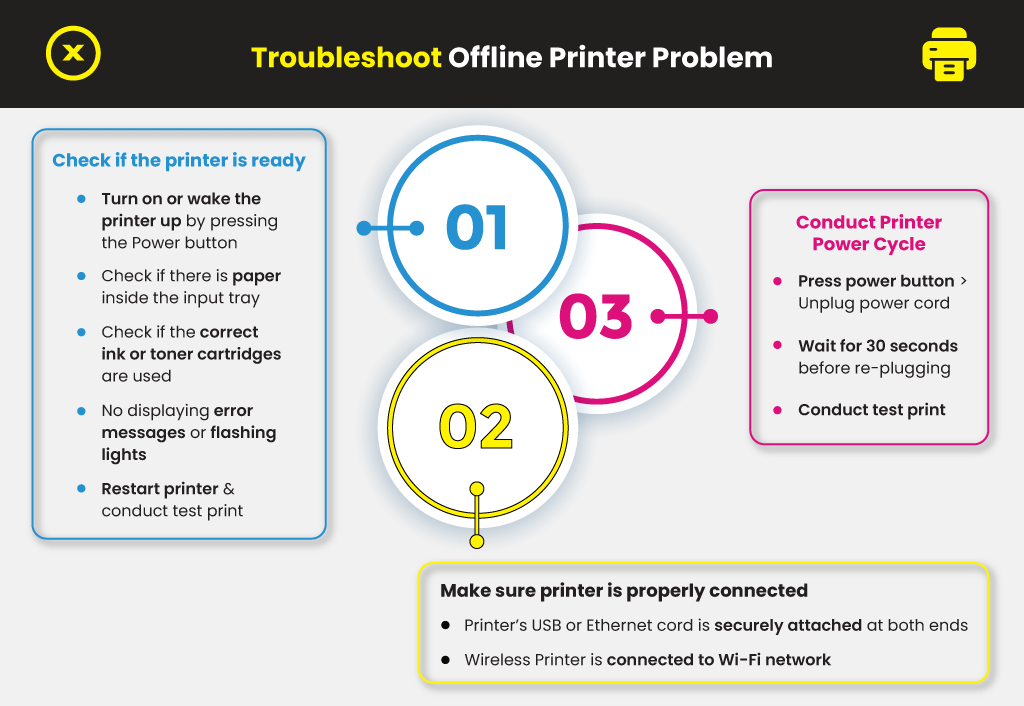 Step 1: Check and see if your printer is ready
Your printer is offline if it's not turned on or able to communicate. Try to check if it's ready for printing and working with another device.

Check if the printer is turned off or is in sleep mode. Press the Power button to turn it back on or wake it up.

See to it that there is paper inside the input tray and that the correct ink or toner cartridges are used. A

Canon Pixma MG3620

,

for instance, can go offline if you're not using

PG-240 and CL-241 ink cartridges

.

The printer's control panel mustn't be displaying error messages or flashing lights.

Restart your printer and conduct a test print to see if the problem is resolved.
Step 2: Make sure your printer is properly connected
Make sure that the printer's USB or Ethernet cord is securely attached at both ends. Use another USB or Ethernet cord to find out if your existing cord is at fault. If the other cord works, then it means you've been using a faulty cord.
For wireless printers, make sure they are connected to your Wi-Fi network. Suppose your printer can work with your computer or PC via cable connection without any issue. In that case, it means your network connection is faulty. If you don't know how to set up a wireless printer, check out our guide on "How to Set Up a Wireless Printer on Windows & Mac."
Step 3: Conduct a Printer Power Cycle
Press the power button and unplug the power cord to turn off your printer completely

Wait for 30 seconds before re-plugging the cord and turning the printer back on

Conduct a test print

to see if the printer is working properly this time around
How do I fix my printer, not responding? (Windows)
Your printer may not be responding because it can't properly communicate with your Windows PC. Try the following steps below to troubleshoot the offline printer problem.

1. Make your printer the default option
Click on the Start button and then go to Settings > Devices > Printers & scanners. Find and select your printer on the list and then click on the Open queue. Go to Printer and click Set As Default Printer, and clear Pause Printing and Use Printer Offline if they are selected. Click Ok after the message "Windows will stop managing your default printer for you," pops up.
Click on the Start button and then go to Settings > Devices > Printers & scanners. Find and select your printer on the list and then click on the Open queue. Go to Document Name and then click on any documents listed. Go to Document and then click Cancel.
3. Restart Print Spooler Service
From the search box tool typically located beside the Start button, enter the word "services" and then click on Services from the search results. Find and right-click Print Spooler service and click Restart.
4. Re-Add your printer to your PC
Click on the Start button and then go to Settings > Devices > Printers & scanners. Find and select your printer on the list and click on Remove device and then Yes. Go back to Printers & scanners, click on Add a printer or scanner and then complete the on-screen instructions add your printer back.
5. Restart your Windows PC
By restarting your Windows PC, you'll be refreshing the services and components needed in the proper communication between your printer and PC.
How do I get my printer to stop being offline? (Mac)
You have just learned how to troubleshoot an offline printer problem on a Windows PC. This time, you will learn how to do it with a Mac computer.

1. Make sure your printer is properly connected
First, you need to ensure that the connection between your printer and Mac computer is solid. There are two ways to go about this, and it will depend on your type of connection, whether it's wired (USB) or wireless.
Turn on your printer and then wait for 5 seconds before you proceed. 

Detach the USB cord from your printer

Turn your printer back on. Wait for it to finish printing queued documents and become silent before you continue.

After 5 seconds, plug the USB cord back to the printer. Make sure it's properly attached to the printer.

If the printer starts printing, allow it to finish. 

Conduct a test print to see if the printer offline problem has been resolved
3. Check Wireless Connection
Restart your printer and wait for it to turn silent before moving to the next step.

If the printer is still not responding, try restarting the router or internet access point by unplugging its power cord. 

Wait for 10 seconds before you plug back the router's power cord. 

Allow the router to link back to the internet. Wait for a light that indicates connectivity to show up before you continue. 

Restart your Mac computer.

Click on the Apple icon > Preferences > Printers and Scanners 

If you can find and select your printer on the list of devices, it means it's now connected to the Mac computer.
4. Remove Redundant Printers from Mac
If there are redundant printers on the list of devices, take out each one of them. You then keep the one displayed as Idle. You will know if a printer is in Idle status if a green color highlights it. Follow these steps next:
Go to Printers and Scanners and access the list of printers.

Delete the redundant printers. Go over each one and click the minus button to remove an entry from the list.

Set the idle printer as the default printer option.

Conduct a test print to see if the printer is already responsive.
5. Reset the Printing System
A printing system restart removes all error statuses by deleting every printer, print job, and printer preference.
Click on the Apple menu and select System Preferences > Print & Fax > Print & Scan, or Printers & Scanners.

Right-click anywhere within the Printers window and then select the Reset printing system.

Under the confirmation window, click Reset.

Type in the Administrator name and password, and then click OK to complete the Printing system reset.
If none of these steps work in resolving the printer offline error, you may need advanced troubleshooting to deal with the problem. That would be the time to contact a printer technician for some expert help.