How to print from my Phone
Most of today's printers can connect with a wide array of tablets and smartphones, letting you print conveniently from your mobile device. And with more recent models, you don't even need to install any extra app or software. You can print directly through AirPrint from Apple or Google Print technology, depending on the device you're using. But before you can maximize your printer's mobile printing capability, you need to know how to connect it to your phone first.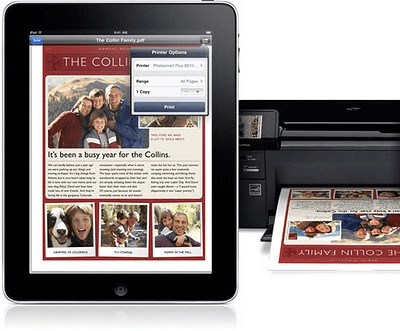 How do I connect my phone to my printer?
Here are the steps you need to print from your phone, for both Android and iOS devices. They also include important information on how to add your printer and choose a printing app on your mobile device.
How to Print from Android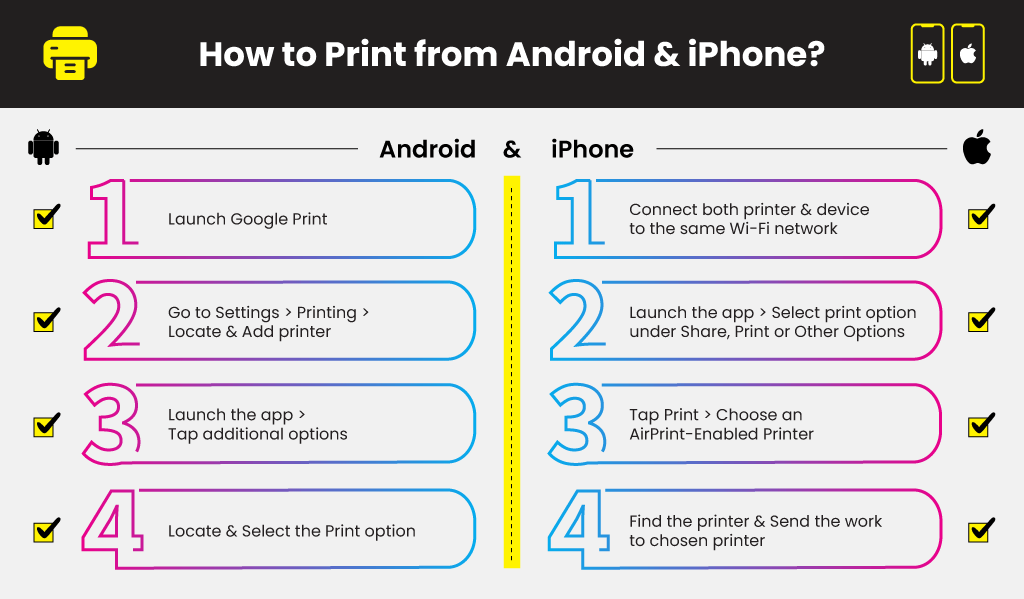 The majority of Android phones are preinstalled with Google Cloud Print. If your Android phone doesn't have one, you can download Google Print manually. You will then have to add your printer on your device under the same shared Wi-Fi network.
Launch Google Print from your Android Phone

Go to Settings, select Printing, and then locate and add your printer

Launch the app you're printing from and then tap the three dots indicating additional options (typically found on the upper right corner).

Locate and select the Print option
What's the Best App to Print from Android?
Like shopping for printer ink cartridges, there are plenty of options you can choose from when it comes to mobile printing applications. While several other apps can help your print from your Android phone, it's probably best to remain with Google Cloud Print. 
Officially recommended by Android, Google Cloud Print gives you the ability to print from any program you're currently using, whether it's from a web browser, email provider, or document application. You don't need to launch another app as Google Cloud Print lets you print straight from your phone or tablet.
However, it's important to note that it may be ideal to use your printer's specific plugin or application. If you're using an HP printer, for instance, you can download its plugin application in the Google Play app store. After downloading the app, printing directly from your Android phone would be a breeze.
Ultimately, it would be best to use either the Google Cloud Print or the preferred plugin of your printer. Using other third-party apps may not work as well.
Thanks to Apple's Airprint, you can easily print instantly from your iPhone or iPad without downloading any other program on your mobile device. 
Make sure your

printer is AirPrint-enabled

. 

Check if your mobile device and printer are connected on the same Wi-Fi network.

Launch the app that you want to print from and then select the print option. You can typically find this option under Share, Print or Other Options.

Tap Print or your printer's icon, followed by Choose an AirPrint-Enabled Printer. 

Find and select your printer (or add a new printer), configure print settings (number of copies and the like), and send your work to your chosen printer.
If you still can't print from your phone via AirPrint, try and see if you're using the latest version of iOS. If you're not, then download and install the latest updates. Make sure that the app your printing from is also up to date.
Why can't my phone find my printer?
When you print from your phone or tablet, sometimes a "This printer isn't available right now" message pops up. This message means that your phone is unable to find or recognize your printer. You can fix this issue by checking the network connection and resolving any printer setup problems.
First, try and restart your printer, router, and phone. Doing so helps clear some network and hardware errors. See if the printer gets recognized by your phone after restarting all three devices. You might also want to check if your printer and mobile device are connected to the same local Wi-Fi network and if there are network related issues. 
Learn more about connecting printers on different devices, like a Canon MG2922 on Android and Mac, from our blog.