Unbiased HP Deskjet D2660 Printer Review
This is an unbiased review of the HP Deskjet D2660. It provides information on the printer's essential features and performance.
Read further, and you will learn the ins and outs of this printer along with its strengths and weaknesses. We hope this review will help you decide whether to buy this product.
- Document Feeder & Paper Tray
- Ink Cartridges Compatibility
HP Deskjet D2660 Printer Main Features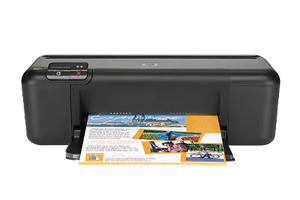 The HP Desktop Series D2660 is an affordable multifunction printer capable of printing, scanning, and things that multifunction printers do. You can easily print documents with the printers' three one-touch buttons: Power, Cancel, and Resume.
And thanks to the D2660's easy WiFi connection, you can connect to your PC and mobile devices and print with ease. The printer produces decent-quality prints suitable for home printing tasks.
Essential Features:
Multi-function Deskjet Printer with printing and scanning capabilities
Print Speeds of up to 28 ppm (Monochrome) and 21 ppm (Color)
Page Capacity of 80 sheets (Input Tray) and 20 sheets (Output Tray)
Three, Once-touch Buttons: Power, Cancel, and Resume
Print Quality resolutions of 600 DPI (Monochrome), 4800 x 1200 optimized DPI (Color)
USB 2.0 Connectivity
HP Deskjet D2660 Features & Specifications
Price
Print / Copy / Scan / Fax
Print Speed
Max. Print Resolution
Max. Print Size
Paper Handling
Connectivity
Monthly Duty Cycle (max)
Cost per page
Other Features
$50.00
Print, Copy, and Scan
28 PPM (Monochrome), 21 PPM (Color)
600 DPI (Monochrome), 4800 x 1200 optimized DPI (Color)
8.5″ x 14″
80 sheets
USB, WiFi
1000 pages
5.8 cents (Monochrome), 9.3 cents (Color)
Mobile Printing / Three, Once-touch Buttons: Power, Cancel & Resume
HP Deskjet D2660 Printer Design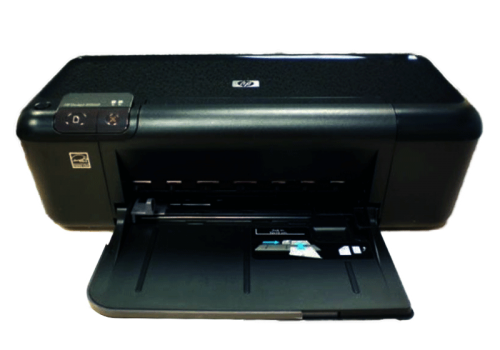 The HP DeskJet D2660 would look good in any office or home with its sleek design. At 17.83" long, 18.15" wide, and 6.77" deep, it can fit your space with no problems. It also has a range of colors, which makes it more fun. It weighs only 6 lbs., making it easy to carry and move around your house.
It doesn't have a lot of buttons on the side, so it is easy to use. Instead of an LCD screen to notify you of the printer's status, the DeskJet D2660 offers three individual Power, Cancel, and Paper Feed (Resume) buttons on the left side of the paper tray. 
The Deskjet D2660 has ink cartridges conveniently set up inside the ink carriage. This gives you easy access and fast ink cartridge replacement. 
The HP printer has a USB 2.0 connection port and a small power plug at the back. You can connect your phone to it and print a picture fast and easy.
D2660 Document Feeder & Paper Tray
At the bottom of the D2660 are dual input and output trays, each having an 80-sheet paper capacity. The paper tray contains all outbound prints, and you can easily fold it up while the printer is not in use.
We love the printer's innovative coral arm that extends from the fold-up tray's side. It minimizes the bulky plastic that sticks out of the housing.
The document feeder has a lesser capacity than expected. Some customers experience occasional paper jams that are difficult to see because of the limited space within the feeder area.
D2660 Ink Cartridges Compatibility
Inside the printer's cartridge bay are two ink cartridges; HP 60 Black and a Tri-color ink cartridge. While each cartridge bay entails more ink expenses, you can buy the XL versions, so you don't replace the ink that often.
The standard HP 60 Black ink cartridge has a page yield of 200, while the Tri-color color cartridge has a page yield of 185. HP 60 Black XL has a page yield of 600, while Tri-color has a page yield of 440.
With the HP 60 XL's page yield and cartridge cost, you get a cost per page of 5.8 cents for black and 9.3 cents for color. Both costs are higher than the average, which is the trade-off for the low retail cost. With that said, you can save more money using compatible HP ink cartridges.
HP ink cartridge installation guide: 2 Ways to Install Ink Cartridges on your Printer
Compatible HP Ink Cartridges at Yoyoink
Get new ink ready once the automatic low-ink alert appears with compatible HP DeskJet D2660 ink cartridges from Yoyoink. These cartridges are cheap but reliable, so you can enjoy quality printing while saving more money.
The Deskjet D2660 has advertised a print speed of 28 ppm in black or 21 ppm in color. But the print speed varies depending on your mode of printing, and the printer can fall short of its expected print speed.
If you're printing in the normal or general everyday printing mode, the D2660 can have a print speed lower than 21 ppm for Black or 21 ppm for Color. If you're printing in fast or economical mode, the print speeds could improve.
Printing a 4×6 photo using photo paper can take 1.18 seconds to finish, while an 8.5 x 11-inch photo using regular paper takes 44 seconds, and an 8.5 x 11-inch photo; 3.42 seconds.
HP Deskjet 2600 Print Quality | How Does It Print?
The $50 Inkjet prints black text documents just as good as a $150 inkjet printer. The text is very good even in draft mode at 600 DPI maximum resolution, although not very dark. The color documents are also good for both printing and copy paper. There can be noticeable lines when you're printing color bar graphs in normal mode, though.
The D2660 prints decent photos, although it's not the best you've seen. The color is satisfactory but not very vibrant. At 4800 x 1200 optimized DPI, the resolution is good but not great.
The Deskjet D2660 is very easy to use or set up. It will take you only 5 minutes to set it up for printing. To print, all you need to do is turn the printer on, load the paper, and press the Print Button.
For beginners, here's a setup guide that will walk you through the setup process from removing the package, plugging the machine, turning it on, pulling the tray extension, loading the paper, and installing ink cartridges.
HP Deskjet D2660 Driver Download
The D2660 has a software CD that contains HP's installation wizard. There aren't any network options with this product, and you just connect the USB cord and follow the instructions on the screen.
Go to the HP Solution Center for access to HP software download, print settings or the toolbox, troubleshooting, status updates, and other guides.
HP Deskjet Series D2660 Connectivity
The HP Deskjet Series D2660 connects to your devices easily and directly. There's no need for you to plug in the cables and install software and drivers. 
If you do want to connect manually with Windows, though, the process isn't difficult. Just change the default setting and treat it like a WiFi router:
Locate your printer on the system tray where your Wifi devices are
Connect to your printer by typing the default password "123456578."
You're all set once you've connected.
HP DeskJet D2660 Pros and Cons
Here are some pros and cons of the HP DeskJet D2660:
Affordable price point. The printer is quite affordable compared to other brands within that range. There's usually a catch in that printers are sold cheap for the good reason that ink cartridges are expensive.
Easy WiFi connectivity. The printer's WiFi allows you to connect directly with your WiFi. This enables you to print photos and other printable files from your mobile device. You can also connect the device to a router or access point using a cable.
Three one-touch buttons. The HP Deskjet D2660 enables you to save paper, ink, and time with the three once-touch buttons. For example, you can do a quick stop of unwanted prints using the print-cancel button.
Unsatisfactory paper capacity. The document feeder has a lesser capacity than expected. Some customers experience occasional paper jams that are difficult to see because of the limited space within the feeder area.
HP Deskjet D2660 is an average printer. If your printing needs are simple and basic, then the HP Deskjet Series D2660 is a good choice. It's affordable compared to other models, and it's easy to use. It also has a decent print quality and connects to your phone easily.
If used at the office, the D2660 could be insufficient because of unsatisfactory paper handling capacity. If used at home to print important documents and children's homework, though, it works just fine.
For more top printer reviews, read the following articles: