HP Color LaserJet Pro MFP M281FDW Full Review
Are you undecided whether to buy the HP Color LaserJet Pro MFP M281FDW printer for your office? If you are, this HP Color Laserjet Pro MFP M281FDW review provides information that can help you make an informed decision.
This article will review the HP LaserJet Pro M281FDW Wireless Color Printer's essential features and applications. We will look into its design, performance, connectivity, and other capabilities to give you an idea of what it can do. 
There's also an FAQ section, so read the full review!
HP Color LaserJet Pro MFP M281FDW Printer Specs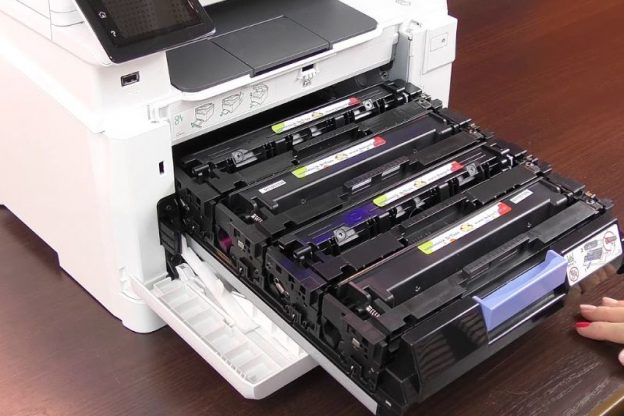 The HP Color LaserJet Pro MFP M281FDW is a color laser all-in-one printer with many impressive features. It prints fast and well for a laser printer and is well-suited for small workgroups, offices and personal use. It also works with mobile devices, so you can still print from your tablet or phone even when you're not at home.
HP Color LaserJet Pro MFP M281FDW Specs
Technology
Dimensions
Functions
Resolution
Duty Cycle
Duplex Print
Feeding Capacity
Network
Print Speed
Media Type
Laser
13.2 x 16.5 x 16.6 inches
Print, Copy, Scan
600 x 600 dpi
40,000 pages
Automatic (Standard)
50 sheets
Built-in Ethernet 802.11 b/g/n Wi-Fi (with Wi-Fi Direct)
22 PPM
Paper (bond, glossy, plain colored, heavy, brochure, letterhead, light, photo, preprinted, prepunched, rough, recycled, labels, transparencies, envelopes, cardstock)
HP MFP M281FDW Printer Design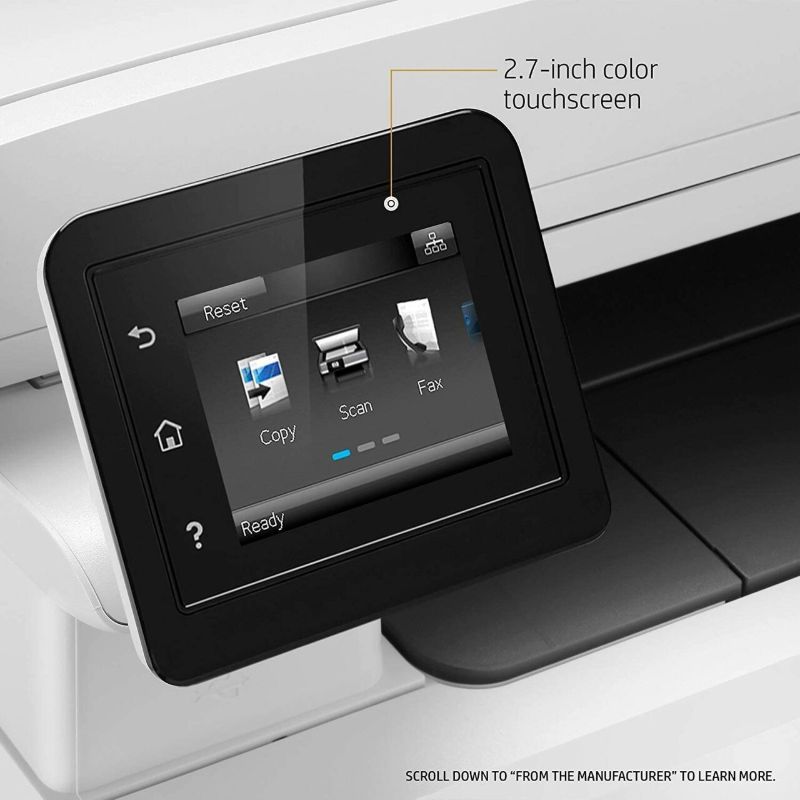 The HP Color LaserJet Pro MFP M281FDW was designed for home-based offices, small offices, and small workgroups. Its small size also makes it suitable for personal use at home. 
Measuring 13.2 x 16.5 x 16.6 inches, the printer should fit your standard desk or counter. It weighs 41.2 pounds, making it a bit heavier than its predecessors, but it has several capacity-expansion options.
The control panel is easy to use, although sometimes the screen's symbols can be too small to press precisely unless you do it carefully. It is made up of a 2.7" color touchscreen with three buttons: Home, Help, and Back.
You can easily use the control panel to configure the printer to do certain tasks, like producing two copies and printing through the control panel's USB drive.
Paper Handling of the M281FDW
The M281FDW's paper handling capacity is average. You can load 251 sheets between two trays; 250 sheets in the main drawer and 1 sheet in the override slot over the cassette. The M281FDW also has a 40,000-page monthly duty cycle, up to 2.500 pages daily.
The M281FDW's Automatic Document Feeder contains 50 pages but can't flip them to scan the two sides automatically. This means the scanning mechanism contains two sensors on either side of the paper, enabling you to simultaneously scan both sides.
HP MFP M281FDW Connectivity
There are several ways to connect with the M281FDW since it has one of the fastest and latest wired or wireless features, including dual-band 802.11n 2.4/5GHz WiFi and Gigabit Ethernet. It also connects to a PC through USB.
Mobile options include Wireless Direct, Apple AirPrint, HP's ePrint, and several other HP mobile apps. It supports USB memory drives to print pages in Microsoft Office format, PDFs, TIFFs, and JPEG.
Print Speed of the HP M281FDW
The Color Laserjet Pro MFP M281FDW has an advertised print speed of 22 ppm (pages per minute). That's fast enough to print a substantial amount of documents. When printing in duplex mode, the speed reduces to 10 ppm. It's still fast enough for printing long documents. 
It's also among the fastest photo printing models; it printed a high-resolution photo page in 19 seconds.
HP MFP M281FDW Print Quality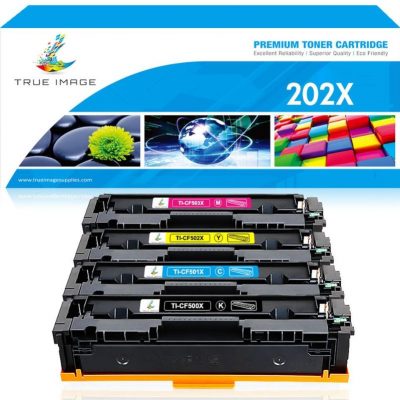 At 600 x 600 dpi (dots per inch), the text prints are well-shaped and readable down to 7 points, which is good, although not best for printing documents with fine print. The text printing is decent enough, suggesting that M281FDW's text prints should look good in most home-based and simple business documents.
PowerPoint and excel charts look good, although there may be slight banding along the dark background gradients and fills. The colors also look a bit darker compared to competing printers.
The photo output, though, didn't do as well. While the majority of the images are decent enough, many of them have some glaring. Many of the test images were a bit dark such that the skin tones and bright colors lacked vibrancy.
This does not suggest that the M281FDW'a photo output is not good enough for specific business and home office use types. Overall, the print and copy quality should be fine for reports, although it may not be the best option if you're looking for high-quality graphics and photos.
HP Laserjet MFP M281FDW Cost-Effectiveness
The HP Color LaserJet Pro MFP M281FDW price is affordable but it can be costly in terms of cost per page. While it is printed in Monochrome at a reasonable rate, $0.03 per page, its Color printing cost is very high at $0.11 per page. The high retail plus the color printing cost gives the M283fdw an estimated $645 of lifetime cost, which is very high.
The Color Laserjet Pro MFP M281FDW's high operational cost will compel users to prefer low-volume printing, producing a few hundred pages per month. If you require more than that, some higher-volume models provide monochrome pages below 1 cent per page and color pages at 5 cents per page or less if you need more than that.
But if you only need a couple of hundred prints every day, then the M281FDW would do just fine as a low-volume color laser printer for small offices or workgroups.
Smart Tip: To save more on printing costs, you can shop for after-market HP ink cartridges at Yoyoink. These cartridges are very affordable but reliable. You can save more while enjoying the same quality as the expensive OEM (Original Equipment Manufacturer) HP brands. Our affordable HP toner cartridges are designed to work seamlessly with your printer so you can get the most value from your product.
HP Color Laserjet Pro Verdict
The HP Color LaserJet Pro MFP M281FDW prints well for an all-in-one color laser printer. With sufficient print speed, print quality, and functionality, the HP Color LaserJet Pro MFP M283fdw is a good choice for small and home offices. It produces crisp and vivid color graphics well, although the photo prints could be better.
Its 50-page automatic document feeder with fax/scanner capabilities would be useful for printing, copying, and scanning long documents fast. On the downside, it cannot copy or scan multipage, two-sided documents without flipping them manually.
Although a bit costly, it's a good fit for small businesses and workgroups that don't need more than a few hundred documents and prints each month.
What We Like About This Color Laserjet Pro MFP M281FDW Multifunction Printer:
It prints great-looking text and good quality graphics
It has a compact design with a great interface; 5-inch color touch screen
The retail price is reasonable
It prints quickly and produces good output quality
Good connectivity that supports USB drive
Standard wireless connectivity that works with mobile printing and scanning
High-yield cartridges provide more value
What We Didn't Like About the Color Laserjet Pro MFP M281FDW:
Photo quality could be better
Can be costly in terms of operating cost
Not suitable for high volume printing
Frequently Asked Questions about the HP Color LaserJet Pro MFP M281FDW

1. What Toner Does the HP LaserJet Pro M281FDW Use?
The HP LaserJet Pro M281FDW uses HP 202A and 202X toner cartridges. Both toner cartridges have 4 four colors: Black, Magenta, Cyan and Yellow. Original HP Color Laserjet Pro MFP M281FDW toner cartridges are expensive but you can opt for compatible toner cartridges to save more.
HP 202X High Yield Compatible Toner Cartridge
2. How Do I Install HP Color HP LaserJet Pro M281FDW?
The HP Color LaserJet Pro MFP M281FDW setup and installation process:
Remove the HP M281FDW printer from its box. Remove all stickers, tape, and packing materials inside the printer. Remove all the tape and packing materials outside the printer, then get rid of the protective film on the printer's control panel.
Load print paper inside the input tray. Pull out the tray, then slip into the paper with and length positions until it fits in. Extend the tray at the front when loading legal-size paper. If you're loading pre-punched paper, slide the paper within the holes at the tray's left side. To avoid paper jam, make sure the paper stack is flat and don't overfill the tray.
Connect and plug the printer's power cord and set your preferences. Connect the power cord to the printer's rear, then plug the other end into an electrical outlet. Turn on the printer, then configure the settings on the control panel: County and Language, Date and Time, Default Settings, etc. Refer to the

HP Color LaserJet Pro MFP M281FDW manua

l for a more detailed guide.
Install the HP printer's software. Download the printer's latest HP Color LaserJet Pro MFP M281FDW driver from 123.hp.com/laserjet123.hp.com/laserjet, then follow the screen's instructions to install it.
3. What's the Difference Between HP 202A vs. 202X?
The HP 202A is the standard type, while the HP 202X is the high yield type. High Yield types contain more toner and therefore have more page yields. If you're frequently printing, high yield cartridges are recommended to save more on operational costs.
4. How Do I Connect My HP Color LaserJet Pro MFP M281FDW to WIFI?
Use WiFi Direct to activate the network. Enable WiFi Direct on your HP printer and computer. You may be prompted to provide your network's WiFi username and password. To connect from your mobile device, go to WiFi Direct settings, choose printer name, then continue with the settings. 
5. How Many Pages Can An HP M281FDW Cartridge Print?
The standard HP 202A Black has a 1,400-page yield. Each Color HP 202A (Cyan, Magenta, and Yellow) has a 1,300-page yield.
The HP 202X Black High Yield toner cartridge has a 3,200-page yield. Each High Yield Color HP 202X (Cyan, Magenta, and Yellow) has a 2,500-page yield.
Final Words About the HP Color Laserjet Pro MFP M281FDW
We hope this review gave you the information you need to decide whether to buy the HP Color LaserJet Pro MFP M281FDW. 
If you have inquiries or additional information about the product, don't hesitate to post them in the comments!
Read more printer reviews: