How to Reset / Downgrade Printer Firmware?
Printer companies like Epson and HP usually release firmware updates to resolve software bugs and other problems. They are also vital in improving the overall performance of your machine. However, a firmware update becomes a major drawback if you're using remanufactured or compatible ink cartridges.
Firmware updates are double-edged swords. It can help you fix printer issues in one hand but can restrict your use of third-party ink cartridges. And if you know how expensive ink cartridges are, it makes sense to opt for affordable generic replacements.
We have prepared a guide that you can use for any model in the Epson XP series and their compatible ink cartridges. It includes instructions for Epson XP-830 and XP-446 firmware downgrade and others. It also includes a step by step guide on how to do an HP printer firmware downgrade that applies to numerous HP OfficeJet Pro series printers.
How to do an Epson Printer Firmware Downgrade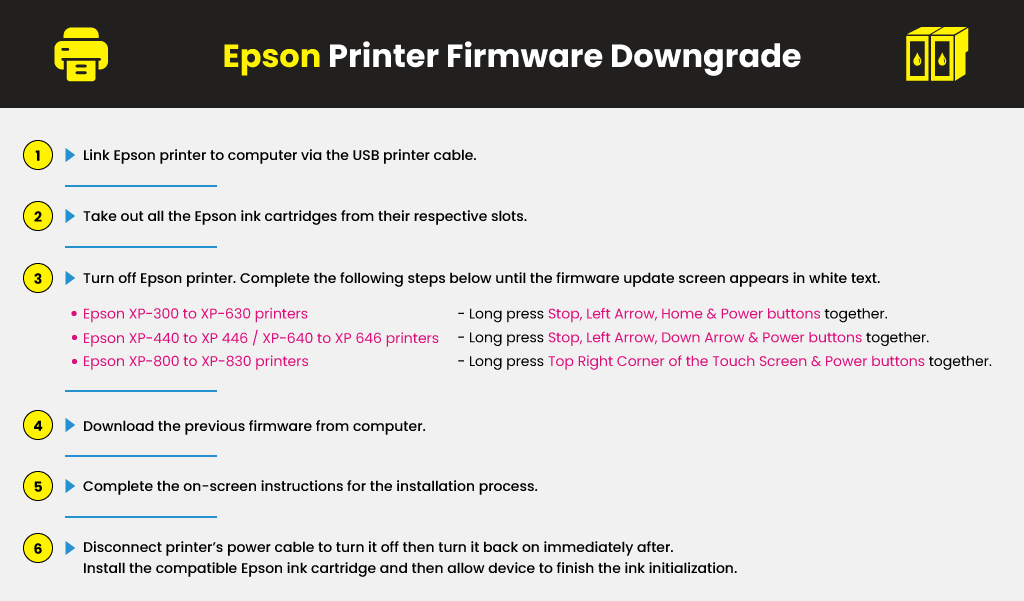 Link your Epson printer to your computer via the USB printer cable (Type A/B printer cable). During an Epson firmware printer reset, a USB connection is needed regardless if your printer and computer are already connected through the Wi-Fi network.
Take out all the Epson ink cartridges from their respective slots. Doing so ensures that every cartridge related error will get reset after the alternate firmware is applied.
Turn off your Epson printer. After the device is fully turned off, complete the following steps below until the firmware update screen appears in white text.
For Epson XP-300 to XP-630 printers: Long press the Stop, Left Arrow, Home, and Power buttons together.
For Epson XP-440 to XP 446 / XP-640 to XP 646 printers: Long press the Stop, Left Arrow, Down Arrow, and Power buttons together. 
For Epson XP-800 to XP-830 printers: Long press the Top Right Corner of the Touch Screen and Power buttons together.
Download the previous firmware from your computer. You may need to do some research to determine the ideal firmware as the majority of printer companies quickly take out outdated firmware from their site. They don't provide any downgrade instructions as well. To give you a head start, here's the name of the firmware you want to download for every Epson XP model. 
Epson XP-200 RF01G4 Epson XP-300 RJ01G4 Epson XP-310 OJ28G1           
Epson XP-320 SJ07G4 Epson XP-330 JO10G3 Epson XP-340 MJ10H8           
Epson XP-400 RM01G4 Epson XP-410 OM28G1 Epson XP-420 SM07G4          
Epson XP-424 SM07G4 Epson XP-430 MO10G3 Epson XP-434 MO10G3          
Epson XP-440 SO10H8 Epson XP-520 YF07 Epson XP-600 MA22G4          
Epson XP-610 NA12F8 Epson XP-620 YE07F8 Epson XP-630 NQ18G3           
Epson XP-640 NK10G8 Epson XP-800 MB22G4 
After you have downloaded the firmware installer, open the file from your computer. Complete the on-screen instructions for the installation process. The previous firmware will now transfer to the Epson printer, and the machine will start flashing. You'll have to wait for several minutes for the entire process to end. Once it's done, however, the printer will send you a notification message on its LCD.
After the downgrade is finalized, press OK or disconnect your printer's power cable to turn it off then turn it back on immediately after. If prompted, install the compatible Epson ink cartridge and then allow your device to finish the ink initialization.
HP Printer Firmware Downgrade
An HP printer firmware downgrade may let your printer function with the older version of your firmware before it was updated. After downgrading the printer firmware, you can resume printing with your compatible HP ink cartridges. The HP printer firmware downgrade guide works for the following models:
The HP printer firmware downgrade will revert the firmware version to 1847A. For other models, you'll have to search for another installer to downgrade the firmware.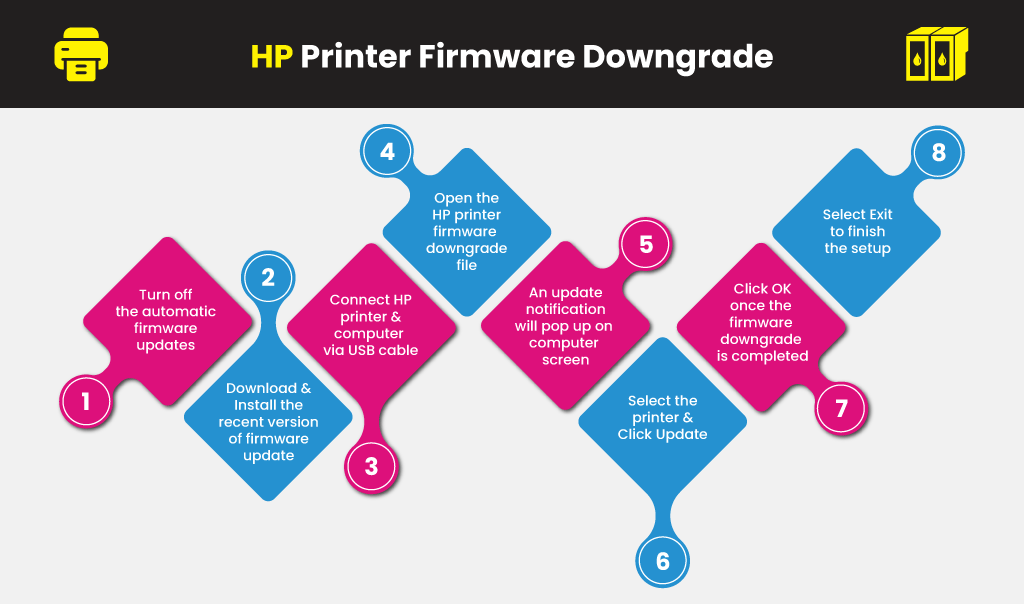 Turn off the automatic firmware updates.
Download and install the recent version of the firmware update.
Connect your HP printer and computer via USB cable.
Open the HP printer firmware downgrade file.
An update notification will pop up on your screen, showing the list of the existing versions of your HP printer firmware.
Find and select your printer and then click Update.
Click OK once the firmware downgrade is complete
When an "Update Successful" message appears, select Exit to finish the setup. 
If you are presently using or considering using remanufactured ink cartridges, then it would be best to postpone updating your printer's firmware. Keep in mind that the moment your firmware is updated, the printer will refuse to work with your remanufactured ink cartridges unless your conduct a printer firmer downgrade or reset it back to its default settings.