How To Print High-Resolution Photos
Are you a non-techie person who wants to print high-quality photos at home? Or an amateur photographer who wants to ensure that you get the highest resolution possible for your printed photos? Either way, we've written this blog just for you!
When it comes to photo printing, no one would want to get poor results, especially if it is for preserving your best memories. Regardless of where you are going to use your printed photos, achieving high-quality results is still important. However, this task is not easy for non-techie people.
So if you want to get the best results from your photos, you've come to the right place! Here, we are going to show you some tips to get high-resolution photo prints at home along with printers and online photo printing services you can use. So keep on reading to know more!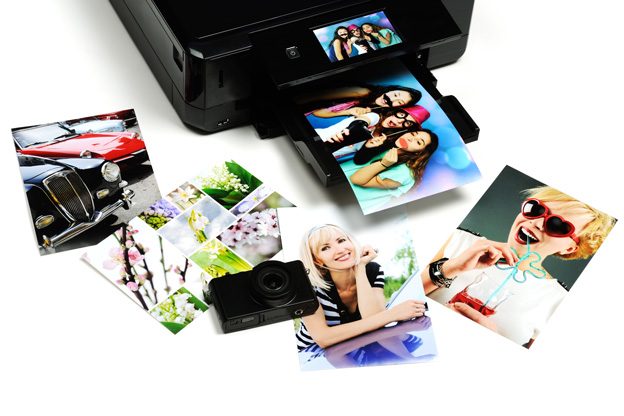 How Do I Print High-Quality Photos?
Basically, the best-quality photo prints all start with the right sizing. Other factors include the type of paper you are printing in and the file format. However, you can avoid poor image quality issues in the first place. But before we dive into that, let's start with how to size your photos properly first to get the highest quality possible.
Sizing Your Images Properly
For sizing, below are the key things you need to take note of to ensure that you get the best quality for your photos when printing:
Set the number of

pixels per inch

(PPI) you want your printer to print (too few will make the result blurry, too many will shrink the photo) 

Resizing can affect the image quality negatively, especially if you are printing a JPG file (JPGs won't maintain the image's pixel integrity as good as PNG files do)
While PPI is pixels per inch, DPI is dots per inch. It is the number of dots your printer will spit out for every inch of your image. More dots mean clearer images. Otherwise, the result will be grainier and the quality will be lower. Printers support different DPIs, so make sure that your file has the same PPI that your printer supports.
Standard printers usually print at 300 DPI. This means that the printer will use 300 dots of ink for every inch of your image. For you to get the proper sizing for your image, just multiply the size of your print to 300.
For example, if you are going to print a 5 x 7 image on a printer that supports 300 DPI, you would want 1500 x 2100 pixels. This ensures that you are printing images of the highest quality at the right size. Thus, you need to crop or resize your photos to the right dimensions in pixels.
We'll be showing you how to do this using BeFunky's Photo Editor later. But first, below is a conversion chart from inches to pixels if you don't want to do the conversion yourself:
Cropping And Resizing Your Photos
When you use BeFunky's Photo Editor, the crop target often cuts off a large part of your image. If this happens, you need to crop and resize your photo with the following steps:
Go to BeFunky's Photo Editor online.

Choose

Crop

from the menu.

Choose the photo size you want to create from the dropdown menu under

Aspect Ratio

.

Tick the

Lock Aspect Ratio

checkbox. This tool allows you to modify the crop target while maintaining the Aspect Ratio.

Save your crop by clicking on the blue checkmark button.
Once you are done adjusting the crop target, the Width and Height won't match the pixel conversion of your selected photo size in inches. So you need to resize your image.
Step #2 Resizing Your Photo
Choose

Resize

from the

Edit

menu to start scaling your image down to its proper sizing in pixels.

Enter the correct pixel conversion of the size in inches that you have chosen in the cropping step in the

Width

and

Height

entries.
Tips When Printing High-Resolution Images
Below are other tips we have compiled to ensure that you get high-quality photo prints:
#1 Download or Save Your Photos in PNG Format
PNG files allow image compression without losing any information. Meaning, you can edit your file multiple times but the image quality will never be affected. JPG, on the other hand, reduces image quality. The more the file is edited, the more the quality will decrease.
#2 Use Your Digital Camera
It is obvious that digital cameras can capture crisper photos compared to smartphones. However, modern mobile phones can now also shoot great photos. Do your own research on which mobile phones are best for taking high-quality photos.
If you are a photographer and want to print high-quality photos, always shoot RAW. As we have said earlier JPG files compress images to reduce their size and save space on your memory card. However, the result will be lower image quality.
Shooting RAW allows you to retain all image data so you don't have to limit yourself in post-processing. If you don't want to shoot RAW, choose the highest possible quality that your camera can support.
#4 Adjust Your Camera Settings to Eliminate Digital Noise
Again, if you are shooting using your digital camera, choose a low ISO because this can help in eliminating the noise or grain that appears in your photos. For capturing bright images at low ISO values, you can decrease the shutter speed but make sure to minimize camera shakes.
#5 Adjust Your Print Settings
You need to choose the highest quality possible in your printer settings. You will usually find this option in the Properties button or the Print Quality section after hitting Print. Depending on the printer you are using, the options might be Best Photo, High, and other similar settings.
#6 Try Using Heavy Papers
Photos printed on regular-weight or copy papers may buckle or wrinkle when the printer applies too much ink on it while printing. An example of heavy paper would be a 64-lb white matte cardstock. Heavy papers can produce better quality prints compared to using regular papers especially if you are printing very colorful photos on your inkjet printer.
Matte photo papers may be the best papers to print on when it comes to photo printing. Aside from giving you high-quality results, they give that old-fashioned look that makes your photos look more interesting. You can find different matte photo paper brands that are printer-specific. You can read our blog about How To Select The Right Photo Paper for this.
#8 Use Printers that Use Pigment Inks
Pigment-based inks produce better quality printers compared to laser printers that use laser technology. Some printers even use fade-proof and waterproof pigment inks like Epson's printers. Meaning, your ink will not bleed or run even if you apply wet substances on top of the print such as Mod Podge, glues, and others.
How Can I Print a Picture Without Losing Quality?
The best way to print your photos without losing quality is to enlarge them. For this method, we are going to use Adobe Photoshop's Perfect Resize feature. This feature resizes your photos smartly and comes as a plugin or standalone software. Just follow the steps below to enlarge your photos using Perfect Resize without losing quality:
Open the photo you are going to resize in Adobe Photoshop.

Click

File

>

Automate

>

Perfect Resize

to open your photo in the

Perfect Size

app.

Enter your desired size in the

Document Size

section or select a preset.

Apply your changes by clicking on

File

and then

Apply

.

Export your image and then print it.
Below are other steps you can follow to print photos from Icloud, Mac, iPhone, Google Drive, and at CVS:
How to Print Photos From iCloud
For printing photos from iCloud, you need to download your photos to your computer first before you can print them:
Log in to iCloud.com using your Apple ID credentials on your computer.

Click

Photos

.

Locate the images to be downloaded.

Click the image/s you want to download.

Click on the Download button located at the top-right portion of your screen.

Select the destination for your downloaded images.

Click

Save File

>

OK

. If you have chosen multiple files, they will be downloaded as a ZIP file.

Open the location where you downloaded your photos and then print them.
How to Print Photos on Mac
Go to your Mac's

Photos

app and then click

Library

.

Choose the images you want to print.

Click

File

and then

Print

.

Choose a format from the print options.

Select your printer and adjust the printer settings before clicking

Print

.

When the

Print

dialog pops up, specify your print options.

Click

Print

.
How to Print Photos From iPhone
To print high-quality photos from your iPhone and other mobile phones, you can check out the online printing services that we have mentioned in the last section of this article. You can use Nations Photo Lab or Snapfish.
How to Print Photos From Google Drive
Go to the image file you want to print from your Google Drive.

Open the image.

Click on the

Print

button at the top right portion of your screen.

Choose your printer and select your desired settings.

Print your image.
How to Print Photos at CVS
Download the CVS photo app to your mobile device.

Choose CVS and choose photo prints.

Select the images you want to print.

After choosing, choose your desired sizes, quantities, as well as your preferred CVS store.

Check out and then pick up your high-quality photos in one hour.
Which Type of Printer Produces the Highest Quality Photo Prints?
If you are looking for the best printers that can help you achieve the highest-quality prints, you can check out our Best Printer for Photo Printing blog where we discussed the following topics:
Difference between photo printers and regular printers

Which printers photographers use

Things to consider when buying a photo printer

Top 5 most recommended printers for photo printing
Where Can I Print High-Resolution Photos?
Lastly, are you looking for printing services where you can print high-resolution photos? Whether you want to print wall-size photos or wallet-size snapshots, below are some recommended online photo printing services you can use to preserve your digital photos:
#1 Best High-Resolution Prints: Nations Photo Lab
Description
Delivers excellent-quality photo prints that come in sturdy packaging.
Pros
Supports TIFF files

Metal and canvas prints

Mobile apps

Protective packaging

Excellent image quality
Cons
It doesn't support gallery sharing online

It doesn't include tools for photo editing

Acceptable web interface

Comparatively expensive
#2 Best Packaging: Printique
Description
Has an outstanding web interface and offers top-notch quality prints with the best packaging
Pros
Support large files as well as TIFF files

Sturdy packaging

Letterbox border and cropping options

Superior features and website quality

Excellent printouts on high-grade papers
Cons
Fewer options for printed gifts
#3 Best Low Cost: Snapfish
Description
Offers good-quality images at affordable prices through its modern website as well as a wide selection of printing surfaces for gifts
Pros
Gallery sharing online

Various print surface choices (blankets, mugs, etc)

Great editing tools

Fast and well-designed web interface

Good-quality images

Affordable
Cons
It doesn't not have a drag-and-drop feature in File Explorer

It doesn't support TIFF files

Flimsy packaging
#4 Best Value: Walmart Photo
Description
Delivers high-quality photos at low prices with same-day pickup options
Pros
Photo sharing online

Smartphone app

Fast service (same-day pickup options for local orders)

Decent website

Affordable

Excellent quality
#5 Best Large Canvas Quality: CanvasPop
Description
Turns your photos into arts with its affordable and high-quality printing services
Pros
Comes with mounting brackets

Protective shipping

Money-back guarantees

Lighting and color correction

Superb print quality

Frames your photos

Prints on canvas
Cons
Long deliveries

It doesn't include a cropping tool
Printing high-resolution photos is always a must for many people who want to keep mementos of their unforgettable memories. A lot of people prefer printing their photos on their own to save on costs, but there are still some who are willing to pay more to get the best quality.
Either way, we hope that our guide was able to help you find what you are looking for. Feel free to read our other blogs for other printing guides.
Like & follow our social media pages to see more updates and promotions !