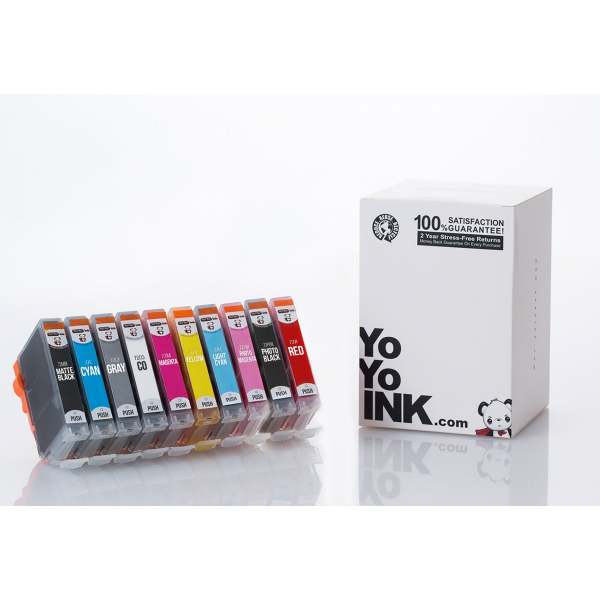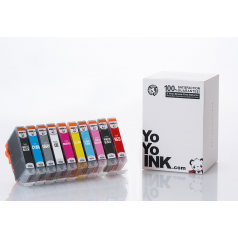 Avg. Price Per Cartridge: $8.62 each
How to Change PGI-72 Ink on your Canon Pixma Pro-10
Kindly turn on your Canon Pixma Pro 10 and then open its paper output tray.
Open the printer's top cover and then press the RESUME / CANCEL button located at the right. The print head will automatically move towards the proper ink cartridge replacement position. Please allow the print head to come to a halt before your proceed to the next step.
Ready the new ink cartridge for installation. Kindly take it out from its packaging and then pull off the orange protective tape.
Remove the empty ink cartridge from the printer by pressing its tab and then pulling it out from its slot.
Please insert the new ink cartridge into the empty slot by sliding it in at a slanting position. Be sure that the ink cartridge position matches the label.
Lock the ink cartridge into the printer by pushing it down from its top until it snaps firmly into place. The ink lamp will light red once the ink cartridge is correctly loaded.
Close the top cover. The Canon Pixma Pro-10 will now mix the ink from the new cartridge. Wait for about 2 minutes for the process to complete. The printer will be ready for printing once it becomes silent, and the POWER lamp remains lit.
Recommended Replacement Cartridges for Canon Pixma Pro-10 Ink:
Frequently Asked Questions for Canon Pixma Pro 10 Ink Refill
a. What ink does Canon Pixma ts6320 use?
The Canon Pixma TS6320 features a 5-Color Individual Ink System using Canon PGI-280 and CLI-281 ink cartridges for printing. The Canon PGI-280 contains Pigment Black ink while the CLI-281 comes in individual Black, Cyan, Magenta, and Yellow color ink. Both Canon Pixma TS6320 ink is also available in standard, high yield, and super high yield cartridge sizes. 
High yield Canon PGI-280XL and CLI-281XL ink cartridges can print twice as much as standard PGI-280 and CLI-280. Meanwhile, the super high yield Canon PGI-280XXL and CLI-281XXL can print thrice as many pages per tank than standard ones.
b. Can I use generic ink in a Canon printer?
Yes, you can use generic ink on your Canon Printer without any concern. They won't void your printer's warranty nor cause any damage to your machine. Generic ink cartridges work and install just like original brand printer ink products. Third-party manufacturers that make and distribute non-OEM cartridges follow the same standards of quality as branded manufacturers. 
Remanufactured and compatible Canon printer ink cartridges from YoyoInk offer similar features and benefits as original Canon ink cartridges. They feature identical page yields and deliver comparable print quality and performance but for a much cheaper price. If you're looking for cost-effective ink options for your Canon printer, you'll find what you need from our store.