Yesterday was April 22nd 2018 and it was Earth Day. With the help of the Super Panda we want to help increase recognition for mother earth. This years goal for earthday.org is to reduce the amount of plastic consumption and plastic pollution around the world. With YoYoInk being a company that helps the environment and supports the further growth of the environment, with the aid of Super Panda, we want to help!
Super Panda was able to find some outrageous facts about the amount of plastic pollution that occurs on a daily and yearly basis at ecowatch.com, for this earth day.
One million seabirds and 100,000 marine mammals are killed annually from plastic in our oceans.

50 percent of the plastic we use, we use just once and throw away.

We currently recover only five percent of the plastics we produce.

It takes 500-1,000 years for plastic to degrade.

The Great Pacific Garbage Patch is located in the North Pacific Gyre off the coast of California and is the largest ocean garbage site in the world. This floating mass of plastic is twice the size of Texas, with plastic pieces outnumbering sea life six to one.

44 percent of all seabird species, 22 percent of cetaceans, all sea turtle species and a growing list of fish species have been documented with plastic in or around their bodies.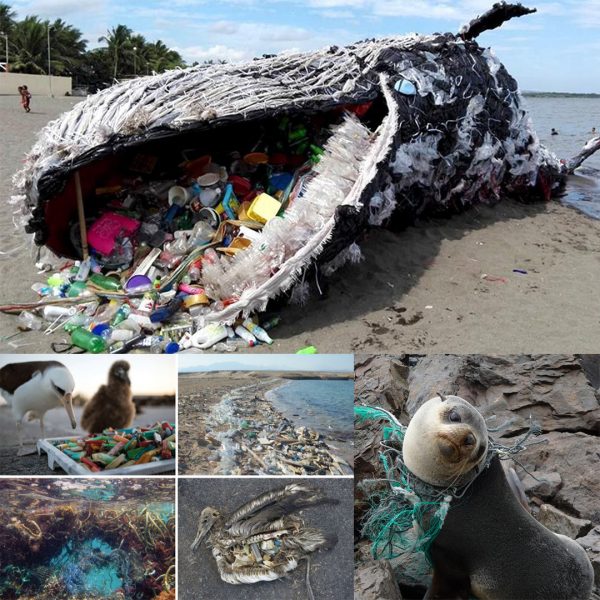 This is only a few of the facts that made Super Panda extra upset but you can find more at ecowatch facts about plastic pollution post. The amount of damage we are causing to other animals and the environment is outrageous and should not continue. A change needs to occur in the way consumers purchase and recycle plastic and other goods. Luckily ecowatch also provides some ways to take care and reduce plastic pollution around the world for Earth day.
Recycle. If you must use plastic, try to choose #1 (PETE) or #2 (HDPE), which are the most commonly recycled plastics. Avoid plastic bags and polystyrene foam as both typically have very low recycling rates.

Volunteer at a beach cleanup. Surfrider Foundation Chapters often hold cleanups monthly or more frequently.

Support plastic bag bans, polystyrene foam bans and bottle recycling bills.

Spread the word. Talk to your family and friends about why it is important to reduce plastic in our lives and the nasty impacts of plastic pollution.
For more solutions check out facts about plastic pollution so you can also help out for earth day. These are just some of the solutions we can take in our daily lives to help better and protect our natural environment for the long run. It is important that all of us do our part to help protect mother earth or face the horrible consequences we are creating for ourselves and other animals.
At YoYoInk we believe that it's important for all of us to do our part to reduce, reuse, and recycle our consumer goods and products. This alone would would help protect our environment a lot, especially when considering the printer ink cartridge and toner cartridge since 97% of the printer ink cartridge and toner is recyclable.(to learn more about recycling check out our previous blog YoYoInks Help Save Our Planet) To find a local recycling center that helps you recycle your printer ink cartridges and toners check out earth911.com. A very easy way to do your part for reducing, reusing and recycling your printer ink cartridges is going through YoYoInk. YoYoInk is your one stop shop for all your recycled compatible and remanufactured printer ink cartridges, toners and drums. YoYoInk specializes in providing the highest quality ink cartridges at affordable prices for brands such as Brother printer ink cartridges, Canon printer ink cartridges, Dell toners, Epson printer ink cartridges, HP printer ink cartridges, Kodak ink cartridges and Lexmark ink cartridges. YoYoInk has been a popular and reliable source for everyday printing solutions across the nation. To avoid consumers worries about not having a reliable product, YoYoInk backs all of its products with a 2-year no hassle, 100% money back, customer satisfaction guarantee.
From Surfrider Foundation, Rise Above Plastic – Plastic kills