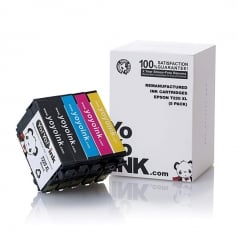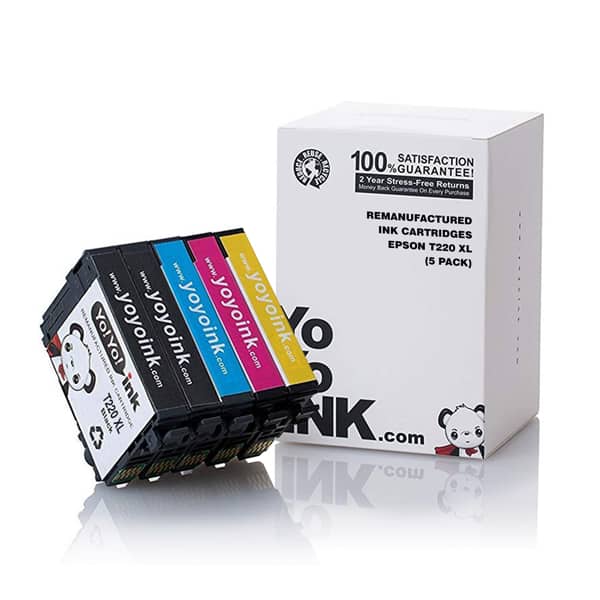 Black: 500, Color: 450
220, 220XL, T220XL120, T220XL220, T220XL320, T220XL420
More information
Less information
Avg. Price Per Cartridge: $5.96 each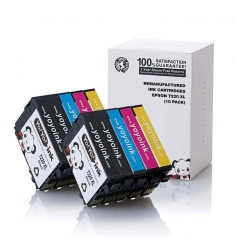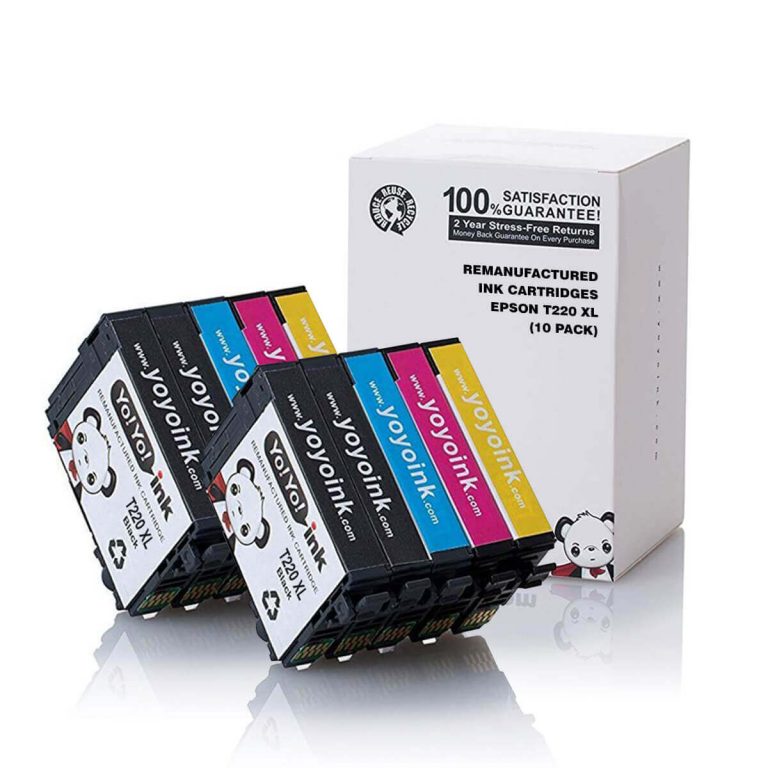 Black: 500, Color: 450
220, 220XL, T220XL120, T220XL220, T220XL320, T220XL420
More information
Less information
Avg. Price Per Cartridge: $6.23 each
How to Change your Epson WorkForce WF-2750 Ink Cartridges Refill
Turn on your Epson WorkForce 2750 printer using the Power Button. If you have empty ink cartridges, a message specifying which cartridges need replacement will be displayed on the LCD screen. Press "PROCEED" and do the instructions on the screen.
Lift up the scanner unit along with the scanner cover to access the ink cartridges. Wait until the printhead stops before removing the cartridges.
Squeeze the tab behind the cartridge you're replacing towards your and pull the cartridge up to remove it from the slot. Be careful while disposing of the cartridge as ink residue may remain and stain your hands, clothing, carpet, or furniture.
Gently shake the replacement cartridges several times while still wrapped to redistribute the ink inside the cartridge after it has settled.
Remove the new Epson 2750 ink cartridge from the plastic wrap. Get rid of the yellow tape sealing the cartridge from the side. Besides the yellow tab, don't take anything else off.
Insert the new cartridge into the carriage and gently push down until it clicks. Repeat the procedure for the other cartridges needing replacement.
Close the machine's cartridge cover. Select Check over the LCD screen, to ensure the cartridge is installed properly.
Frequently Asked Questions for Epson WF-2750 Ink Refill
a. What ink does the Epson WF 2750 use?
The Epson WorkForce WF-2750 printer uses Epson 220 ink, which comes in four individual color ink cartridges: Black, Cyan, Magenta, and Yellow. The Epson 220 black cartridge can print up to 175 pages while the Cyan, Magenta, and Yellow cartridges can give you a maximum of 165 pages each.
All four cartridges are also available in high yield options. The high yield 220 XL black cartridge can print up to 500 pages while each of the three high yield color cartridges can give you a total of 450. 


b. Is Epson WorkForce 2750 an inkjet printer?
Yes, the Epson WorkForce 2750 is an inkjet printer capable of scanning, copying, and printing documents and photos with excellent efficiency. If you want to save money and lower your printing expenses, you can opt with remanufactured ink cartridges from YoyoInk, which are at least 40% more affordable than OEM Epson ink. 
Each Epson 2750 ink replacement cartridge will work flawlessly with any compatible printer, including the Epson Workforce 2750. It also delivers the same print quality and performance as the original Epson ink cartridge. So if you are looking for a cost-effective ink solution for your Epson WF 2750 printer, YoyoInk has got you covered!


c. Can the Epson WF 2750 be used for sublimation?
Yes, the Epson WorkForce WF 2750 can be used for sublimation and print texts and images on textiles, T-shirts, metal sheets, and many more. If you're looking for a quality Epson WF 2750 ink refill, you can find some of the lowest prices at YoyoInk. Enjoy OEM Epson ink prints on your items for just less than half the price!