HP 4500 Ink Cartridges: Low Cost, Great Results
Are you looking for a low-cost but high-quality HP 4500 ink cartridge? Look no further because in this article, we will introduce a cost-effective alternative to the expensive original HP 4500 ink cartridges. 
We will also share essential information such as ink cartridge replacement tips and FAQs to help you make the most out of your product. So keep reading.
HP Envy 4500 Printer Overview
The HP Envy 4500 is cheap but its features are more akin to an expensive printer. For example, it supports automatic duplex printing and wireless networking. Unlike many budget printers within the HP Deskjet range, even models with Wi-Fi, the HP 4500 also keeps HP's ePrinting standards.
Thus, you can use your email address to set it up and it will print anything that's sent to the address. Support for printing from iOS or Android mobile devices is also available with the HP Envy 4500 and common to the majority of all-in-ones and printers with either wired or wireless networking. Learn more: HP Envy 4500 Review.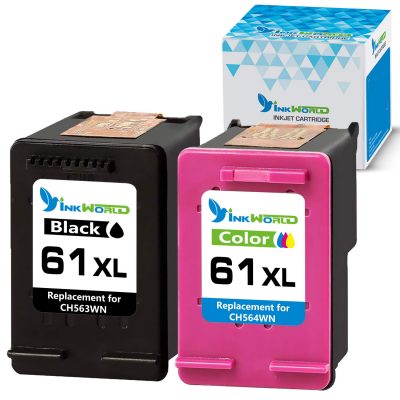 HP Envy 4500 all-in-one inkjet printer uses the HP 61 Black and Colour ink cartridge series. For a more cost-efficient printing, the HP4500 series also has HP 61XL (High Yield) Black and Colour ink cartridges that offer twice as many print pages.
The HP Envy 4500's print quality is decent enough for an inkjet printer. It produces good monochrome text and excellent color graphics on plain paper. The colors have strength although signs of banding which is a weakness inkjets have.
To get the best printing results and resolution, choose a series of HP Photo Papers. These photo papers and cartridges are sure to work with the best HP printer. 
Original HP 4500 ink cartridges can be costly. After set up and use, you will realize where HP has gained with the Envy 4500 with its cheap retail price. It gets savings from HP Envy 4500 Black and Tricolour ink cartridges instead of ink tanks like those of more costly printers.
This entails you replace your color cartridges by the time you've used up their colors, instead of replacing the colors individually upon usage. Its monochrome display is not touch-sensitive also. Monoprint costs are high at 5.9 cents per page and roughly 8 cents per page for color printing.
It's also worth remembering that Tri-colour cartridges have hidden costs since you must replace the entire cartridge should you run out of single ink color.
Remanufactured HP Ink Cartridges​​
Yoyoink offers more affordable alternatives to original HP 61 ink cartridges so you can save on printing costs. Our remanufactured HP 61 ink cartridges provide the same performance, page yield, and high-quality prints. Get the most value out of your printer with our cheap but high-quality remanufactured ink cartridges.
Our Remanufactured HP 61XL ink offers more page yields and performance and delivers high output quality at the same time. Place your order with us and get more value for your money with our low-priced but high-quality replacement HP 61XL ink cartridges!
Remanufactured HP 4500 Ink Cartridges from Yoyoink
Remanufactured HP 61XL ink: 2-Pack (Black)
Remanufactured HP 61XL ink: 1 (Color)
Remanufactured HP 61XL ink: 2-Pack (1 Black, 1 Color)
How to Install an HP 4500 Ink Replacement​

HP Envy 4500 ink replacement procedure:
Turn on your HP Envy 4500 printer, then carefully open the ink cartridge access door.
Locate the empty cartridge you want to replace, push it down, then lift it out of the slot.
Get your new HP 61 ink cartridge, then remove its protective films. Be careful not to touch the contacts as you do this.
Install the new cartridges by inserting them into the slot and gently pushing them down until they're set into place.
.Close the printer's ink cartridge access door.
HP Envy 4500 Ink Frequently Asked Questions​​

1. Why must I install the new HP 4500 ink cartridges into the printer once the plastic tape is removed?
You should install the new cartridges into the  HP Envy 4500 printer once the plastic tape is removed to avoid damaging the cartridge. The ink may dry up fast if you don't install the cartridge immediately after removing the plastic tape.
2. Are remanufactured HP ink cartridges good for use?
Remanufactured HP ink cartridges are designed to meet or surpass OEM (Original Equipment Manufacturer) specifications. Thus, they can work just as well as the original brands at a fraction of the original price. It is best to ensure the manufacturer has a reliable product to avoid defects.
3. Will my ink cartridge dry out if I don't use my printer for a while?
Ink cartridges dry out if they've not been used for a long period. To prevent the ink cartridges from drying out, you need to keep them primed by printing at least once a week. You should print with all four cartridge colors to keep all of them primed.
If you have not printed for a while, run your printer's printhead cleaning function. This is another method of priming your cartridges so they can work again. You must also do printhead cleaning twice to get the better results.
4. How do you clean the printhead and ink cartridges?
Should you discover any deficiency in the Print Quality Diagnostic Report, use the automatic tool for cleaning the ink cartridges. 
Note: It's best to turn your printer off while doing this to avoid unnecessary issues.
Load plain white paper (letter or A4) into the paper tray.
Press the Down Arrow on the printer's Control Panel to choose Tools, then press OK.
Select Clean Printhead using the Down Arrow, then press OK.
The printer will clean the printhead, then do a test print.
Review the test page's print quality and make sure it is good.
5. What should I do if my printer is printing blank pages?
Your printer may be printing blank pages for several reasons like low ink, print settings, or defective product. 
Check for these factors to determine the cause of the problem:
Ensure that the cartridge is set on a flat surface extending on the base in different directions. The product will not operate if it is set at an angle.
If the cartridges are low on ink or old, replacements may be necessary.
Check if you've removed the yellow tape from the ink cartridges installed in your printer.
You must use paper that fits the product's requirements. Vellum paper and transparencies aren't supported.
Print a nozzle, then check the pattern to determine if the nozzles are clogged. Clean the print head, if needed.
Check if the paper size, layout settings, and orientation of your printer software are correct.
Low cost, good results – remanufactured HP 4500 ink cartridges are all about quality printing for less. Enjoy reliable performance and print more for less by purchasing our remanufactured HP 4500 cartridges today.
Learn More: HP Color LaserJet Pro MFP M281FDW Full Review