How to Make Printing More Sustainable?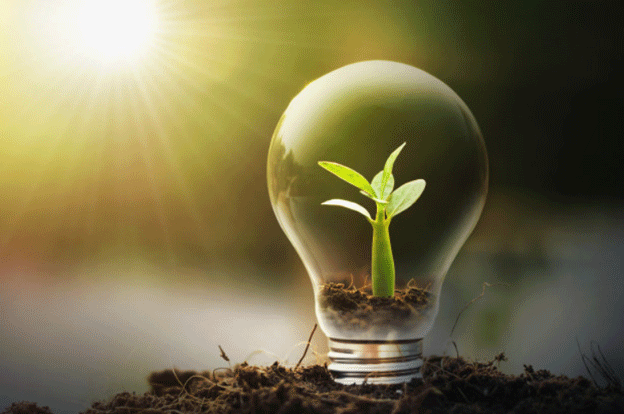 Printing has become an essential part of our lives. You'll find a printer at just about any setting, from homes to schools and offices and businesses. However, printing also poses serious environmental costs, mainly from the constant use of paper, ink, and energy. 
Our continuous reliance on paper for printing has contributed to the destruction of trees and forests. Printer cartridges are mostly made from plastic, which means they'll eventually become part of the world's growing waste problem.
So how do we continue printing without destroying the environment? It may feel impossible to choose one without scarifying the other, but fortunately, there's a viable way. The solution to this dilemma is to make printing more sustainable.
Sustainable Printing Tips for Everyone
During this critical period in our history, when the environment is under siege from numerous fronts, it's crucial to search for ways to lower our ecological footprint. Here's a list of simple but effective tips to make printing more sustainable and eco-friendly.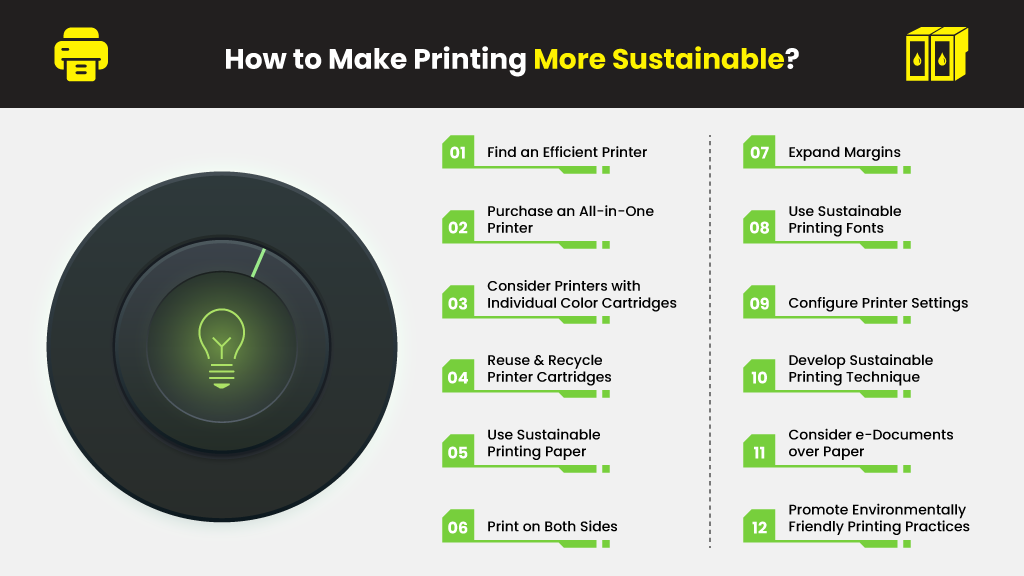 Tip #1: Find an Efficient Printer
Find a printer with an ENERGY STAR label, which signifies that it has met strict energy efficiency requirements. Besides that, you want to make sure that your printer is ink or toner efficient too. Look for a printer with a low cost per page, as it will help you save money and the environment.
Tip #2: Purchase an All-in-One Printer
Tip #3: Consider Printers with Individual Color Cartridges
Purchasing a printer that uses individual cartridges for each color is a great sustainable green printing practice. The OfficeJet Pro 8600, for instance, uses HP 950 and 951 ink cartridges that allow you to replace only the empty color. Thus, if you're using the Yellow cartridge more than Cyan, Magenta, and Black, you won't be throwing them away once you replace the Yellow one.
However, dual cartridges, like the Canon PG-210XL and CL-211 (Black and Tri-color), force you to change all colors at once. The Tri-color cartridge houses three color inks (Cyan, Magenta, and Yellow). Thus, if a single color runs out, you've no choice but to buy a new cartridge even if the other two colors are barely spent.
Tip #4. Reuse and Recycle Printer Cartridges
One of the primary cores of sustainable printing is reusing and recycling materials starting from the printer cartridges. Once you're out of printer ink or toner, recycle the cartridges, purchase the necessary supplies, and refill them yourself. If you're not into this type of thing, consider purchasing remanufactured printer cartridges like these remanufactured Epson 127 ink cartridges. They are recycled from original Epson 127 cartridges that have been carefully refilled and refurbished to meet industry standards.
Tip #5: Use Sustainable Printing Paper
As much as possible, make sustainable printing paper the primary form of media for all your print jobs. For instance, consider switching to tree-free paper, an alternative to wood-pulp paper. It's both an environmentally friendly and economic option since the tree-free paper is made from cheap, scalable renewable sources. 
Tip #6: Print on Both Sides
This one is probably the simplest eco-friendly printing tip that I can think of. But if you follow it, you'll be reducing your paper expenses and carbon footprint by half. Most of today's printers also have duplex printing, allowing the machine to print both sides of the paper automatically. If your printer has this feature, then it would certainly make sustainable green printing easier for you.
Tip #7: Expand your Margins
Numerous people use standard margin settings as their default option, primarily due to convenience. However, if you expand the margins, you'll be dramatically cutting down on the number of pages you'll be printing. On top of that, it won't affect the quality of your printouts and will maintain a document's professional look.
Tip #8: Use Sustainable Printing Fonts
Using the right font can significantly impact the amount of ink and toner used during printing. Ink and toner saving fonts include Calibri and Cambria. These two typefaces have thinner characters and require a smaller amount of ink or toner to print.

Tip #9: Configure your Printer Settings
Experts from YoyoInk suggest configuring your printer settings to "draft" mode for inter-office applications. Reserve higher-quality printing options for documents that you'll need to distribute outside the office. Opt for "black ink only" if a full-color printout isn't necessary, to preserve color ink cartridges. Here are some more tips on how you can save on ink or toner when printing. 
Tip #10: Develop Sustainable Printing Techniques
Try to challenge your current ways of printing. Will they help you maximize your printing materials and lower your carbon footprint? If not, then try to follow sustainable printing techniques.
» Why print when you can save?
Don't just print something because you are worried that it may get deleted or suddenly disappear online. Save that content to your computer if you want a copy that you can use anytime you want.
» Read patiently.
Most of us born in the digital age have relatively short attention spans. We want things moving fast and tend to "scan" or "skim" instead of reading through online content. If you have this habit, you may have a hard time reading online, forcing you to print unnecessarily. Gradually, though, you should be able to change this habit and reduce your need to print.
» Never Print PowerPoint Presentations.
PowerPoint presentations are generally littered with graphics, colorful backdrops, and minimal texts. As you can imagine, printing them would require much ink, so use PowerPoint's functions to make notes or comments instead. There are many advantages if you write down the information yourself. It makes it easier for you to familiarize your presentation, encourages feedback and interaction from others, and is eco-friendly.
Tip #11: Consider e-Documents over Paper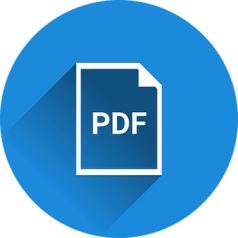 Switching to electronic documents lowers the number of hard copy printouts you need. Use scan-to-email technology for distributing and saving documents electronically. Maximize the use of other similar technologies too so you can cut printing down to a minimum.
Tip #12: Promote Environmentally Friendly Printing Practices
Human behavior is probably the single biggest factor in the success of sustainable green printing practices. Employees should be trained and educated on the ideal ways of improving processes, eliminating waste, and ultimately achieving performance goals. It also starts by promoting a green movement at home, inside the workplace, and virtually anywhere where printing is essential. Encouraging everyone to use the paper's backside for writing down notes and other small practices will come a long way to saving the environment.