How to Fix HP Printer Ink System Failure?
HP printers have always been a popular choice among consumers due to their excellent reliability and performance. Like any other electronic device, the HP printer isn't free from certain issues and problems. Sometimes, an HP ink system failure error may pop out of nowhere, especially if you're using an HP OfficeJet Pro 8600.
What Causes an HP OfficeJet Pro 8600 Printer Failure?
An HP OfficeJet Pro 8600 printer failure happens because of a problematic print head or incompatible ink cartridges. The HP 8600 uses HP 950 and 951 ink cartridges, and if you're using a different one, it may lead to an HP ink system error. 
The HP OfficeJet pro 8600 printer failure is followed by numerous numbers and characters that resemble some like this: error 0x*******a. This error message will display either on the computer or printer control panel.
Fixing an HP Ink System Error
To fix an HP printer ink system failure, you can try replacing your ink cartridges or the printhead and other troubleshooting methods.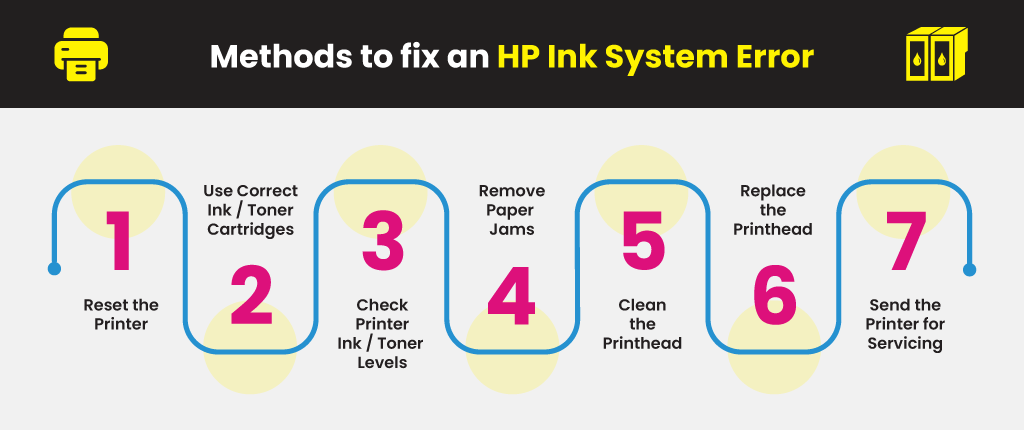 Sometimes a simple printer reset all it takes to resolve an HP ink system error. 
Detach the power cable from the printer while the device is still on
Pull out the power cable from the outlet
Wait for 1 minute
Plug the power cord back to the outlet and the printer
Conduct a test print to see if the error is fixed
#2: Use the Correct Ink or Toner Cartridges
Ink and toner cartridges are made for specific printer models, so always check if they are compatible with your device before installing them. They only work with their brands as well (HP ink cartridges will work only with HP printers). You can use the Ink & Toner Finder from YoyoInk to determine the ink and toner cartridges that work with your printer based on its specific brand and model.
#3: Check Printer Ink or Toner Levels
An HP ink system error can also be caused by low or empty ink or toner cartridges. If you spot an "Ink System Failure" message before discovering the error, then replace the ink or toner cartridge to resolve the problem.
Paper jams can also cause an HP ink system error. Watch the video below if you want to resolve a paper jam issue on your printer.
If an HP Officejet Pro 8600 printer failure still lingers, it may be best to examine the printhead. There's a chance that the printhead hasn't been installed properly or has been clogged with dried ink or debris. If this is the case, then cleaning your printhead may resolve the HP ink system error.
#6: Replace the Printhead
If the HP ink system error is still there after cleaning the printhead, try replacing it with a new one. Contact HP Support to get a replacement printhead. HP will give you a new replacement alongside cleaning materials and a complete set of new ink cartridges if the printhead is still under warranty. If the warranty has already expired, you can order a new one from HP's online parts store.
#7: Send the Printer for Servicing
Is the HP ink system error still there even after trying all of the troubleshooting methods mentioned above? If it is, then it may be best to service the printer. If it's under warranty, don't hesitate to contact HP and send it over so their technicians can check it out.
Learn More:
Like & follow our social media pages to see more updates and promotions !