Canon Pixma MG3620 Troubleshooting for Wireless Connectivity Problem
The Canon Pixma MG3620 is extremely popular around the world, not only because of its reasonable, $50 pricing. The wireless all-in-one inkjet printer also makes printing incredibly convenient and straightforward for almost any need. 
You can print from virtually anywhere around the house or office, thanks to its advanced wireless capability. It also has numerous superb features that help enhance printing efficiency, like Auto Duplex Printing and Mobile Device Printing. 
Using premium-quality Canon MG3620 ink cartridges, it delivers superb quality prints for standout documents and stunning photos page after page. But just like any other device, it also has its fair share of errors that can frustrate users. 
Why your Canon Pixma MG3620 is Not Printing
From paper jams to unresponsive drivers, there are several common issues that you may encounter when using a Canon MG3620. Print results can also be unsatisfactory at times, and this may be due to incorrect ink cartridge installation. If this happens, you may need to reinstall either one or both Black and Tri-color ink cartridges. Click here to learn how to troubleshoot an ink cartridge.
Based on consumer reports, however, issues in Wi-Fi connectivity is the most recurring problem with this Canon printer. It usually occurs when your printer connects to a Wi-Fi network with a new SSID. 
Learn More
If you encounter this issue, end every printer function immediately or wait for it to stop working altogether. In case the wireless indicator is blinking, tap the Stop button. Next, try following any of the set of steps below depending on your computer's Operating System: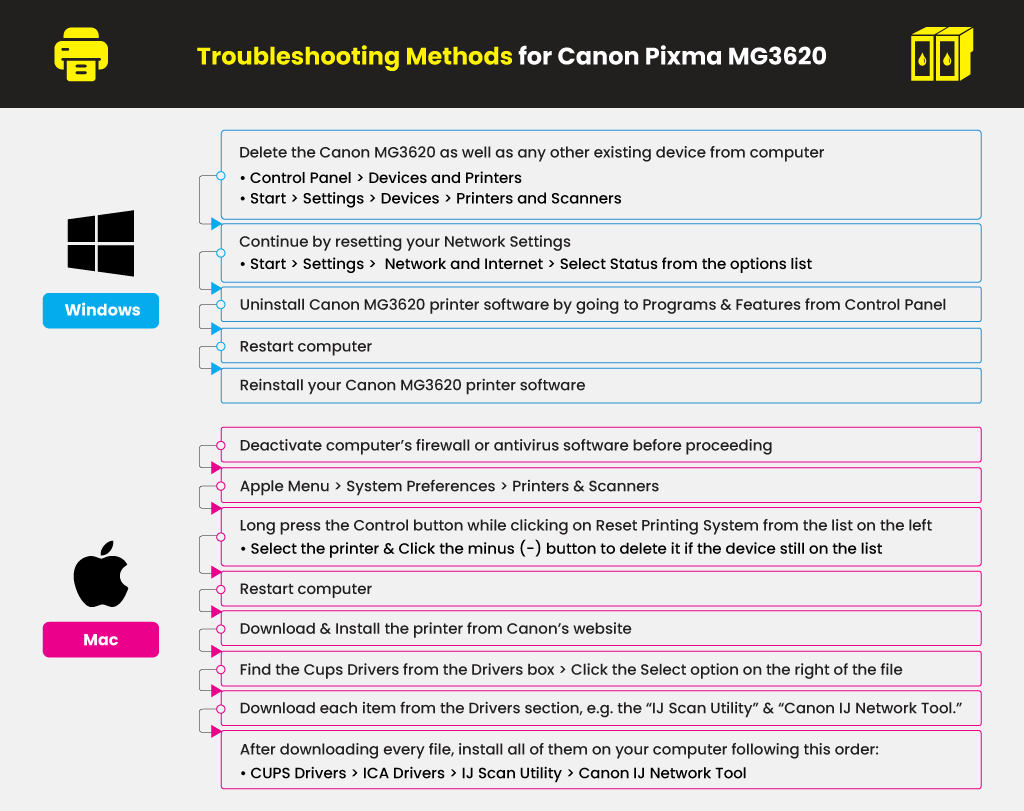 Canon MG3620 Troubleshooting for Windows 
1. Delete the Canon MG3620, as well as any other existing device, from your computer. There are two ways you can go about this:
From your PC, go to the Control

Panel

and then select

Devices and Printers

, or…

Click on the

Start Button

and then

Settings

. Under Settings, click on

Devices

and then select

Printers and Scanners

from the option list.
Continue by

resetting your

Network Settings

. Click on the

Start Button

and then go to

Settings.

Click on

Network and Internet

and then select

Status

from the options list.

Uninstall the Canon MG3620 printer software by going to

Programs and Features

from the

Control Panel

.

Restart your computer.

Reinstall your Canon MG3620 printer software. Follow the steps from the product manual on how to install your multifunction to your network.
Canon MG3620 Troubleshooting for Mac
D

eactivate your computer's firewall or antivirus software before you proceed. It will stop your system from blocking the printer's drivers during installation. 

From your computer, go to

Apple Menu

and then click on

System Preferences

. Under System Preferences, select

Printers & Scanners

as your option.

Long press the

Control

button while you click on

Reset Printing System

from the list on the left. If your device is still on the list, select the printer and click the

minus

(-) button to delete it.

Restart your computer.

Download and Install the printer from Canon's website. Be sure to choose the correct OS for your computer.

Find the

Cups Drivers

from the

Drivers box

then click the

Select

option on the right of the file. Download all the necessary files.

Download each item from the

Drivers

section, such as the "IJ Scan Utility" and "Canon IJ Network Tool."

After downloading every file, install all of them on your computer following this order:
CUPS Drivers
ICA Drivers
IJ Scan Utility
Canon IJ Network Tool
After installing all the files, restart your computer and then reactivate your firewall and antivirus software.
Reset Canon MG3620 LAN Settings
If the Canon MG3620 troubleshooting method above fails, try resetting your printer's LAN settings. Make sure that there is no other device connecting to your printer before you start. After resetting the LAN settings, you need to uninstall and reinstall the Canon MG3620 software. The same goes for every other wireless device.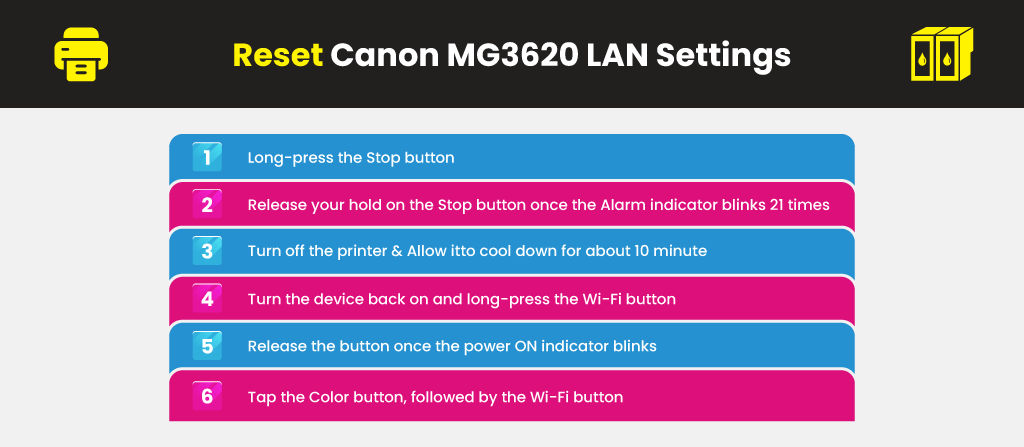 Long-press the

Stop

button.

Once the

Alarm indicator

blinks 21 times, release your hold on the

Stop

button.

Please turn off the Canon MG3620 and detach its power cord. Allow the printer to cool down for about 10 minutes.

Turn the device back on and long-press the

Wi-Fi

button. Release the button once the

power ON indicator

blinks.

Tap the

Color

button, followed by the

Wi-Fi

button. The printer will now start activating the wireless setting.
Try performing a test print to see if your Canon MG3620 is in proper sync wirelessly with your computer. This action will confirm whether or not the wireless setup is a complete success. Click here for a step-by-step guide regarding the process and how it works. If the printer still won't connect to your Wi-Fi network, contact customer support and request for assistance.
Learn More
Like & follow our social media pages to see more updates and promotions !