Fixing Incompatible HP Deskjet 2652 Ink Cartridge Issues – HP Printer Guide
Are you installing new or refilled ink cartridges and your HP printer suddenly presents you with ink cartridge incompatibility errors? Find out how to fix an incompatible cartridge issue in this article!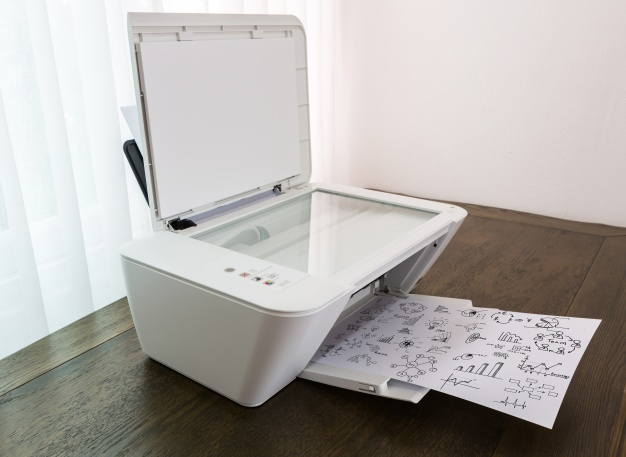 The HP Deskjet 2652 printer is a cheap but high-end all-in-one printer that supports WiFi connectivity with decent print quality. It has a moderate print speed and doesn't really have any special features so it is not suitable for office use.
Its compact size, though, makes the printer from HP easy to transport for your personal use but it is not recommended for long-term applications. Its build is questionable and has a standard cartridge capacity, but it would suffice for quick personal printing tasks and average office applications.
Though it is a good printer, problems cannot be avoided with ink cartridge issues being the most common ones. You will usually encounter this problem when you are installing new ink cartridges, especially non-OEM consumables on the Deskjet. So how can you fix this? That's what you're here for. We are going to list down some common HP ink cartridge compatibility issues along with how you can solve them here. But first of all, let's dig a little bit into why these issues happen.
Why Does My HP Printer Say Incompatible Ink Cartridge?
A Few Things to Note About Incompatible HP Ink Cartridge Errors
It is normal to receive ink cartridge-related errors when you're using a refilled HP 65 or HP 65 XL ink cartridge. These errors can be among the following:
Non-Genuine Cartridge

Counterfeit

Out of Ink

Very Low on Ink

Empty Ink Cartridge

Used Cartridge Detected

Fraud Cartridge

Refilled or Depleted Cartridge Detected

Non-HP Cartridge(s) Installed
You can usually bypass the above errors by choosing OK, Continue, or Dismiss.
Internal Electrical Breakdown: The Top Reason for HP Ink Cartridge Errors
What if choosing the OK, Continue, or Dismiss option didn't resolve the problem? Chances are your ink cartridges might be damaged. Issues in the internal electronic components of the ink cartridges such as corroded ink nozzle plate and ink penetration can disrupt the communication between the ink cartridge's chip and your printer.
When this happens, you will also receive the following errors or similar ones:
Cartridge in Left/Right slot is not intended for use in this printer from HP
Refer to printer documentation
Black/Color Cartridge Problem
Incompatible Print Cartridge
Cartridge Missing or Not Detected
Aside from the above errors, you may also see a blinking power light or ink cartridge lights on your printer while the message is being displayed. These are severe ink cartridge errors that can only be fixed by cleaning the ink cartridges or even worse – replacing them with new ones from HP.
Dirty Ink Cartridge and Printer Metal Contacts
Aside from damaged ink cartridge electrical components, filthy metal contacts (whether on your printer or on the ink cartridges) pose a high risk of receiving a cartridge error. Any dirt or paper dust on the metal contacts regardless of how tiny they are can still cause a bad electrical connection.
A poor connection between your printer and the ink cartridges will result in your printer failing to detect that you have installed new cartridges. Why? Because the printer will fail to read the information on the ink cartridge's chip.
You Didn't Remove the Protective Strips From Your New Ink Cartridges
You may be thinking that removing the protective strips from new ink cartridges before installing them is common sense. However, there are instances that users forgot to do this simple task which gives rise to common ink cartridge errors on your Deskjet machine from HP.
Your Printer Driver Has Been Updated
An HP Deskjet 2652 driver update (whether it was done automatically or you did it purposely) can also cause ink cartridge errors to be displayed.
The purpose of HP software updates should be to fix problems. But sometimes, they can cause your ink cartridges to malfunction too. This is not really surprising because software updates are known to cause more problems rather than fixing issues. That's why many users prefer to keep the current version instead of updating it.
Installation of Incompatible Ink Cartridge
Lastly, of course, you should expect your new ink cartridges to not work if you are using inauthentic ink cartridges. Remanufactured and compatible ink cartridges will most often fail to work with your printer, especially if you bought them from unreliable sources. Also, using ink cartridges that are not compatible with your printer and installing them in the wrong slot will cause errors.
Fixing Incompatible or Not Recognized Ink Cartridge Issues
Now that we've discussed the possible causes why your printer fails to recognize your ink cartridges, let us proceed to the solutions on how to fix an incompatible HP ink cartridge problem. The solutions that we have compiled here aims to answer the top two questions regarding incompatible HP ink cartridges:
How Do I Fix Incompatible HP Ink Cartridges?
How Do I Fix My HP Ink Cartridge Is Not Recognized?
Solution #1. Use Genuine HP 65 and HP 65 XL Ink Cartridges
First of all, it is highly recommended to use genuine HP Deskjet 2652 ink cartridges if you do not want to encounter any error during the installation process. Make sure to buy only from verified vendors to avoid using incompatible ink cartridges on your HP machine.
Solution #2. Just Continue With the Operation
As we have mentioned earlier, you can just press OK, Continue, or Dismiss when you are shown an ink cartridge error. You can also press your printer's Resume button to continue your print tasks.
Solution #3. Enable Bidirectional Support
Bidirectional support controls the communication between a printer driver and your printer. This helps determine your printer's state. Try enabling this feature and see if it fixes your ink cartridge problem on your printer from HP.
Go to your computer's

Control Panel

.

Click

View devices and printers

under

Hardware and Sound

.

Look for your printer and right-click on it.

Choose

Printer Properties

.

Go to the

Ports

tab.

Click on

Enable Bidirectional Support

.

Click

Apply

and then

OK

.
Solution #4. Reconnect Your Printer to Your WiFi
You can also try resetting the HP Deskjet 2652 wireless setup. Just press your printer's Wireless button to turn off its wireless capability and turn it back on again. Reconnect your printer to your wireless network just like you did when you initially set it up.
Solution #5. Remove and Reinstall the Problem Cartridge
The ink cartridge error will often display which ink cartridge is causing the problem. You can remove and reinstall it and see if this fixes your ink cartridge failure problem:
Open the cartridge access door.

Wait for the carriage to stop moving.

Gently press down on the problematic ink cartridge to release it.

Pull the ink cartridge out of its slot.

Reinstall the ink cartridge and make sure that your ink cartridges are in their proper slots.

When reinstalling the ink cartridge, ensure that it firmly clicks right into its slot.

Close the cartridge access door.

Follow the onscreen instruction on your printer. You will probably be asked to align the ink cartridges.
Below are the steps on how to align your ink cartridges:
Load plain A4 or letter paper into the input tray.

From your desktop, click on start.

Choose HP from the list of applications.

Choose the icon corresponding to your printer's name. This will launch the HP printer software.

Once the printer software window opens, click on

Print & Scan

.

Choose

Maintain your Printer

. This opens the printer toolbox.

Go to the

Device Services

tab and click on

Align Cartridges

.

Wait for the alignment page to be printed.

Follow the succeeding onscreen instructions on how to align the ink cartridges.
Solution #6. Determine the Problematic Ink Cartridge
If the error doesn't show you what ink cartridge is causing the problem, you can identify the problematic ink cartridge through the status of the Ink Level icon and Ink Alert light corresponding to the ink cartridge. Follow the steps below to deal with an incorrect ink cartridge issue:
Remove the black ink cartridge.

Close the ink cartridge door.

If you see the

Ink Level

icon corresponding to the tri-color cartridge blinking, then the tri-color cartridge is causing the problem. If not, it is working fine.

Reinstall the black ink cartridge.

Remove the color ink cartridges.

Close the access door.

If you see the

Ink Level

icon corresponding to the black cartridge blinking, then the black cartridge is causing the problem. If not, it's good.
After finding which ink cartridge is causing the problem, you can try cleaning it by following the steps in Solution #9 before reinstalling it and see if the cartridge is now working. However, we recommend trying the next solutions first.
Solution #7. Reset Your Printer
Resetting your printer can recover most printer failures and errors by erasing previous data from its memory. Not only that, it gives your printer more space to allow it to perform tasks efficiently. To reset your printer, follow each step below:
Turn on your printer if it is not already on. Wait for your printer to warm up before continuing.

Remove all of the ink cartridges.

With the printer turned on, unplug the power cable from its back. If you are using a wired connection, disconnect the USB cable too.

Wait for around three minutes.

Press and hold your printer's power button for 30 seconds. This removes additional charges from your printer.

Replug the power cord directly to a wall outlet and then to your printer along with the USB cable. Do not use an extension cord or surge protector.

Turn on your printer. Wait for it to become idle.

Reinsert the ink cartridges. Try printing a test page.
Solution #8. Using an Old Ink Cartridge That Has Worked On Your Printer
In this method, you need to get old ink cartridges that have previously worked on your printer and do the steps below:
Uninstall your new ink cartridges and replace them with the old ones.

Leave the printer for 10 minutes before replacing the old ink cartridges with the new ones. This will often get rid of the issue. But if the error still persists, continue with the next steps.

Uninstall the new cartridges again. Place them on clean paper with their nozzles facing up.

Turn off your printer by pressing its power button.

Disconnect the power cable from the wall outlet. This makes sure that your printer is completely turned off and not in sleep mode.

Leave the printer for 10 minutes before plugging the power cable back into the wall. Do not press its power button yet.

Insert the new ink cartridges into your printer.

Press your printer's power button.
Solution #9. Reinstalling the Ink Cartridges One by One
Here, we are going to show you how to bypass incompatible HP ink cartridges. First of all, make sure that you have removed the protective tapes and the cartridges before continuing with these steps:
Uninstall all ink cartridges from your printer including the one that is working fine.

Reinstall the problem cartridge first. If both of the black and tri-color cartridges are problematic, start with the black one. Don't install the second cartridge yet.

Turn off your printer and unplug the power cable from the wall socket.

Wait for around ten minutes before turning the printer back on.

Insert the second cartridge and turn off your printer again. You don't need to disconnect the power cable this time.

Wait for 30 seconds before turning the printer back on.

Check if your printer now recognizes your new ink cartridges.
Solution #10. Clean the Carriage and Ink Cartridge Contacts
Our last printer cartridge error solution would be to manually clean the metal contacts of the ink cartridges and the carriage to ensure good communication between the printer and the ink cartridges. Take note that this process should not be longer than 30 minutes. Or else, the ink cartridges will get damaged.
Follow these steps to clean the carriage and ink cartridge contacts:
Prepare a lint-free cloth and distilled water.

Remove the ink cartridge displayed in the error message. If no cartridge is specified, just remove both of the ink cartridges.

Start with one of the ink cartridges. Hold it by the sides and remove its protective tape if it is still attached. Make sure not to touch any part of the cartridge, especially its electrical contacts and ink nozzles. This will cause your cartridge to fail.

Use distilled water to lightly dampen the lint-free cloth.

Wipe the metal contacts of the ink cartridge.

Put down the cleaned cartridge on clean paper with its nozzles facing up.

Clean the metal contacts of the printer carriage next. You can use a cotton swab for easier cleaning.

Clean the other ink cartridge if it requires cleaning.

Wait for the cartridges and carriage to dry. This takes about ten minutes.

Insert the cartridges into their assigned slots. Make sure that they snap perfectly into place.

Close the cartridge access door and check if the error still persists.
WORST CASE: Replace Your Ink Cartridges With New Ones
If you have done all of the above solutions and nothing worked for you, your final resort would be to replace your ink cartridges. Marginal internal electrical performance may be causing the problem and preventing your ink cartridges to work. If you don't want to buy expensive genuine ink cartridges, you can opt for remanufactured and compatible ones.
YoyoInk is a trustworthy manufacturer and supplier of ink and toner cartridges for various printer brands including HP Deskjet 2652 ink. To ensure that you only get high-quality supplies that meet your expectations, we are offering all of our products with a 2-year money-back guarantee. Feel free to drop us a message for your inquiries.
Fixing an Ink Cartridge Problem on your Deskjet
Fixing a malfunctioning ink cartridge is very irritating, especially if you can't find a detailed solution that can get rid of your problem. So hopefully, this guide was able to fix ink cartridge incompatibility errors in your printer. Do you want more HP printer troubleshooting guides? Check out our other blogs below:
Like & follow our social media pages to see more updates and promotions !